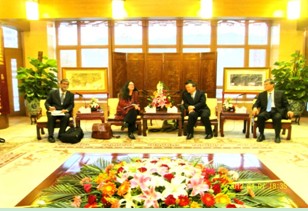 CAE President Zhou Ji and Executive Vice President Pan Yunhe met with Ms. Gretchen Kalonji, the Assistant Director-General of UNESCO, and her delegation of three, including Dr. Jayakumar, Chief Officer of Beijing Office, UNESCO. Also present in the meeting were leaders with the Department of International Cooperation, CAE, and Prof. Qin Changwei, Deputy Secretary-General of UNESCO National Committee, Ministry of Education (MOE).
President Zhou, first of all, extended warm welcome to visiting guests, and then briefed on general information as well as major work for the Chinese Academy of Engineering. Zhou also said that CAE would be delighted to join hands with UNESCO in fields like "knowledge center" and "engineering education".
Vice President Pan gave an introduction to the background of launching the research into and construction of China engineering science and technology knowledge center, as well as accomplished work and international cooperative efforts in terms of digital library and knowledge center construction made by CAE.
Ms. Gretchen Kalonji said it was her honor to visit CAE. She commented on the office building as very impressive, thus giving her a fresh feeling. Ms. Gretchen Kalonji spoke highly of the development and achievements of China in various aspects which have attracted worldwide attention, saying that the common demands, appeals and aspirations for both CAE and UNESCO in their respective development, would well guarantee cooperation between both sides in the future. She also said that the project regarding research into and construction of the knowledge center was of great significance, and was launched at the right time. Also, she herself was very interested in this project, because this project was very much in line with the purpose and objectives of UNESCO. Ms. Gretchen Kalonji also expressed positive attitude towards the construction of "UNESCO International Knowledge Center" ("UNESCO International Engineering Center"). Finally, Ms. Gretchen Kalonji extended her hope that UNESCO should cooperate with CAE in more extensive fields in the future. (By Wu Lan, April 2012; translated by Liu Chang)