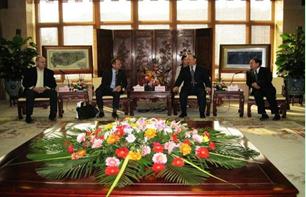 On the afternoon of February 20, 2012, CAE Honorary Chairman and President Zhou Ji met with a delegation from Royal Institute of Technology, Sweden, headed by its Vice President Roman Wyss.
Xu first of all extended warm welcome to the guests, who then happily recalled time he had spent at the Royal Institute of Technology as a visiting scholar in the early 1980s. Xu also briefly introduced general information about CAE and advances made recently. Xu pointed out that, as a national think-tank in engineering science and technology sector, CAE has been playing an increasingly important role in promoting scientific decisions for the government, propelling engineering science and technology progress for the nation, as well as formulating national industrial development strategy. China and Sweden have long enjoyed sound cooperative relationship in fields like energy and environment, Xu commented.
Zhou said that, energy and environment problems remain huge challenges for China. Therefore, in order to respond to these challenges, it is of great significance to enhance the innovation capability. Since Sweden has been at the forefront of the world in many fields, China has a lot to learn. In addition, both sides have great potential for collaboration in the field of engineering education.
Mission Leader Wyss said it was his great honor to visit CAE, and he had been greatly impressed by China's development in various aspects which had attracted worldwide attention. He pointed out that the Royal Institute of Technology, Sweden, enjoys wonderful relationship featuring exchanges and cooperation with many universities in China. Since the Royal Institute of Technology and the Chinese Academy of Engineering have similar appeals in the process of development, this can be taken as the premise for friendly cooperative efforts jointly made by both sides, as well as the promise for strengthened exchanges and cooperation in the future. Wyss also expressed his hope that both sides should carry out cooperation in more fields in the future. In the end, Xu and Zhou answered questions raised by the visiting delegates. (By Wu Lan, March 2012; translated by Liu Chang)