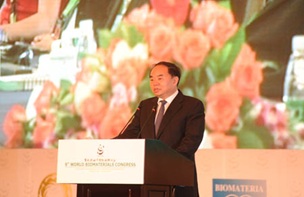 The Ninth World Biomaterials Congress (WBC) was held in Chengdu from June 1 to 5, 2012. It also marks the very first time for this grand event to be held in China since its establishment 32 years ago. The theme of the Congress was "Innovative Biomaterials and Crossing Frontiers in Biomaterials and Regenerative Medicine". The Congress was co-sponsored by the International Union of Societies for Biomaterials Science and Engineering (IUSBSE) and the Chinese Society for Biomaterials (CSBM), and co-organized by Sichuan University and Chengdu Municipal People's Government. It also won support of the Chinese Academy of Engineering (CAE), the National Development and Reform Commission (NDRC), Ministry of Education (MOE), Ministry of Science and Technology (MOST), China Association for Science and Technology (CAST), among others.
State Councilor Liu Yandong, together with Chen Changzhi, Vice Chairman of the National People's Congress, sent congratulatory letters to the Congress. Yang Rudai, Vice Chairman of the CPPCC National Committee, Shi Changxu, both CAE and CAS Member and Honorary Chairman of the Congress, Zhou Ji, President of the Chinese Academy of Engineering, Chen Xi, Party Secretary of the China Association for Science and Technology (CAST), Jiang Jufeng, Governor of Sichuan Province, Nicholas Peppas, Chairman of IUSBSE, Du Zhanyuan, Vice Minister of Education, Qi Rang, Director of the Decision-Making and Consultation Special Committee of CAST, along with Wang Weizhong, Vice Minister of Science and Technology addressed the opening ceremony of the event. CAE Member Zhang Xingdong from the Division of Chemical, Metallurgical and Materials Engineering served as the chairman of the Congress, which was attended by a total of more than 3000 people, including experts and scholars in the field of biomaterials, young science and technology personnel, as well as enterprise representatives from 57 nations and regions, gathering to share the latest concepts and achievements in the field of biomaterials over the past four years as well as future developments.
The Congress arranged 8 plenary lectures, 157 sub-congress lectures, 4 symposia, 3 forums, 6 technical forums, related technology exhibitions, 981 oral presentations as well as 1689 poster presentations. In addition, an industrial forum and two symposia of translational medicine were held to encourage commercialization of biomaterials research. During the Congress, more than 100 companies and research institutes including Instron, Zimmer and Bose from the United States, Invibio from the United Kingdom, Purac Biomaterials from the Netherlands, Evonik from Germany, Taihei Chemical Industrial from Japan and Commonwealth Scientific and Industrial Research Organization from Australia exhibited their advanced products and technologies. The Congress received more than 2,900 academic abstracts, of which about 75% were from outside China and over 40% were from developing countries.
Nicholas Peppas, Member of the US National Academy of Sciences (NAS), the US National Academy of Engineering (NAE), as well as Member of the Académie Nationale of France, together with William Bonfield, Fellow of the Royal Society, Fellow of the Royal Academy of Engineering (RAEng) as well as a Fellow of the Royal Academy of Medical Sciences, UK, made presentations combining their rich personal experiences in previous biomaterials studies and current development tendency of biomaterial sciences, who also answered questions raised by young scholars present and conducted extensive exchanges and discussion with the audience.
The World Biomaterials Congress, initiated by IUSBSE in 1980 and has been held once every four years ever since, is known as the "Olympic Game" for the world's biological materials sector. It is also the international comprehensive conference in the field of biomaterials that is of the largest scale and the highest level in the world. (By Wang Aihong and Han Julong, July 2012; translated by Liu Chang)