To celebrate the World Engineering Day (WED) for Sustainable Development on March 4, the International Knowledge Centre for Engineering Sciences and Technology (IKCEST), World Federation of Engineering Organizations (WFEO) and UNESCO Jakarta Office jointly launched a series of celebrations to celebrate engineering achievements in advancing social development, especially in the fight against the Covid-19 pandemic, raise public awareness of the crucial roles of engineers and engineering in improving people's lives and achieving sustainable development.
I. Submitting a thesis paper for publication
As one of the celebrations for the WED, UNESCO Jakarta Office and the Association for Engineering Education in Southeast Asia and the Pacific (AEESEAP) launched a joint publication themed "Improving the Engineering Value Chain in the Asia-Pacific Region". IKCEST has provided a paper for it upon invitation on IKCEST: An Open Platform for Global Engineering Initiatives, introducing knowledge services and technical road maps on the IKCEST platform.
II. Attending the online forum to share IKCEST current practices
The online forum jointly organized by UNESCO Jakarta Office and AEESEAP under the theme of "Improving the Engineering Value Chain in the Asia-Pacific Region" was held as scheduled on March 4. It was attended by more than 350 experts and engineering sciences and technology professionals in the Asia-Pacific region via ZOOM. Dr. Liu Chang, Secretary General of IKCEST, was invited to attend the forum and give a presentation on the current practices of the open engineering platform, IKCEST solutions to supporting the implementation of the UN SDGs, and its active contributions to improving the engineering value chain in the Asia-Pacific region.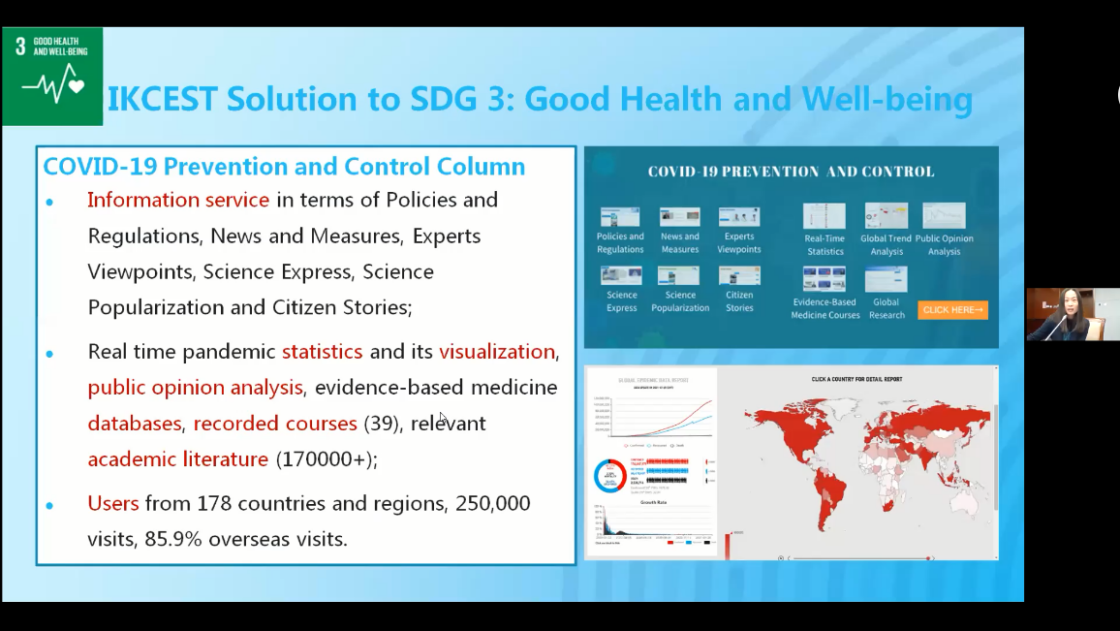 III. Jointly holding a webinar on poverty alleviation
IKCEST joined hands with WFEO, WFEO Committee on Engineering for Innovative Technologies and WFEO Committee on Women in Engineering in holding a webinar themed "Engineering in Poverty Alleviation" on March 6, aiming to share the advanced experience in using engineering sciences and technology to promote poverty alleviation worldwide and help countries, especially the most poverty-stricken areas in South Asia and sub-Saharan Africa, eliminate poverty. IKCEST invited Professor Nie Fengying, Deputy Director of Agricultural Information Institute of Chinese Academy of Agricultural Sciences, to attend the webinar and deliver a report. She shared domestic and foreign ideas and practices of poverty alleviation, especially the contributions and experience of the Chinese Academy of Engineering in reducing poverty through engineering sciences and technology in a bid to facilitate global poverty alleviation through engineering technology.