On April 22, 2022, the International Liaison Department of China Association for Science and Technology (CAST) held the online evaluation meeting of the Belt and Road (B&R) International Science and Technology Organization Cooperation Platform Construction project of CAST. A total of 15 project institutions participated in the evaluation. XIE Zheping, Associate Research Professor of Institute of Education, Tsinghua University, Assistant to the Secretary General of International Centre for Engineering Education (ICEE) participated in the acceptance review meeting as the project leader of "Towards the United Nations 2030 SDGs: Construction of multilateral International Cooperation Network for Engineering Education".
XIE Zheping reviewed the overall objectives of the project, reported the implementation of the project, the completion of assessment indicators and research results. The project aims at the United Nations 2030 SDGs and aims to expand international cooperation and exchanges with regional and global engineering education and engineering organizations by taking ICEE and Tsinghua University as the base, centering on "INNOVATION CHINA" "CHINA SCIENCE COMMUNICATION" and "SMART CHINA". During the research period, the project team carried out online international work exchange activities and held international seminars with engineering education organizations of Countries along the B&R in Asia and Europe, and jointly promoted the balanced development of international engineering education research and practice together with multilateral international organizations.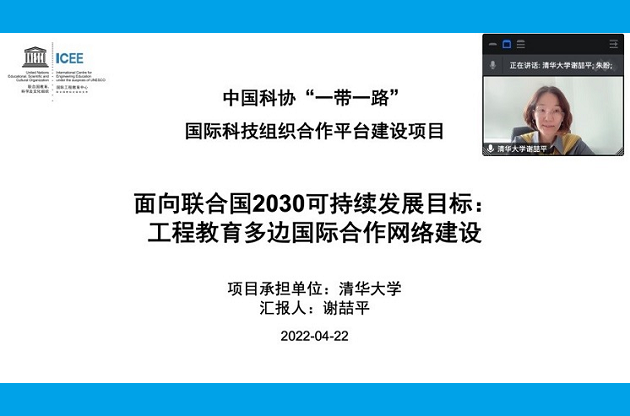 XIE Zheping at the meeting
After the report, XIE Zheping answered the questions raised by the evaluation experts. The evaluation experts commented that the project team provided specification and implementation plan by the indicators, carried out research and promoted activities, all the way along the national science and technology exchange and cooperation between. The project summary report and special investigation report were made on the basis of in-depth study and exceeded the assessment requirement. The evaluation experts agreed to approve project report. ZHU Pan, Research Assistant of ICEE, and the staff members of CAST attended the acceptance and evaluation meeting.
(Edited by ZHU Pan, XIE Zheping;Reviewed by XU Lihui, WANG Sunyu)