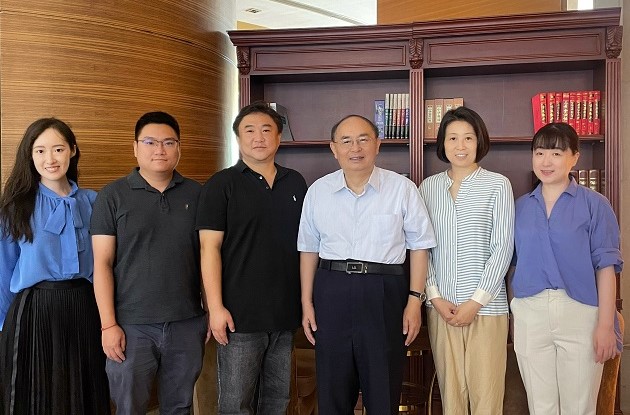 Prof. WANG Sunyu (third from right), SHEN Ye (second from right) and heads of the Base
On the morning of September 14, Prof. WANG Sunyu, and SHEN Ye, Secretary General of the Global Partnership Board of ICEE reviewed the work report of the operation team of this event. Prof. WANG affirmed the progress of the work, and hoped that this event would provide not only a professional platform for Chinese university students around the world in technical exchange, but also a channel for universities to realize a fast transformation from theory to experiment and to application. He also hoped that, by promoting the transformation of scientific and technical achievements and the exchange of cutting-edge technologies, more high-level innovative research results would enter the market and contribute more to China's scientific and technological self-reliance and self-improvement.
As a commonweal event themed by "Engineering Tomorrow with Data", this innovative competition aims to explore the application and innovation of data applications in intelligent travel scenarios. Five competition areas including east, west, north, south, and international areas, will be set up for this event. In addition, the major domestic universities andsome international universities will also be invited, and then 20 teams will be selected to compete in the global final event in late November. Under the academic guidance of ICEE, sponsored by the Base and supported by Changan Auto and other companies, this event will contribute to the sustainable development of engineering education.
(Edited by LI Chao; Reviewed by SHEN Ye, XU Lihui)