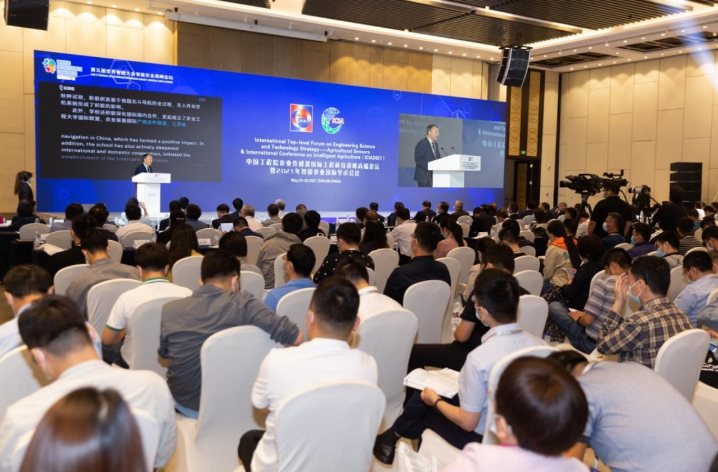 Members of the Chinese Academy of Engineering (CAE) joined more than 1,000 experts and scholars from 11 countries including the United States, Canada and Australia to attend the International Top-level Forum on Engineering Science and Technology Strategy - Agricultural Sensors & International Conference on Intelligent Agriculture (ICIA 2021) was held in Tianjin from May 20 to 22, 2021.
The forum was hosted by the CAE, the Tianjin Municipal People's Government and the Chinese Society of Agricultural Engineering in cooperation with many research institutes and universities, such as China Agricultural University, Jiangsu University and the Chinese Society for Artificial Intelligence.
CAE members Luo Xiwen, also Vice Director of the Academic Division of Agriculture, and Zhao Chunjiang chaired the forum which included conferences, exhibitions and competitions.
Luo Xiwen, Li Deyi, Dai Qionghai, Chen Xuegeng and Zhao Chunjiang gave keynote presentations on agricultural sensors, agricultural AI, agricultural robots, precision agriculture and smart farms.
More than 80 presentations were delivered by experts and over 60 agricultural S&T achievements were displayed at the exhibitions. The first China Agricultural Science and Technology Innovation Competition was held with 195 entries, among which 32 won awards.
The forum promoted exchanges among industries, the S&T community, government departments and practitioners of intelligent agriculture at home and abroad. It also offered insights into intelligent agricultural production and management, and built a consensus on quality agricultural modernization.