The Chinese Academy of Engineering (CAE) and the Gansu provincial government entered into an agreement on August 26, 2021 and also unveiled the Gansu Institute of Chinese Engineering Development Strategies (Gansu Institute).
Li Xiaohong, CAE President, and Yin Hong, Chairman of the Standing Committee of the Gansu People's Congress, jointly opened the Gansu Institute, the 19th institute co-founded by the CAE and local authorities.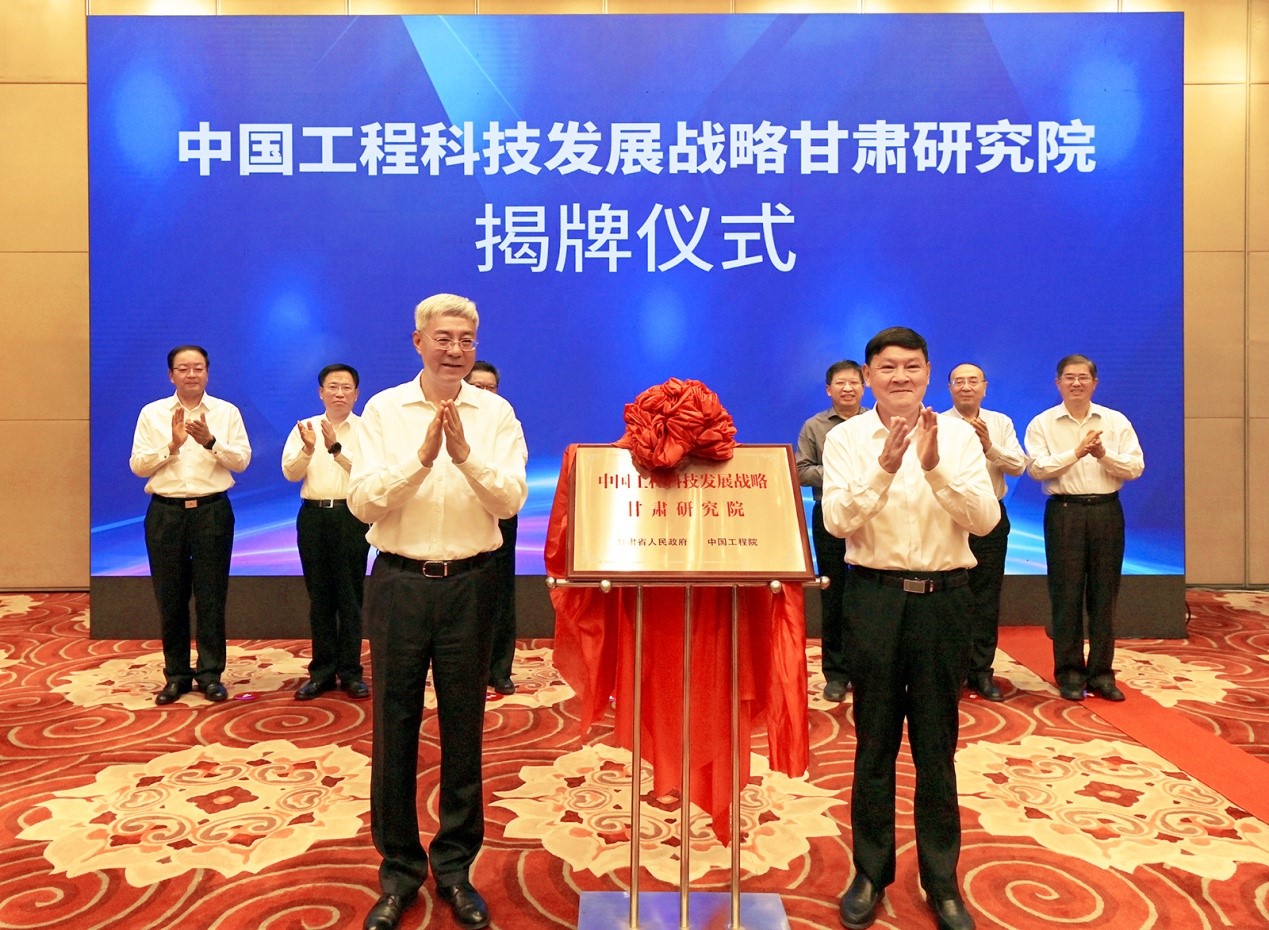 Ren Zhenhe, Governor of Gansu Province, issued letters of appointment to members employed as the institute's Honorary President and Director and Deputy Directors of its Special Committees. Deng Xiuxin, Vice President of the CAE, and Zhang Shizhen, Vice Governor of Gansu Province, signed the cooperative agreement on behalf of the two sides.

CAE members Tu Hailing and Kang Shaozhong gave speeches, while Zhang Shizhen presided over the ceremony and introduced S&T innovations in Gansu. CAE members Tang Zhongli, Tu Hailing, Nan Zhibiao, Kang Shaozhong, Xia Jiawen, Huang Xiaowei and Wang Rui joined Chinese Academy of Sciences members Cheng Guodong, Tu Yongqiang, Zhao Hongwei, Lai Yuanming, Liu Weimin and Yan Chunhua in attendance at the meeting.

Li said the new agreement and the establishment of the Gansu Institute marks a new stage and height in bilateral cooperation. He stressed that all involved should adhere to the principle of " local authority playing the main role in the cooperation" , focus on the S&T needs of Gansu in the implementation of national strategies while carrying out strategic consultation, and make S&T breakthroughs in Gansu's leading and advantageous industries. He said the effort should also extend to characteristic fields and building a high-end think tank of engineering science and technology that supports Gansu to drive innovation and achieve high-quality development.

Yin Hong said that while centering on needs of our nation, the capabilities of Gansu, and the hopes of people and visions for the future, we should focus on upgrading dominant industries, developing backbone enterprises and meeting needs in people's life. The effort should continue to strengthen strategic access, policy coordination and resource aggregation between the CAE and localities, carry out strategic consulting and research with high standards, and jointly implement major research projects to provide strong support for high-quality economic and social development.

Li led members and experts to the Baiyin Heishan Gorge key water control project, Gannan Sangke characteristic town and grassland, and the Institute of Modern Physics at the Chinese Academy of Sciences, Lanzhou, to conduct inspections themed on the governance of the Yellow River, rural revitalization, construction of an ecologically civilized and well-off country, protection of the grassland ecology, and the construction of scientific apparatus while locating problems in the economic and social development of Gansu and providing decision-making consultation.