The Ministry of Science and Technology of the People's Republic of China (MOST), the Chinese Academy of Sciences (CAS), the Chinese Academy of Engineering (CAE), the China Association for Science and Technology (CAST) and the People's Government of Beijing Municipality unveiled the "2021 Zhongguancun (ZGC) Forum" on September 24 in Beijing themed "intelligence, health and carbon neutrality" with CAE President Li Xiaohong and CAE Vice President He Huawu participating.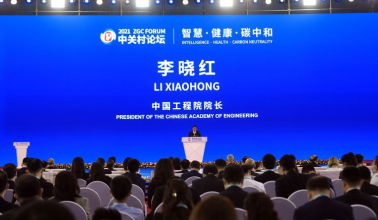 Li attended the plenary meeting of the forum and delivered a speech on September 25. He said the forum has witnessed the progress and development of mankind promoted by science and technology, as well as the desire of people all over the world for a better life through innovation. He noted that, in building an intelligent society, effort should be made to give full play to the advantages of CAE members and discuss the development direction of intelligent technology with all walks of life.
He emphasized the application of intelligent technologies including 5G, artificial intelligence (AI) and Big Data to empower digital China, as well as support for typical practices in an intelligent society such as "building the capital Beijing into a global standard city for the new intelligence and digital economy, as well as for the intelligent 2022 Winter Olympics".
To safeguard people's health, Li said effort should be made to absorb the precious experience and fine spirit of engineering S&T personnel in fighting against COVID-19, as represented by CAE members, focus on major engineering S&T issues, promote innovation, opening and cooperation in the international medical science and technology with minds more open and measures undertaken to continuously achieve S&T progress.

In ecological development, Li said effort should be made to apply the advantages of engineering science and technology while focusing on frontier science and technology and cross-cutting fields. Cooperative research and resource sharing should be promoted as Chinese wisdom and solutions contribute to global climate change solutions and building community with a shared future for mankind.

The forum also released a key index and achievements while holding a ceremony for the Figure Award—Outstanding Contribution Award in Beijing Science and Technology. Eleven guests from home and abroad, including CAE Member Zhang Boli, delivered the keynote speeches.

After 14 years of development, the ZGC Forum has become a global, comprehensive and open high-end platform for S&T innovation, communication and cooperation. The forum has invited Nobel laureates, Turing Award winners, well-known members and other top scientists in the world, joined by representatives of top international scientific organizations, entrepreneurs and investors, all joining together to discuss frontier science and technology as well as industry developments. The forum also promotes international open innovation, leads the direction of science and technology at a high level, and promotes industrial development in a pragmatic way.