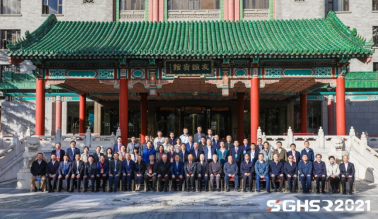 The 2021 international top-level forum Safety and Governance of High Speed Railway (SGHSR 2021) was held in Beijing on October 10.
It was hosted by the Chinese Academy of Engineering (CAE) and Beijing Jiaotong University (BJTU), and organized by the Academic Division of Engineering Management at the CAE as well as the state key laboratory for Rail Traffic Control & Safety and the key laboratory for Railway Industry for Operational Active Safety Assurance and Risk Prevention and Control at the BJTU.
CAE Vice President He Huawu and BJTU President Wang Jiaqiong attended the meeting and delivered speeches, while Hu Wenrui, Director of the Academic Division of Engineering Management at the CAE gave a summary. The forum included on-site reports, release of conference papers, awards for excellent papers and online live streaming. It attracted more than 200 experts and scholars from universities, scientific research institutes and enterprises, as well as more than 13,000 online participants, and received a total of 50 papers with 39 papers included and 10 receiving awards for excellence.
The forum invited 15 members, experts and scholars from China, Germany, France, Japan and Britain to deliver keynote speeches. It focused on the governance strategy for high speed railway safety systems, laws and regulations, as well as safety supervision systems in the high speed railway industry, the role of universities and colleges in high speed railway safety governance, smart and safe high speed railway infrastructure, emergency medical services on railway networks, safety monitoring of the external environment and facilities along high speed railways, and space-sky-vehicle-ground integrated safety strategy.

Further academic discussion was held to exchange and share new ideas, opinions and technological achievements in safety and governance of high-speed railways, contributing to a more comprehensive understanding of the key problems and solutions in safety and governance of China's high-speed railways.