The Fifth International Workshop for Disaster Risk Reduction Knowledge Service was held online on December 14th, 2021. This workshop was hosted by International Knowledge Centre for Engineering Sciences and Technology under the Auspices of UNESCO (IKCEST) and Section on Earth Sciences and Geo-Hazards Risk Reduction, Natural Sciences Sector, UNESCO, organized by Institute of Geographic Sciences and Natural Resources Research, Chinese Academy of Sciences (IGSNRR, CAS) and Disaster Risk Reduction Knowledge Service of IKCEST (IKCEST-DRR), and supported by Integrated Research on Disaster Risk International Programme Office (IRDR IPO), Alliance of International Science Organizations on Disaster Risk Reduction (ANSO-DRR), Deep-time Digital Earth Big Science Programme (DDE), National Earth System Science Data Center. The theme of this workshop is Open Science and Disaster Risk Reduction.
About 70 experts and scholars from China, the United States, Japan, France, South Africa, and the IKCEST-DRR team attended the workshop. This workshop was simultaneously broadcast online worldwide, attracting more than 830 audiences.
In the opening session moderated by Prof. Juanle Wang, Executive Director of IKCEST-DRR, Mr. Shahbaz Khan, Director of UNESCO Beijing Office, Mr. Qi Tian, Executive Deputy Director of IKCEST, Mr. Zhijun Yi, Bureau of International Cooperation, CAS, and Prof. Xing Gao, Deputy Director of IGSNRR, CAS, made remarks respectively.
The report session was presided over by Dr. Chang Liu, Secretary General of IKCEST. Dr. Ana Persic, Programme Specialist for Science Policy and Partnerships at the Division of Science Policy and Capacity Building at the UNESCO, gave a presentation on UNESCO Recommendation on Open Science. Prof. Suju Li, Director of Satellite Application Department of National Disaster Reduction Center of China of Ministry of Emergency Management of P.R.C., made a presentation of International Cooperation on Space-based Earth Observation Services for Disaster Risk Reduction. Dr. Daisy Selematsela, Chair of South African National Committee for CODATA, delivered a report entitled Challenges and Role Players in Transitioning Open Science in Support of Public Good. Prof. Juanle Wang made a report on Global Disaster Database Review.
The panel discussion and Q&A session were moderated by Prof. Qunli Han, Executive Director of IRDR. Mr. Soichiro Yasukaw, Programme Specialist, Coordinator for Disaster Risk Reduction and Resilience, Section on Earth Sciences and Geo-hazards Risk Reduction, Natural Sciences Sector, UNESCO, Prof. Gretchen kalonji, Former assistant director-general of UNESCO and Dean of the Institute for Disaster Management and Reconstruction (IDMR), Sichuan University-Hong Kong Polytechnic University, Prof. Saini Yang, School of National Safety and Emergency Management, Academy of Disaster Reduction and Emergency Management, and Prof. Guoqing Li, Aerospace Information Research Institute, CAS, respectively expressed their opinions on open science and disaster risk reduction, and then conducted in-depth discussions and exchanges.
During the workshop, Mr. Shahbaz Khan emphasized that this workshop combined open science and disaster risk reduction knowledge service, which was very timely and important. This workshop would further enhance the influence of IKCEST-DRR and promote cooperation with more international institutions for disaster risk reduction. Experts discussed the definition of open science, its key pillars, values and principles, areas of actions, as well as key challenges facing the application of it. They believed that open science is very important in the field of disaster risk reduction and would have a great impact. Open science needs the joint efforts of universities, publishers, scholars and research institutions, that is, the participation of the government, industry and the public. Open science should strengthen the data sharing of government funded projects.
It is hoped that IKCEST-DRR be a leading platform for sharing open science topics and ideas, and further deepen the understanding of the values, principles and specific actions of open science through the cooperation of more institutions. IKCEST-DRR team will summarize the workshop results, further strengthen cooperation with domestic and foreign institutions, further promote the application and practice of the "open science" concept in the field of disaster risk reduction, and improve the service capability and influence of IKCEST-DRR (http://drr.ikcest.org).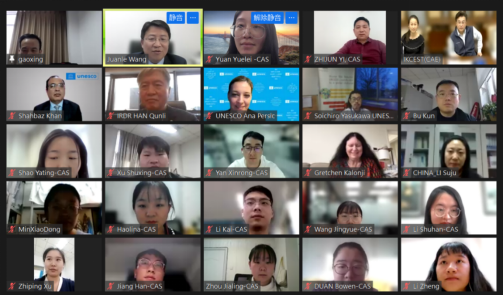 Group Photo