CAE Member Yuan Longping received a double blessing in September, 2010. One blessing is that the First Hybrid Rice Conference was held in Changsha on September 6, and the other is that the next day is Yuan's 80th birthday.
Initiated by Yuan Longping, cohosted by Ministry of Science and Technology, Ministry of Agriculture and Hunan Provincial People's Government, the First Hybrid Rice Conference was held in Changsha. State councilor Madame Liu Yandong, also a member of the Standing Committee of the Political Bureau of the Party Central Committee, gave special instructions and comments about the conference. Mr. Wan Gang, China's Minister of Science and Technology, also the Vice Chairman of CPPCC (Chinese People Political Consultative Committee) attended the conference and delivered a speech. Mr. Xu Shousheng, the Deputy Secretary of Hunan Provincial Committee of the CPC addressed the conference as well. Liu said in her comments and instructions that she was very happy to know of the commencement of the First Hybrid Rice Conference and wanted to express her sincere congratulation and respect for the chair of the conference, CAE Member Yuan Longping, as well as other experts present the conference. She said hybrid rice produced in China is an outstanding accomplishment in world agricultural technologies, which made remarkable contributions to food security across the globe. Hybrid rice provided wonderful solution to food shortage, famine and starvation, which can be truly regarded as the pride of Chinese people and the welfare of people all over the world. Liu also said that she hoped the conference could help to further enhance the hybrid rice technology and its industrialization by providing a stage for academic exchanges and scientific plans, which can help to further convert hybrid rice technology to practical contribution to world food security and social progress.

Yuan said with excitement and emotion on the conference that, China's hybrid rice research has been carried out for 46 years, during which time a huge number of professionals and experts all over China had made tremendous efforts and had made major breakthroughs in hybrid rice technology. They were either engaged with hybrid rice research and development or its promotion, with genuine concern over feeding the giant population of their home country, with improving the yield of crops their own responsibilities, thus put China in the leading position in hybrid rice research area in the world through the years. Yuan said with full conviction that, with more researches and developments of hybrid rice being conducted, esp. the effective promotion of the new technological achievements: super hybrid rice, hybrid rice will make more contributions to fight against food shortage and safeguard food security for China and the world, thus help to advance the cause of world peace eventually.

On the next day, in China's National Hybrid Rice Research & Development Center, a huge red Chinese character "Shou" (a very popular practice for Chinese people on elderly people's birthday celebration occasion), which means longevity in Chinese, could be seen in the front yard surrounded by trees. Yuan, the owner of the yard, was celebrating his 80th birthday. Premier Wen Jiabao, together with Jia Qinglin, chairman of the National Committee of the Chinese People's Political Consultative Conference sent letters to Yuan on August 27 and September 2 respectively, extending their congratulations over his birthday and their respect for his lifelong hard work and exceptional achievements.
(By Zhou Bing and Peng Zicheng, September 2010; translated by Liu Chang)

The following are the content of the two letters.
Congratulation Letter from Premier Wen Jiabao
Dear Longping,

How have you been? It's been a quite a long time since we last met. Missing you a lot!
As a pioneer agricultural scientist, you have been engaged in the research of hybrid rice for almost half century, during which time you feared no dangers and difficulties and stayed extraordinarily committed, kept extremely hardworking, in pursuit of a real solution to feeding the huge population of China. Your exceptional accomplishments belong not only to China, but exert influence over the world.
On the occasion for your 80th birthday, I want to extend my gratitude and respect, as well as warm regards and sincere wishes. I wish you healthy and happy! Wish you more achievements in hybrid rice research in the future! Wish you a thriving and flourishing career, followed by a large number of wonderful successors.
Wen Jiabao
August 27, 2010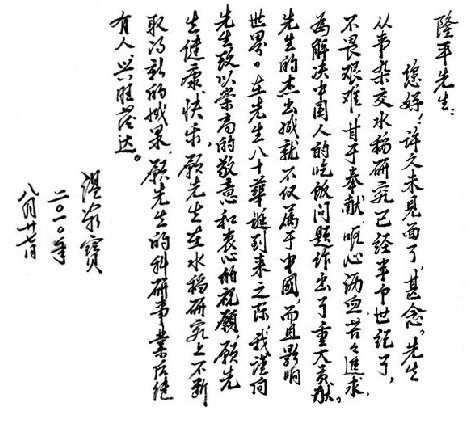 Congratulation Letter from Jia Qinglin, Chairman of CPPCC
Honorable Academician Yuan Longping,

On your 80th birthday, I want to extend my greatest congratulation and respect.


You are the founder and pioneer of hybrid rice research and development career in China, the "Shennong" (the God of Agriculture in Ancient China) of present time. For the past 50 years, you have worked unceasingly in agricultural research and made enormous contributions, bringing to us green hope and golden harvest by using advanced science and technology. Your outstanding achievements have not only helped to solve food shortage problem and ensure food security in China, but also contributed in your own way to world peace and social progress. You are the pride of China, and the world as well.


You are a wonderful role model for Chinese people, who should learn from you the morality of being truly patriotic, loving one's motherland and fellow citizens, being willing to contribute to better the livelihood of human beings, the everlasting readiness to act in accordance with the CPC's policies and work to help relieve its burden, the innovation spirit to advance with the times in pursuit of truth and new achievements, the strong will power to go straight on in the research area with no fear for dangers and difficulties and the noble personality of being extremely strict with oneself and paying little attention to fame and fortune. All of the above qualities are what the new era is calling for!


Happy birthday to you! Stay healthy! Enjoy a happy and long life!
Jia Qinglin
September 2, 2010

Relevant Links:
1. Yuan Longping – World Renowned Agricultural Scientist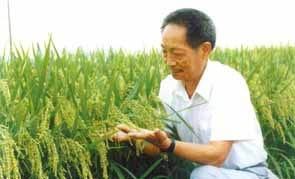 Yuan Longping, a Chinese agriculturalist, was born in Qianyang, Hunan Province in 1930. Professor Yuan graduated from Southwest Agriculture College in 1953 and has since devoted himself to agricultural education and research. He is currently an academician of the Chinese Academy of Engineering, Director General of China National Hybrid Rice Research and Development Center, Honorary President of the Hunan Academy of Agricultural Sciences in China and Vice-Chairman of Hunan Provincial Committee of the Chinese People's Political Consultative Conference. Professor Yuan was a pioneer in hybrid rice research and made remarkable achievements in this area, first developing hybrid rice in the world. The achievements of Yuan Longping greatly solved food shortage, and provided a solution to worldwide starvation. He was awarded with many international awards, such as Gold Medal Award for the Outstanding Inventor of the United Nations World Intellectual Property Organization, Science Prize of United Nations Educational, Scientific and Cultural Organization, Rank Prize for Agronomy and Nutrition of the United Kingdom, Medal of Honor for Food Security and Sustainable Development of the United Nations Food and Agriculture Organization, and Fukui International Koshihikari Rice Prize of Japan.


Yuan Longping started the research of indica hybrid in 1964. At the beginning, he discovered malesterile rice. Then he brought forward the third hybriding paddy and carried out experiments on farmland. Yuan Longping made breakthrough in 1973. He was the first person to develop indica hybrid rice. The new technology was tested in many areas of South China in 1974 and 1975, and then extended to other areas. China became the first country that is capable of producing hybrid rice. Yuan Longping is the first scientist who successfully altered the selfpollinating characteristic of rice and realized largescale farming of hybrid rice.


His pioneering work in hybrid rice breeding and production techniques has revolutionized rice cultivation in China, establishing China's world leading position in hybrid rice research. From 1976 to 1987, the total cultivated area of the hybrid rice developed by Yuan reached 1.1 billion mu (15 mu=1 hectares), and increased rice yield by 100 billion kg. In 1979, the hybrid rice was transferred as China's first agrotechnology patent to the United States. At present, the hybrid rice developed by Yuan is planted on the farmlands all over China, which played an important role in increasing China's grain production. It made possible the feeding of 22% of the world population on only 7% of the world's total arable land. His hybrid rice has already been adopted in over 20 countries and is attracting attention from the whole world, especially in areas at risk for famine.
(From http://www.chinaculture.org)
2. Voices of Innovation
What remains to be done in addressing global food shortages?

Food security is still a very serious problem because of the growth of the world's population and the reduction of arable land. Some experts estimate that in the year 2030, the world population will be 8 billion. Now it is about 7 billion.

What's the answer?

The only way to solve the food shortage problem is to increase the yield of the grain crop per land area through the advancement of science and technology.

What innovations must you use?

The big change, I think, is the use of biotechnology. We must incorporate this approach into our breeding program. In the materials we need to use in [hybrid] rice, their potential is almost tapped. So we must find a new source, other than rice, with new genes. But if you want to use new genes from another species, you cannot use conventional methods. We must use biotechnology.

Many in the West distrust genetic engineering. Does this concern you?

There are many kinds of genetically modified crops. In some transgenic plants [which contain artificially introduced genes], the genes from microorganisms such as bacteria help the plants to resist insects. Bugs that eat these plants will die. How about the effects on human beings? For some genes, we should be very careful. But for genes from maize or wild rice, there should be no problem.
(From http://www.businessweek.com)