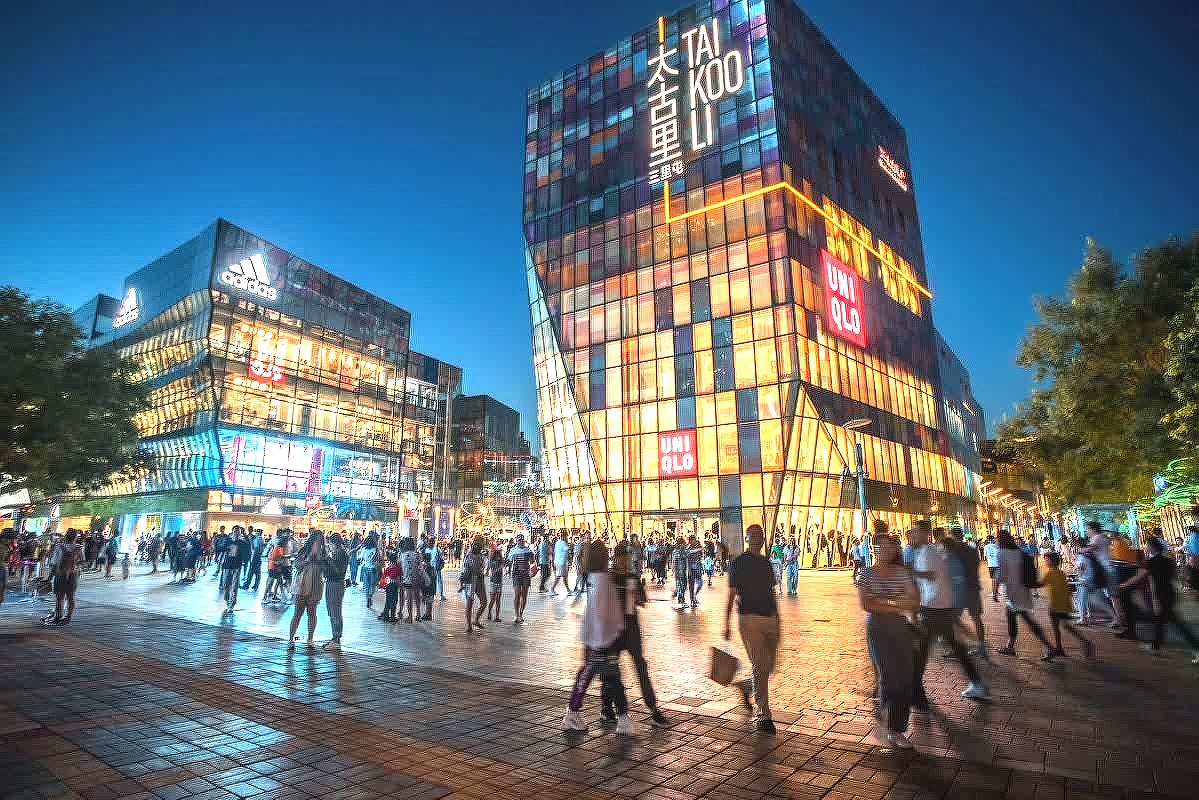 Beijing's Sanlitun area in Chaoyang district, one of capital's busiest areas for nightlife, is under renovation and upgrading for better service and outlook. [Photo provided to chinadaily.com.cn]
Swire Properties and Tsinghua University's Lab for Architectural Programming and Post-occupancy Evaluation on Wednesday jointly published a Places Impact Report -- "The Creative Transformation of Taikoo Li Sanlitun".
The study assesses Swire Properties' impact on the neighborhood and surrounding area over the past 12 years, and provides insights into the future role that the Taikoo Li Sanlitun development will play as a Beijing landmark offering unique cultural and lifestyle experiences.
Located in Beijing's Chaoyang District, Taikoo Li Sanlitun was Swire Properties' first retail-led, mixed-use development in the Chinese mainland and has become one of the capital's most sought-after leisure and business hubs since its opening in 2008.
"The transformation of Sanlitun over the past 12 years mirrors the remarkable transformations seen in Beijing's overall urban redevelopment. It also echoes the city's 14th Five-Year Plan, which requires not only the revitalization of old areas and inventory assets, but also continuous upgrading of younger projects such as Taikoo Li Sanlitun", CT Ma, general manager of Taikoo Li Sanlitun, said.
As a key initiative under the company's Sustainable Development 2030 Strategy, the report is the first systematic study and evaluation of Taikoo Li Sanlitun's impact on the area and follows on from the company's first Impact Report on Taikoo Place in Hong Kong, which was published last year.
Both reports apply the "Places Impact Framework" and explore the four dimensions of place – Vibrancy, Livelihood, Wellbeing and Resilience – to assess the qualities including investment in hardware, such as infrastructure and public spaces, as well as software, such as engagement with local government, the local community and social initiatives.
In addition to the spatial, economic and environmental perspectives, a key element of the report is the "people" indicator which illustrates how Taikoo Li Sanlitun is being used and experienced and highlights the connections people build with the place.
"The research was comprehensive, extending beyond Taikoo Li Sanlitun to the surrounding area to determine the factors necessary to create and continue to stimulate vibrant urban places, furthering our work toward innovative placemaking and urban regeneration", said Zhuang Weimin, academician of the Chinese Academy of Engineering, Dean of Architectural Design and Research Institute at Tsinghua University and professor of Tsinghua University's School of Architecture.
Tsinghua University is one of the most famous universities in China, as well as a well-known institution of higher education and advanced research. As one of Tsinghua University's 15 schools, the School of Architecture ranked No 8 among architecture schools in the QS World University Rankings 2021.
Ma Bingying contributed to this story