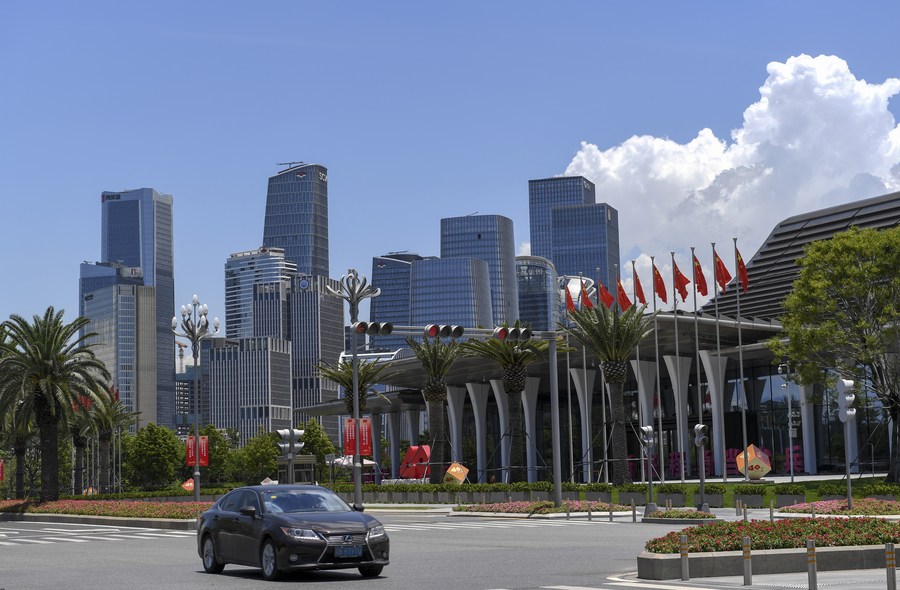 Photo taken on Aug 14, 2021 shows the view of Qianhai, in the southern Chinese city of Shenzhen. [Photo/Xinhua]
Advanced technologies can protect urban areas that are more likely to see concentrated risks from disasters as China strives to build resilient cities during its 14th Five-Year Plan (2021-25), experts said.
Huang Jiantao, head of the Shenzhen Academy of Disaster Prevention and Reduction in Shenzhen, Guangdong province, said that to reduce risks in cities, research is needed on technologies for disaster early warning systems and the regular monitoring of urban structures. He was speaking at an event last month in Tangshan, Hebei province, marking the 45th anniversary of the devastating Tangshan earthquake.
Risks range from natural disasters, including earthquakes, typhoons and floods, to other types of disasters such as gas explosions.
The 14th Five-Year Plan included building resilient cities for the first time. According to the Organization for Economic Cooperation and Development, resilient cities are those that have the ability to absorb, recover and prepare for future shocks from economic, environmental, social and institutional perspectives.
"For example, in the past, some buildings in Shenzhen were built in a hurry to meet deadlines and certain necessary steps were missed," Huang said. "That may pose safety risks to people, especially during disasters, so the government asked our academy to evaluate glass curtain walls of decade-old high-rise buildings."
Glass curtain walls may shatter due to long exposure to high temperatures and weak adhesion to main structures, Huang said, and they need to be checked regularly to prevent risks.
"Besides office and residential buildings, safety monitoring equipment should cover every corner of a city and involve every lifeline system and project, such as gas pipelines, subways, overpasses and power cables," he said.
For example, the academy has devised a warning system to protect subways from impairment by illegal construction. The system uses optical fiber technology to detect and transmit warning information of improper drilling in construction work above subways so that staff members can stop the behavior instantly.
"Some companies or individuals may dig an elevator shaft or a private cellar without knowing a subway is running underground," Huang said. "However, breaking the subway tunnel may cause a train to come to a sudden halt, resulting in severe injuries."
Anhui's provincial capital Hefei, which is also well-known for its technological development, asked a research center in the city to set up a quick warning system for gas pipeline leaks in 2016.
The system nipped a gas explosion in the bud when detectors installed in residential communities sent alerts to the city's monitoring center. Repair workers fixed the leak, local media reported in 2017.
Fan Weicheng, an academician at the Chinese Academy of Engineering, said in a speech broadcast by China Central Television that cities are complex systems and that as more people settle in urban areas, they become more risk-centered.
"Safety emergencies can occur within the city systems if they don't run normally while outside factors such as natural disasters can also intrude and cause damage," Fan said.
"In either case, we need to ensure the safe operation of the system and guarantee safety of people."
For protection against disasters coming from outside, Huang said, the disaster prevention academy and technology company Huawei are researching a warning system for large-scale natural disasters like earthquakes and flooding. The system can send 2 million messages to mobile phones in a second.
"For example, if a city has millions of people but can only send hundreds of phone messages a second, it will take hours to inform all the people in advance of a disaster," he said. "An efficient warning system that covers all the people in a short time is extremely important to avoid more damage."
Xiaomi, another smartphone and device manufacturer, said last month that a phone-based warning system had begun to be adopted nationwide. Jointly devised by the company and the national early warning information release center, the system allows phone users to receive warnings in advance of disasters such as earthquakes, typhoons or severe rainstorms.