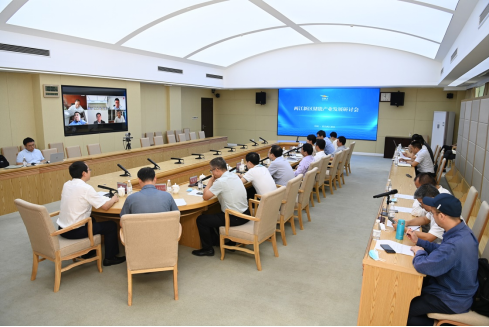 China's top experts and scholars, Chongqing government officials, and representatives from dominant firms in the energy storage industry attend a symposium on Sept 17. [Photo/liangjiang.gov.cn]
A symposium on the development of the energy storage industry was held on Sept 17 in Liangjiang New Area in Southwest China's Chongqing municipality.
Officials from Chongqing Liangjiang Area Development and Investment Group Co introduced the development expectations of the energy storage industry, followed by the current status quo and future plans for the industry in Chongqing, which were explained by staff members from the Chongqing Science and Technology Bureau, Chongqing Energy Bureau, and State Grid Chongqing Electric Power Co.
Guo Jianbo, academician of the Chinese Academy of Engineering, said that the domestic energy storage market is in high demand, and that Chongqing needs to further classify its industrial market and clarify development approaches and goals in every sub-field.
Pan Fusheng, president of the Chongqing Association for Science and Technology, suggested that Chongqing should develop its energy storage sector by taking into full account national strategic layout and development trends, as well as Chongqing's unique geographical features, resource distribution, and industrial demands.
In addition, he urged the government to formulate a plan of action for the industry from two dimensions – national security and people's livelihoods in order to handle properly the production, storage, and application of energy.
Zhang Li, a member of the Chongqing Liangjiang New Area Party Work Committee and vice-director of the Chongqing Liangjiang New Area Administrative Committee, gave weight to suggestions and insights from scholars, offering guidance on Liangjiang's plans for the energy storage sector. He said the new area will promote technology transfers, launch energy storage application demonstration programs, and introduce more major industrial programs to Liangjiang.
Li Zhengmao, chief energy storage architect of Contemporary Amperex Technology Co, shared his opinions at the meeting via video link. He said he believed that the power and new energy industries are facing new development opportunities, and that the turning point for the renewable power market has come. Chongqing is advised to optimize the user-side design of differentiated electricity pricing in order to enhance energy-saving awareness among individual and business users.
Meanwhile, Chongqing is encouraged to implement relevant supporting policies to increase the operational revenues of local energy storage businesses and stimulate progress on new energy vehicles.