The 2021 World Conference on Virtual Reality Industry, which opened on Tuesday in Nanchang, capital of East China's Jiangxi province, is of great importance in promoting industrial communication and applications of new technology, which are deemed key to the long-term development of the entire VR industry in Jiangxi and even all of China, according to local officials.
The conference, that closes on Wednesday, is being held both online and offline, and has attracted experts from more than 10 countries and regions including the United States, France, South Korea, the United Kingdom and Sweden to share their latest insights and findings on VR technologies.
Liu Liehong, chairman of the board of China United Network Communications; Mei Hong, an academician at the Chinese Academy of Sciences; John Hennessy, Turing Award winner for 2017 and chairman of the board of Alphabet; Wang Jian, an academician at the Chinese Academy of Engineering; and Meng Pu, chairman of Qualcomm China, delivered keynote speeches at the event covering a broad range of industry topics.
This year, a branch venue for the conference was set up in South Korea for the first time, in addition to one in Austria that was set up for the 2020 edition.
Co-hosted by the Ministry of Industry and Information Technology and the Jiangxi provincial government, the 2021 event includes a main forum and 16 sub-forums covering fields such as industrial standardization, gaming, media, education, visual arts, culture and tourism, healthcare, innovation and intellectual property protection. A promotional event for the Nanchang VR Innovation Center, an array of competitions and a global talent recruitment fair are among the highlights of the 2021 edition.
A VR industry expo, covering 30,000 square meters, is ongoing in Nanchang. A total of 216 enterprises, engaged in hardware, software, service and application, are displaying their latest VR products. The number of enterprises taking part represents a year-on-year increase of 36.7 percent. Leading industrial players from around the world, including Epson, 3M, HP and Sap are attending the expo. A number of Chinese industrial giants including Huawei and Baidu are also showcasing their new products and services.
Cutting-edge technologies to serve demands in healthcare, the development of virtual museums, the industrial internet and education are on display.
"It is the first time that the expo has covered the complete industrial chain," said Wang Wanzheng, vice-mayor of Nanchang.
The event, first held in 2018, has become a key platform for Jiangxi to attract VR-related investment and expand the industrial chain.
Over the last three years, a total of 198 VR-related agreements, with a combined value of 116.4 billion yuan ($18.07 billion), have been signed at the conference. Nanchang is now home to a number of leading VR companies from home and abroad including Huawei, Alibaba, Tencent, Microsoft and Qualcomm. It is also home to four leading hardware developers, according to local officials.
More than 260 VR industry players have settled in Nanchang, with the overall income reported by those companies reaching 23.4 billion yuan in 2020, according to the Nanchang government.
This is the fourth consecutive year Nanchang has hosted the VR industry conference, and it has witnessed the wider applications of VR technology across different sectors including manufacturing, education, culture and tourism.
According to Li Yong, director of equipment management at the Chengmenshan Copper Mine of Jiangxi Copper Corporation, VR technology is being used to display the internal structures of mining sties, which greatly supports daily management, production planning and risk mitigation.
VR technology is playing a role in saving lives in Jiangxi. Nanchang University has established a lab that provides first aid training with the support of VR technology. Using VR, students can practice skills under different scenarios, such as for a traffic accident or near drowning, which can help them accumulate more experience before dealing with real cases.
At schools in Jiangxi, VR technology is being used to help students better learn history-they can experience complex landscapes and the difficulties endured during the Long March with support of VR devices.
Schools in Nanchang have also set up VR-based hobby classes for students covering history, geography and biology.
"VR helps students broaden their horizons, and helps to prepare them for the future," said Chang Qinhua, vice-principal of Nanchang Foreign Language School of Jiulonghu Junior High School.
The Jiangxi government will continue to support the development of the VR sector with more policies and better services, according to local officials.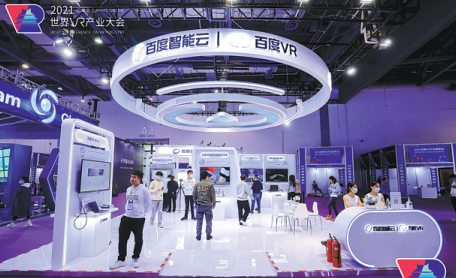 Chinese technology company Baidu displays its VR solutions at the 2021 World Conference on Virtual Reality Industry in Nanchang, Jiangxi province. CHINA DAILY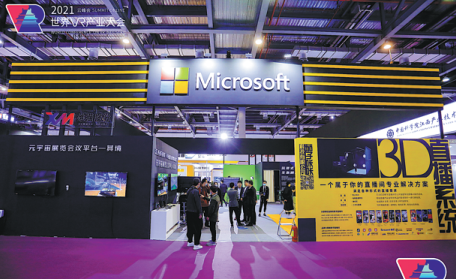 Visitors inquire about Microsoft's latest products and services at the 2021 WCVRI. CHINA DAILY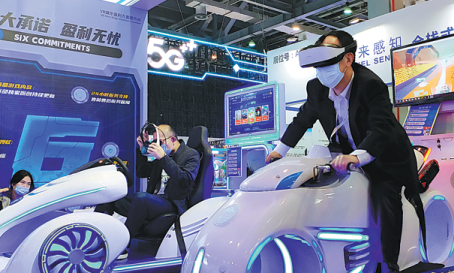 Visitors play a motorcycle game at the 2021 WCVRI. WANG JIAN/CHINA DAILY

Yi Lianhong, Party secretary of Jiangxi province, delivers a speech to mark the opening of the 2021 WCVRI. WANG JIAN/CHINA DAILY