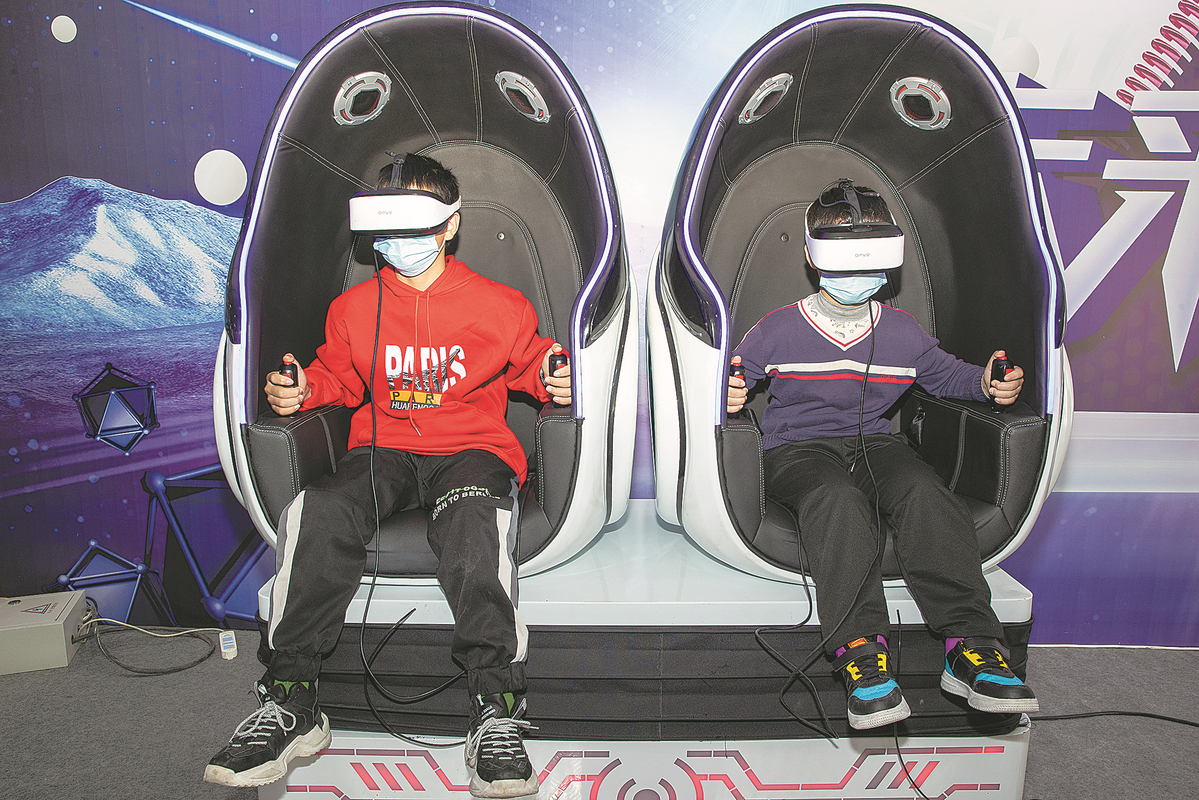 Children try out virtual reality equipment at the World Internet of Things Wuxi Summit in Jiangsu province on Saturday. [Photo by Zhu Jipeng/for China Daily]
Officials and experts are calling for greater efforts to build infrastructure for the internet of things industry and to accelerate its application in more sectors, as the IoT is widely seen as a pillar to bolster the development of China's digital economy.
Their comments follow the value of China's IoT industry growing to more than 2.4 trillion yuan ($375.8 billion) by the end of 2020, according to a top official at the Ministry of Industry and Information Technology, the nation's main industry regulator.
Vice-Minister Wang Zhijun said there have been more than 10,000 IoT patent applications in China, basically forming a complete industrial chain covering intelligent perception, information transmission and processing, and application services.
"We will strengthen the innovation drive, continue to improve the industrial ecology, accelerate the construction of new infrastructure for IoT, and deepen application services in key areas," Wang said at the World Internet of Things Wuxi Summit on Saturday. The summit, in Wuxi, Jiangsu province, is part of the 2021 World Internet of Things Exposition, from Oct 22 to 25.
At the summit, global IoT industry leaders discussed cutting-edge technologies, applications and future trends of the industry, ways to improve the ecology and promote global collaborative innovation and development of the industry.
Agreements on 20 projects were signed at the summit, covering areas such as artificial intelligence, IoT, integrated circuits, advanced manufacturing, the industrial internet and deep-sea equipment.
Hu Guangjie, vice-governor of Jiangsu, said the 2021 World Internet of Things Exposition can serve as a platform and link to continuously deepen cooperation with all parties in IoT technology, industry and other fields, so that IoT can better contribute to high-quality industrial development.
Wuxi, designated as the national sensor network demonstration zone, has seen its IoT industry valued at over 300 billion yuan so far. The city is home to more than 3,000 IoT companies specializing in chips, sensors, and communications and is engaged in 23 major national application projects.
Wu Hequan, an academician at the Chinese Academy of Engineering, said with the accelerated evolution of new generation information technologies such as 5G, artificial intelligence, and big data, IoT will usher in a period for large-scale development.