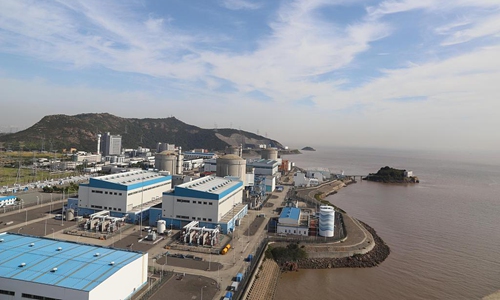 Qinshan Nuclear Power Station in East China's Zhejiang Province Photo: CFP
The Qinshan Nuclear Power Plant, the first domestically designed and built nuclear power plant in the Chinese mainland, has operated safely for 30 years as of Wednesday, with its operators saying that the multi-unit plant has generated electricity exceeding 690 billion kilowatt hours. It helped cut carbon dioxide emissions of 653 million tons as of Wednesday, compared to planting forests on an area the size of 433 West Lakes.

The operator, China National Nuclear Corp (CNNC), told the Global Times on Wednesday that the scale of carbon dioxide emissions cuts could be compared to planting forests on an area the size of 433 West Lakes.

Nuclear power is the most practical strategic choice for coping with global climate change, and China is one of the few nations that have established a complete nuclear industry system and nuclear power industry chain, industry insiders said.

The State Council, China's cabinet, released in late October an action plan to peak carbon dioxide emissions before 2030.

By 2030, the share of non-fossil energy consumption will be around 25 percent, and carbon dioxide emissions per unit of GDP will drop by more than 65 percent compared with the level registered in 2005, according to the plan.

In a statement it sent to the Global Times, the CNNC said that the action plan is a major opportunity for its high-quality development, and it views the goal of peaking carbon dioxide emissions before 2030 as its important task and duty.

To reach that goal, the CNNC vowed to develop nuclear power in an orderly way, under the premise of safety.

The CNNC's facilities have generated 1.2 trillion kilowatt hours of electricity, which is equivalent to avoiding 400 million tons of standard coal.

These facilities have reduced emissions equivalent to 1 billion tons of carbon dioxide, 34 million tons of sulfur dioxide, and 17 million tons of nitrogen oxides. These reductions are equivalent to planting forests of nearly 3 million hectares, covering twice the area of Beijing.

Besides the traditional nuclear power solution, in cooperation with the Haiyan county government, East China's Zhejing Province, the Qinshan Nuclear Power Plant has contributed to a district heating demonstration project, which will "provide a nuclear energy solution to solve the heating problem in southern China," the CNNC said.

The construction of the demonstration project in Haiyan started on July 28 and concluded on November 15. Trial operations began on December 3.

The project utilizes the remaining thermal power of the Qinshan Nuclear Power base units in the winter to provide large-scale safe, zero-carbon nuclear heating to public facilities, residential communities and industrial parks in Haiyan without affecting the safety performance of the units.

By 2025, nuclear heating will basically cover the main urban area of Haiyancounty and the entire area of Shupu township.

After completion, the project is expected to provide heating of 704,000 gigajoules annually, saving electricity of 196 million kilowatt hours, which will avoid annual emissions of 1,817 tons of sulfur dioxide, 908 tons of nitrogen oxides, and 59,000 tons of carbon dioxide.

Speaking at the Wednesday anniversary event, Ye Qizhen, an academician of the Chinese Academy of Engineering in the field of nuclear reactor and nuclear power generation, , noted that coal-fired cogeneration takes up 48 percent, coal-fired boilers 33 percent and clean-energy heating less than 4 percent in the country's heating energy landscape.

It is a major trend to promote clean energy heating with low carbon emissions while banning the burning of loose coal and the use of small boilers, and decreasing the use of large-scale coal-fired boilers, he noted.