On February 18, a themed press conference of beautiful China and green Winter Olympics was held at the 2022 Beijing Media Center. Mr. Jinnan Wang, member of the Chinese Academy of Engineering, said that China has realized the lofty promise of holding a "Green Olympics" and it has shown the country's determination and dedication to pursue sustainable development to the world. Wang is also the president of the Chinese Academy of Environmental Planning and director general of the Chinese Society for Environmental Sciences.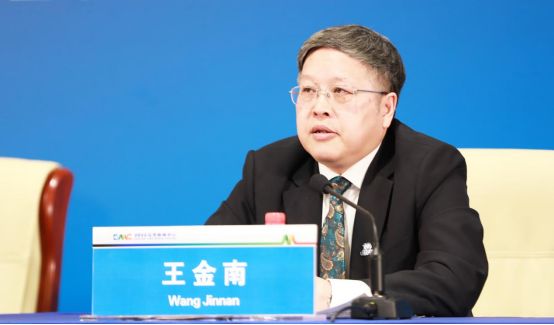 Mr. Jinnan Wang, member of the Chinese Academy of Engineering. (Wang Enhui/Guangming Picture)
An Unprecedented "Green Effort"
Wang introduced a wide range of green measures that Beijing has taken to fulfill its commitment to host a green Games. Existing venues from the 2008 Games like the "Bird's Nest", "Water Cube", and Wukesong Sports Center were fully repurposed. The environmental impact of the new venues' construction was diminished thanks to more conscientious designs. The National Speed Skating Oval, dubbed the "Ice Ribbon", used a Trans-Critical CO2 Refrigeration System to produce ice; a world first that allowed near-zero carbon emission.
All venues of the Beijing Winter Games achieved the Standards for Green Building, with green power as their only source of conventional energy. Out of all the event's vehicles, 84.9% were energy-saving or used clean energy, which is a record high. Innovation in the torch's ignition during the Opening Ceremony represented the starting point of green Olympics. A wide usage of photovoltaic and wind power, combined with local donations and enterprise sponsorships, allowed the 2022 Games to successfully achieve carbon neutrality.
An article in Nature pointed out that: environmentally-oriented actions implemented in the Beijing Games greatly outnumbered those in previous Winter Olympics. As an example of China's carbon reduction efforts, such practice during the Games has demonstrated the feasibility of achieving carbon neutrality on a broader scale.
From "Beijing Blue" to "Beijing Miracle"
The green and low-carbon practices in the Beijing Winter Olympics have created a roadmap for China's future development. They leave behind a rich Olympic heritage of sustainability for future generations. Wang said that it was "particularly satisfactory".
As a city that has hosted both Summer and Winter Olympic Games, Beijing has created a miracle in air quality improvement. Since 2008, unremitting efforts have been made to control air pollution in Beijing as well as the Beijing-Tianjin-Hebei Urban Agglomeration. Improving the quality of ecological environment in Beijing, especially the air quality during the Games, was also a solemn commitment made by China in its bid to host the Winter Olympics. A series of major measures have since been taken. Last year, the average concentrations of six major air pollutants were below the national standard for the first time. The concentration of smog-causing fine particulate matter dropped to 33 microgram per cubic meter, 40% lower when compared to 2017. There were 288 days in which air quality was excellent, an addition of 62 days compared to 2017. "Beijing Blue" is becoming the norm. The city air is much cleaner than before, maintaining PM 2.5 levels in single digits for several days during the Games.
The United Nations Environment Program spoke highly of Beijing's achievements in air pollution control, calling it a miracle that provides practical experience for cities in developing countries. The steel maker Shougang Group had been relocated, the area transformed to accommodate the Organizing Committee and the freestyle skiing venue. It had transmuted gorgeously from a place of steel and fire to a land that holds the dance of snow and ice, setting a vivid example of Green Olympics and urban regeneration.
Article contributed by Wang Enhui, GMW.cn
Translated by Zheng Wenbo, Tsinghua University