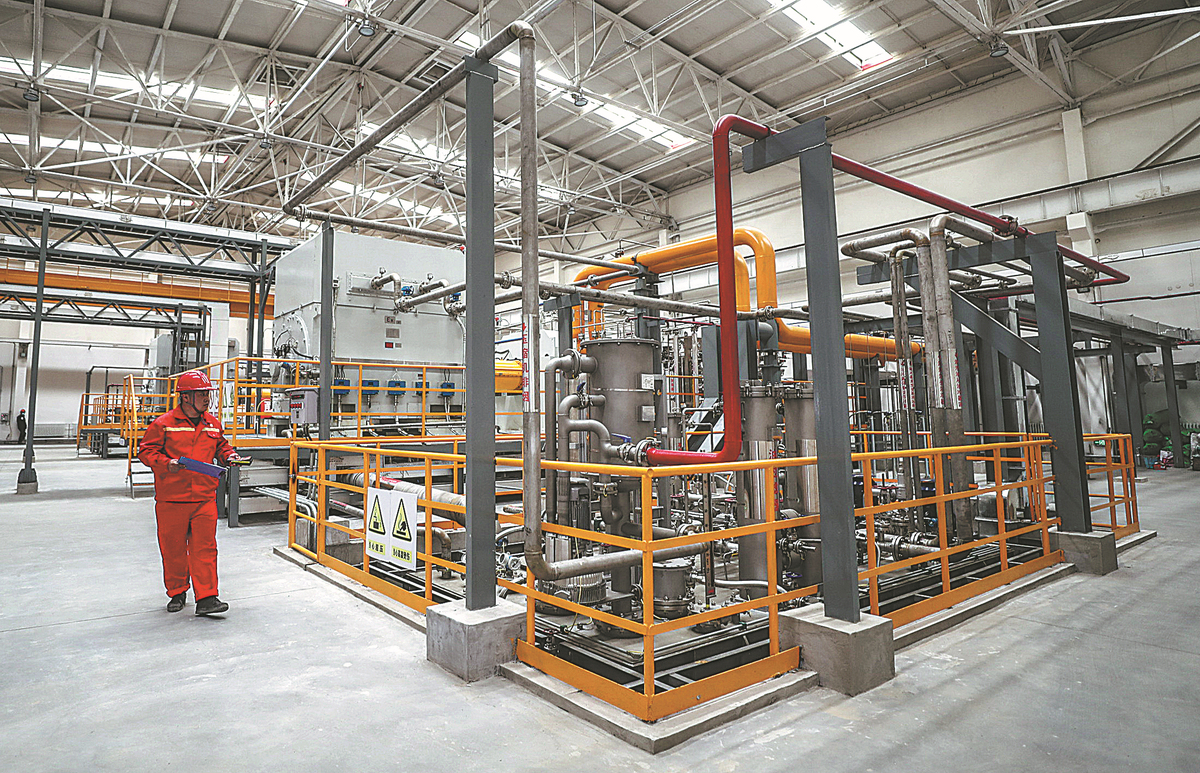 A CNPC employee checks CCUS equipment at a facility in Liaohe Oilfield, Liaoning province, in June. [Photo/Xinhua]
State oil, gas giant improves output structure to meet increasing demand for clean power
China National Petroleum Corp, the country's largest oil and gas producer and supplier, has been optimizing its production structure in recent years to diversify its business to meet the country's growing demand for clean energy.
With an eye on peaking carbon by 2025 and achieving carbon neutrality by 2050, the company has been pushing forward clean energy, including solar power, wind power, hydrogen, geothermal and the application of carbon capture, utilization and storage (CCUS) to ensure the capacity of new energy business to account for half of its total business by 2050, it said.
The new energy sector will rise to one-third of the oil behemoth's total business by 2035, together with oil and gas, each of which will also account for one-third, it said.
The State-owned energy giant said it will continue to expand natural gas development, which is believed to work as a bridge fuel to reduce oil dependency while buying time to develop new technologies that will ultimately replace fossil fuels for transportation.
Taking advantage of the company's resources, the percentage of natural gas in the company's oil and gas production volume rose to 51.6 percent in 2021. The percentage is expected to rise to 55 percent by 2025, it said.
At the same time, it will also step up the use of new energy and materials to meet growing demand for clean and high-quality energy, including the integrated development of wind and solar power and the industrial utilization of hydrogen, as well as the scale development and utilization of geothermal power.
The company vows to seize opportunities for low-carbon transformation and development in the energy sector and actively lay out a low-carbon business model to foster clean production, thus achieving the global objective of "carbon emissions peak" and "carbon neutrality".
The carbon neutrality goal will drive technological innovation in the country while boosting high-quality social and economic development. This is also a historical moment to narrow the gap with developed countries, said Du Xiangwan, an energy expert at the Chinese Academy of Engineering, during the recently held China Carbon Neutrality Forum 2022 Summit.
The company has come up with 39 new energy projects in 2021 and newly added new energy development and utilization capacity rose to the equivalent of 3.5 million metric tons of coal last year.
The company has also come up with 240,000 kilowatts of newly added wind power installed capacity. The high purity hydrogen supply capacity of the company rose to 15 million tons per year, which also built eight hydrogen refueling stations in 2021, it said.
In the field of geothermal heating, the company has developed 9.6 million square meters of newly added geothermal heating areas. All of its 16 geothermal projects under operation nationwide are capable of replacing 350,000 tons of standard coal, equivalent to reducing carbon dioxide emissions by almost 1 million tons, it said.
Eyeing huge potential in the carbon storage sector in China, CNPC has also been stepping up CCUS technologies. The company injected 567,000 tons of carbon dioxide to some underground areas in its oilfields last year in a move to handle emitted carbon dioxide and enhance oil recovery.
CNPC said the company's domestic oil and gas output rose to a record high last year. Newly proved geological oil reserves last year exceeded 1.05 billion tons, and that of natural gas exceeded 1.09 trillion cubic meters, both of which were record highs.
This is part of the company's efforts to step up upstream investment in order to boost domestic output and ensure national energy security, said Luo Zuoxian, head of intelligence and research at the Sinopec Economics and Development Research Institute.
Luo said as China has been heavily relying on crude imports in recent years, the country's domestic oil majors, including CNPC, China National Offshore Oil Corp and China Petroleum and Chemical Corp, have been increasing investment in exploration and exploitation, and the trend is only expected to gain more momentum.
According to the China Offshore Energy Report released by the CNOOC Energy Economics Institute, China is becoming more self-sufficient in energy supplies thanks to rising domestic oil and gas production in recent years, with the energy self-sufficiency rate reaching more than 80 percent in 2021.