Opening ceremony of the 6th World Intelligence Congress held in North China's Tianjin Municipality on June 24, 2022. Photo: Courtesy of Jia Chenglong
The 6th World Intelligence Congress (WIC) concluded in North China's Tianjin Municipality on Saturday, during which 136 projects were signed with total investment worth 84.9 billion yuan ($12.7 billion), covering areas such as innovative industries, high-end equipment, biomedicine and other emerging sectors.
At the convention, China's rapid development in the artificial intelligence (AI) and other areas were highlighted by industry analysts and player, which showcased the latest technological breakthroughs.
Intelligent manufacturing based on AI is the main technical route for China's manufacturing industry to achieve innovative development, which creates a good opportunity to change lanes and overtake rivals, Zhou Ji, an academician of the Chinese Academy of Engineering, said at the WIC.
Replacing labor with machines, introducing new technologies and upgrading intelligent equipment will not only solve the problems of labor shortages and rising labor costs, but also fundamentally improve the quality, efficiency and competitiveness of the manufacturing industries, Zhou noted.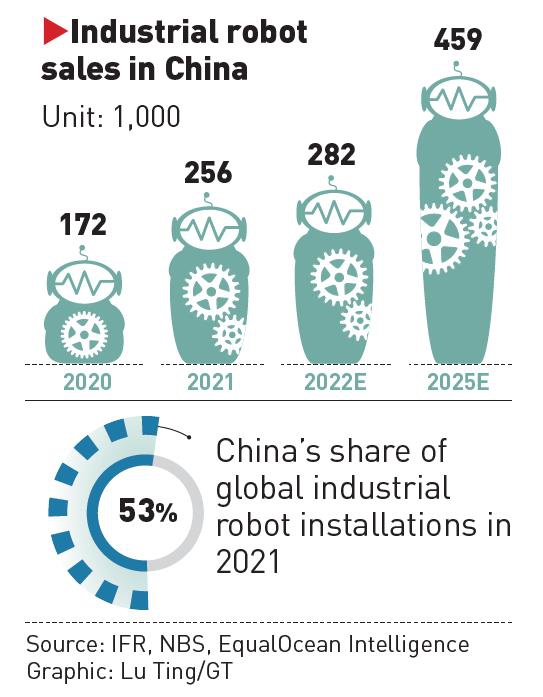 Industrial robot sales in China Graphic: GT
Behind the intelligent transformation, Chinese leading tech companies have been playing a vital role by constantly coming up with cutting-edge technologies, such as Huawei and Tencent.
According to a statement sent to the Global Times by Tencent, the tech giant tailored a metaverse venue for the WIC, allowing online visitors to participate in the convention with their digital identities and gain new experience.
With its technology, connectivity advantages and ecological power, Tencent has been facilitating Tianjin to promote digital transformation of urban production and living, social governance and public services.
The deeply integrated development of AI and manufacturing will not only bring about changes in production, but also lifestyles and society. It is a core engine of the fourth Industrial Revolution, Gong Ke, executive dean of the Chinese Institute of New Generation Artificial Intelligence Development Strategies, said at the convention.
Under the guidance of national strategy and the active exploration of enterprises, China has become a frontrunner in the field of intelligent manufacturing, Gong said.
The convention gave awards for 10 excellent cases of intelligent technology innovation application, including "intelligent manufacturing of modern Chinese medicine" by Tasly Pharmaceutical Group, a factory digital platform established by Haier Group, and an intelligent transportation solution for automated container terminals set up by the second container terminal of Tianjin Port, according to a statement sent to the Global Times by the organizer.
Relying on Huawei Cloud, 5G and artificial intelligence (AI) technology, the second container terminal of the Tianjin Port developed the world's first intelligent horizontal transportation system. In addition, the port and China Mobile jointly built a tailored 5G network at the site, deploying 10 5G base stations and two 700M base stations to support the operation of 76 unpiloted intelligence transportation robots (ARTs).
The port is using the BeiDou Navigation Satellite System to meet the centimeter-level, high-precision positioning requirements of ARTs. ARTs offer low costs, a short manufacturing cycle, high efficiency, energy conservation, safety and reliability. With strong adaptability and flexibility, they can meet the requirements of the intelligent transformation and upgrading of traditional docks. Overall, it offers a "Chinese solution" that could be directly applied in 95 percent of traditional port terminals around the world.
With the help of Huawei's smart photovoltaic solution, the C-section of Tianjin Port's Beijiang Port area has become the world's first zero-carbon green container port, according to a statement sent to the Global Times by Huawei.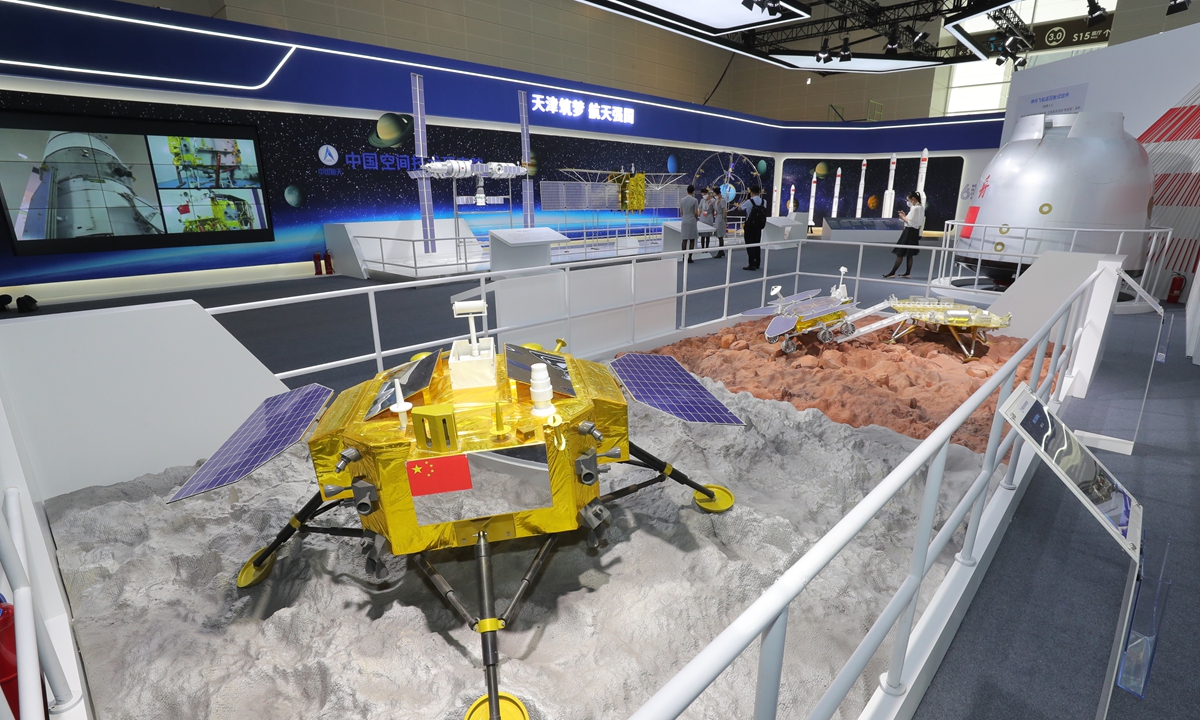 Latest aerospace technology displayed at the 6th World Intelligence Congress held in North China's Tianjin Municipality on June 24, 2022. Photo: Courtesy of Jia Chenglong
A massive number of manufacturers in China are making an intelligent transformation. As early as 2016, Tungray Industrial Automation Co (Kunshan) identified the promising trend and started to offer tailored intelligent logistics solutions for factories.
In 2021, the company's intelligent logistics solutions recorded 600 million yuan in revenue, delivering intelligent factory logistics systems for auto parts, elevator and metal wire producers.
All levels of the Chinese government have also ramped up efforts to promote the intelligent and digital transformation of manufacturing over recent years. For example, the Pukou district in Nanjing, East China's Jiangsu Province, rolled out 68 new application scenarios to boost the intelligent and digital transformation of local factories on Saturday.
With a total investment of 10 billion yuan, 12 digital economy industrial projects were signed in the district on the same day, according to the People's Daily.