Shanxi's tentative but successful development in the hydrogen industry offers a new option for energy industry transformation, participants said at a forum earlier this month in Taiyuan.
As part of the 2022 Taiyuan Energy Low Carbon Development Forum, experts from home and abroad, industry insiders and local officials discussed the future of hydrogen as a new energy resource at a hydrogen economy development sub-forum on Sept 3.
Lin Zhongqin, president of Shanghai Jiaotong University and an academician of the Chinese Academy of Engineering, said hydrogen can play an important role in helping China achieve peak carbon and carbon neutrality.
He noted that some automakers in China have rolled out hydrogen-fueled vehicles after technological breakthroughs were made in hydrogen fuel cells and cheaper methods found to produce hydrogen.
"This new automotive sector will drive demand for hydrogen and foster a new industrial chain," Lin said.
Shanxi is one of the nation's pioneers in fostering a hydrogen industrial chain, said Wu Hongwen, head of the Shanxi Department of Industry and Information Technologies.
He noted that Shanxi now sees the hydrogen industry as a strategic sector for its energy revolution move. An industrial chain, with dozens of enterprises upstream and downstream, has taken shape as a result.
Wu said Shanxi has its unique advantages in developing the hydrogen industry. Hydrogen can be made through water electrolysis or extracting from coking gas. The latter is popular in Shanxi because of its rich resources and viable technologies.
Shanxi is now the largest coke producer in China and the world, with an annual production of 100 million metric tons. Coking gas, with a hydrogen content of more than 60 percent, can be used to develop the largest hydrogen production industry in the world, according to Wu.
He estimated that Shanxi's coking plants can produce 14 billion cubic meters of hydrogen a year. If other coke-consuming enterprises are included, the volume could reach 24 billion cu m.
Pengfei Group, based in the city of Lyuliang, is one of the leading hydrogen, hydrogen vehicle and component producers in Shanxi.
Its chairman and president Zheng Peng told the forum that the company had released its 250-kilowatt hydrogen fuel cell system for heavy trucks on Sept 2-just one day before he spoke.
"This is a world-first in its specification," Zheng said. "This power output can effectively extend the truck's travel distance."
Pengfei broke ground for a plant to produce hydrogen vehicles and components in Lyuliang on July 21. This is regarded by industry insiders as a milestone event in Shanxi. It is the first purely hydrogen-fueled vehicle production facility to be funded by an indigenous automaker.
Pengfei has established Pengwan Hydrogen Port, a development zone for the hydrogen industry, in Lyuliang. One of the zone's major projects, a hydrogen production facility with an annual output of 20,000 tons, opened in July.
Jin Shuaini contributed to this story.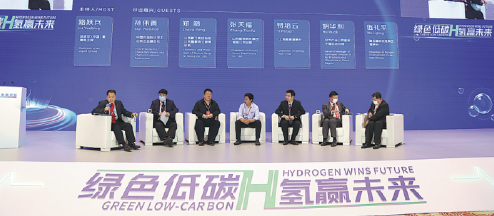 Experts share their insights into the future of the hydrogen industry at the forum. RUAN YANG/FOR CHINA DAILY