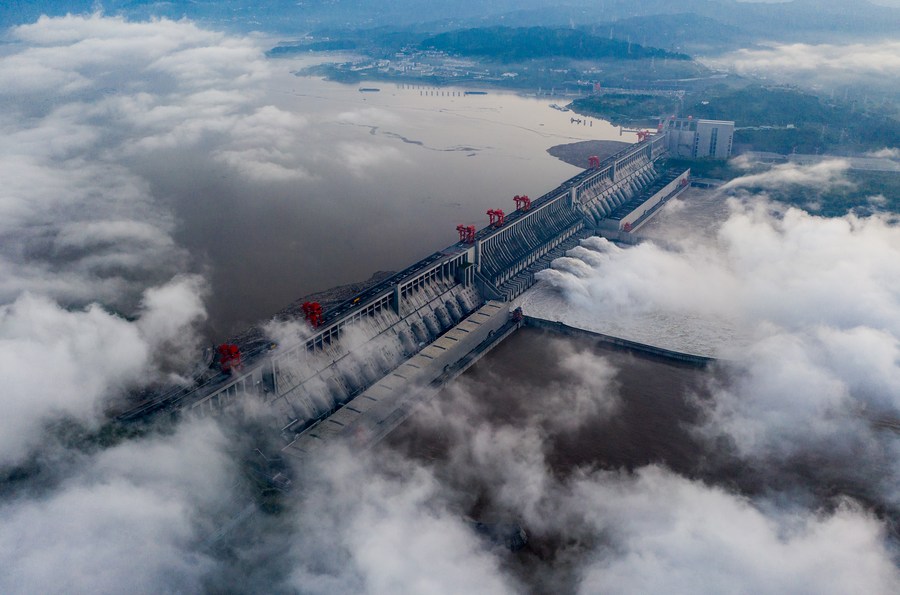 Aerial photo taken on Sept 10, 2021 shows the scenery of the Three Gorges Reservoir in Zigui county of Yichang city, Central China's Hubei province. [Photo/Xinhua]
China is expected to further step up the development of pumped-storage hydroelectricity during the 14th Five-Year Plan period (2021-25), as part of the nation's broader efforts to deliver on its climate commitment of peaking carbon emissions by 2030 and achieving carbon neutrality by 2060, experts said on Friday.
Speaking at an energy forum held by the China Renewable Energy Engineering Institute, or CREEI, they said as the country ramps up the development of intermittent new energies and strives to increase their weight in the power-generation system, developing pumped-storage hydroelectricity projects can help maintain stable grid operations and, therefore, promote the construction of the new power system.
"As renewable power capacity in China continues to grow, a huge amount of flexible electricity supplies will become increasingly important for the grid, to deal with the fluctuating output of intermittent energy sources and to keep operations stable. This problem is due to the uneven power generation performances by renewable energies," said Zhang Zongliang, an academician of the Chinese Academy of Engineering.
Pumped-storage hydropower projects pump water to an upstream reservoir during off-peak times — that is, the times when there is redundant electricity; and when electricity is needed, the stored power will be released to the lower reservoir the same way a conventional hydro station generates electricity.
Hydroelectricity stations, especially the leading ones and pumped-storage hydroelectricity projects with strong flexibility, are a major approach to stabilize grid operations when transmitting power generated from new energies, Zhang said.
He is also the lead expert of the Power Construction Corp of China and senior commissioner of the experts committee of the CREEI.
According to a mid- and long-term development plan for pumped-storage hydropower unveiled by the National Energy Administration last year, China aims to have more than 62 million kilowatts of operational pumped-storage hydropower capacities by 2025. By 2030, the figure is expected to reach around 120 million kW.
Zhang said China is expected to approve the construction of more than 200 pumped-storage hydropower projects during the 14th Five-Year Plan period. The country will probably see more than 62 million kW and more than 120 million kW of operational pumped-storage hydropower capacities by 2025 and 2030, respectively.
A recent CREEI report showed China already leads the world in pumped-storage hydropower. By the end of last year, the total installed capacity of pumped-storage hydroelectricity in China had increased 15.6 percent year-on-year to 36.39 million kW.
Li Jian, chief engineer of the State Grid Energy Research Institute, suggested China should accelerate the development of pumped-storage hydroelectricity and encourage investors from the private sector to invest in the area.
"It is wise to proactively combine the development of new energy and energy storage, so that electricity production, transmission, consumption and storage will achieve coordinated development," he said.
Chen Weirong, general manager of China Southern Power Grid's Beijing branch, said China is expected to improve adjustment capability of the power grid for inclusion of renewable energy-based electricity through high-quality implementation of the mid- and long-term development plan for the pumped-storage hydropower sector.