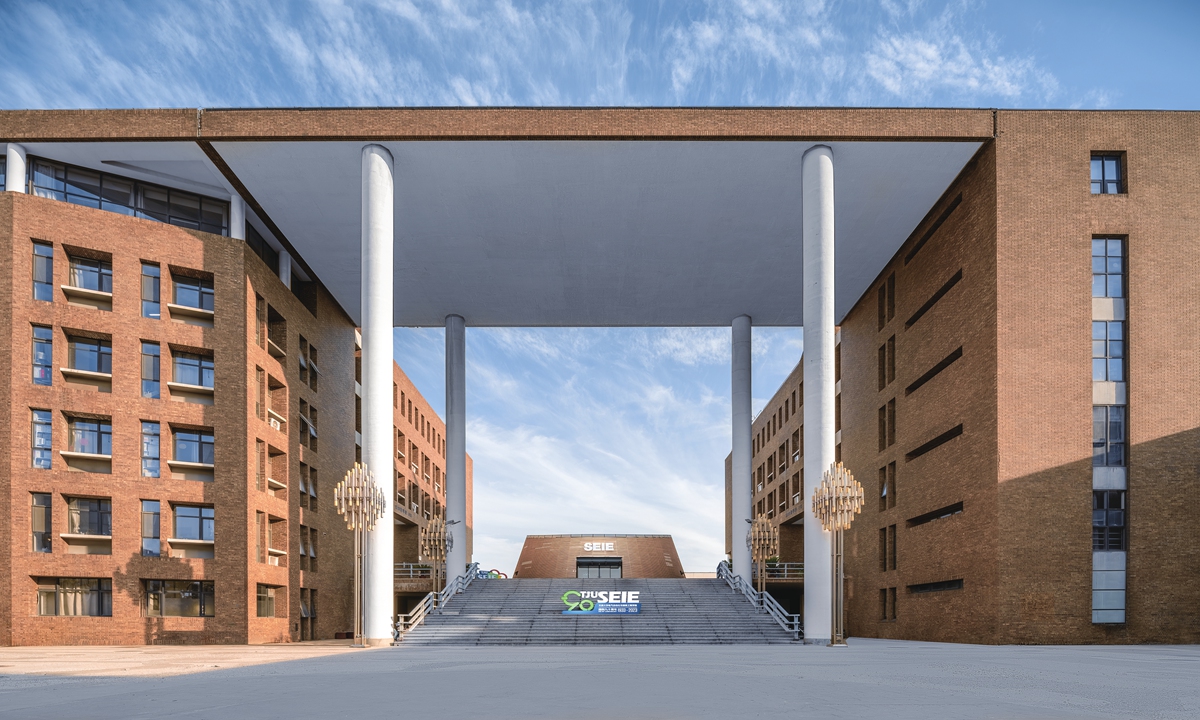 The School of Electrical and Information Engineering, Tianjin University Photo: Courtesy of Tianjin University

The School of Electrical and Information Engineering, Tianjin University, is about to celebrate the 90th anniversary of its founding. The school traces its origins back to the Department of Electrical Engineering at Peiyang University (the predecessor of Tianjin University), China's first modern university. Established in 1933, the school has now grown into a prestigious institution with a complete range of majors and disciplines in electrical engineering, electronics, control science and engineering. It also possesses an internationally renowned faculty and offers a comprehensive education program from undergraduate to doctoral levels.

Li Jiping, secretary of the school's Party committee, said, "Our School has three first-level disciplines - electrical engineering, control science and engineering, and information and communication engineering. Together with our university's School of Future Technology and the National Innovation Platform (Center) for Industry-Education Integration of Energy Storage Technology, we fully implement the emerging engineering education concept and have made significant progress in fundamental research, talent development, and achievement transformation. By this collective effort, we hope to contribute to the university's world-class construction and the comprehensive development of our education powerhouse."

From Professor Xu Qingchun, one of the trailblazers of China's power system discipline, to Professor Yu Yixin, academician of Chinese Academy of Engineering and founder of the Smart Grid Research Team, and Professor Wang Chengshan who was newly promoted to the Chinese Academy of Engineering in 2021, the School has cultivated numerous outstanding talents who have engaged in the development of China's electric power industry and prioritized scientific research aligned with the needs of the national industry.


Wang is most renowned for his research in distributed power generation and Micro-Grid. The Micro-Grid design and operation control systems and equipment developed by Wang's team have been adopted as international standards and applied in various projects both domestically and internationally. They proposed the technical solution for the energy management system of the Micro-Grid on the Maldives Islands and deployed the system on 10 islands in the Maldives within three months.

So far, the island's Micro-Grid systems have been operating stably, saving nearly 28-44 percent of diesel consumption and reducing power supply costs by 27-65 percent.

In addition, the team is dedicated to implementing Micro-Grid technology in China to ensure a reliable power supply in challenging areas such as plateaus, islands, and uninhabited regions.

This summer, the School of Electrical and Information Engineering organized the "Unmanned Systems Wisdom Show" summer camp. Twenty-eight exceptional students from middle schools across China participated in this camp to explore the fascinating world of advanced automated unmanned systems. They had the opportunity to learn on-site and engage in practical operations, allowing them to truly experience the charm of this field.


"There is no end to knowledge, and there is no end to scientific development." On the occasion of the 90th anniversary of the School, Professor He Jiali, a renowned electrical expert in China and a foreign academician of the Russian Engineering Academy, expressed his sincere wish for the future: "I hope our School can keep moving forward and develop nonstop!"

He has been with the School for 70 years.

"We must answer to the nation's call and cultivate people with virtue." Talking about future development, Wang is full of expectations: "The School of Electrical and Information Engineering is forming a multidisciplinary and integrated talent training system that fosters the development of smart energy, smart grid, intelligent control, and advanced information and communication technologies. It is always our first priority to cultivate high-level innovative talents for the country."