The International Bridge and Tunnel Technology Congress (IBTC) 2013 was held in Shanghai from April 11 to 12, 2013. The event was hosted by the Division of Civil, Hydraulic and Architecture of the CAE, the Shanghai Society of Civil Engineering and Tongji University jointly, and organized by the Wintime International Media & Expo Corporation. The theme of the forum was: Focusing on Engineering Safety, Practicing in Innovation Concept.

A total of nearly 500 experts and scholars attended the event, including CAS Member Sun Jun, CAE Foreign Member Man-Chung Tang, CAE Members Wang Mengshu, Yang Yongbin, Ou Jinping and Lin Yuanpei, as well as representatives from relevant government departments and various construction, consulting, planning and manufacturing institutions & corporations from the United States, Germany, Switzerland, Italy, Japan and other countries. Participants discussed relevant techniques for different stages of design, construction, operation as well as maintenance for bridges and tunnels at the Congress.

CAE Member Ou Jinping, Chairman of the Congress, presided over the plenary session held on the morning of July 11, 2013. CAS Member Sun Jun, Honorary Chairman of the Congress, CAE Member Ou Jinping, together with Liu Qianwei, Chief Engineer of the Shanghai Urban Construction and Communications Commission, made academic presentations entitled "Thinking on Several Key Issues in the Plan of the Trans-Taiwan Strait", "Life-Cycle Health Monitoring and Safety Evaluation of Large-Span Bridges" and "Construction and Operation Maintenance of Shanghai Bridge and Tunnel" respectively at the plenary session.

After the plenary session, a roundtable discussion meeting, chaired by Prof. Baiyun from Tongji University, also the Vice Chairman of the International Tunneling and Underground Association (ITA), was held. A total of five guest speakers were invited to share their insights as to how to realize the Chinese Dream of "Building a Powerful Nation in Bridges and Tunnels", who also answered questions raised by participating representatives. They were CAE Member Wang Mengshu, Guo Xiayun, Director of the Tunnel and Underground Engineering Branch of the China Civil Engineering Society (CCES), Prof. Xiao Rucheng from Tongji University, W. Phillip Yen, Principal Bridge Engineer of Highway Agency, USA, as well as Mao Ru, Member of ITA and Senior Member of the Hong Kong Institution of Engineers (HKIE).

On the afternoon of the 11th and the whole day of the 12th, the plenary meeting was divided into two sub-sessions, namely, "Bridge" and "Tunnel", where issues concerning engineering and technologies were tackled in a deeper manner. CAE Foreign Member Man-Chung Tang and CAE Member Yang Yongbin, gave academic reports entitled "Innovation in Bridge Engineering" and "A Parametric Study of the Tunnel Behavior under Earthquakes" respectively. In addition, a total of more than 40 other experts and business representatives made presentations on latest findings and achievements as well as application technologies, including W. Phillip Yen, Yin Haiqing, Deputy Chief Engineer of the Hong Kong-Zhuhai-Macao Bridge Island Tunnel Project, Prof. Bruno Briseghella from Fuzhou University, Henry A. Russell P.E., Senior Vice President of the Parsons Brinckerhoff, as well as Dr. Urs Meier from the Swiss Federal Laboratories for Materials Science and Technology.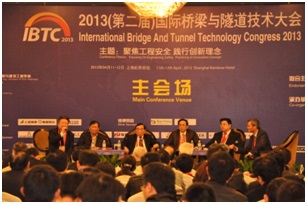 Besides, more than 30 Chinese and foreign enterprises set up exhibitions outside the main venue of the Congress when it was in session. Latest materials and equipments in bridge and tunnel engineering were displayed at these exhibitions.

To sum up, this event provided precious opportunities for scholars as well as various enterprises in bridge and tunnel industry to exchange new notions, techniques and products on a well-set platform, thus was extensively acknowledged. (By Wang Zhongzi and Tang Haiying, April 2013; translated by Liu Chang)