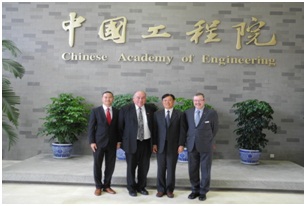 Gan Yong, Vice President of CAE, met with visiting guests from Canada and Holland on behalf of the Association of China Rare Earth Industry, on September 13, 2012.
Gan said that, as a country that enjoys the richest reserves of rare earth in the world, China had supplied 95% of all rare earth across the globe. Yet, due to the wide distribution of rare earth resources and the imperfect managerial system in the past few years, there still existed problems concerning management over mining, resource utilization and environmental protection. Gan also said that, for the healthy development of the global rare earth industry, the Chinese government and enterprises would love to see strengthened cooperation and exchanges between different countries, more sufficient development of rare earth resources in different countries, as well as the establishment of a reasonable pricing and trading system of rare earth, which was also conductive to the sustainable development of rare earth industry in the world. Gan also said that, the Association of China Rare Earth Industry would strive to play a more significant role in the protective exploitation and deep processing of rare earth resources, in promoting the establishment of a reasonable pricing and trading system, as well as boosting China's economic and social development in the future. Gan also hoped that sound cooperative relationship be established between Chinese enterprises and enterprises from the rest of the world, thus wisely developing and using rare earth resources jointly and ensuring stable supply of rare earth in the long run.
Mr. Bob McLeod, Governor of the Northwest Territory of Canada, briefed Gan on the current situations of natural resources in the Northwest Territory of Canada, followed by Mr. Donald Bubar, President of the Avalon Rare Earth Company Limited, who gave a briefing to the construction of Nechalacho mining alongside Lake Thor, which Avalon was ready to make investment in. Mr. Donald Bubar also expressed a strong desire to cooperate with relevant Chinese enterprises.
Jaime de Bourbon Parme, Special Envoy of Natural Resources for the Dutch Ministry of Foreign Affairs, came to the conclusion that China and Holland shared common concerns and interest in fields like rare earth development and environmental protection, thus could carry out collaborations in terms of certain technologies, after getting to know the rare earth development trend and industry standards in China during the meeting.
Present also in the meeting were Wang Xiaotie and Chen Zhanheng, both Deputy Secretary-Generals of the Association of China Rare Earth Industry, as well as Prof. Huang Xiaowei, Vice General Manager of the Grirem Advanced Materials Co. Ltd. (By Ding Yangbing, September 2012; translated by Liu Chang)