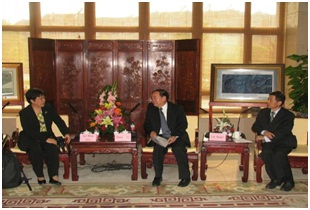 Zhou Ji, President of CAE, and Liu Depei, former Vice President of CAE, met with visiting Ms. Lai-Meng Looi, one of the two Chairmen of IAMP, as well as Ms. Lucilla Spini, Coordinator of IAMP, on May 9, 2012.
Zhou extended warm welcome to the visiting guests and showed appreciation for IMAP for the tremendous work it had done in promoting collaboration among various academies of medical sciences / engineering in the world, as well as in addressing global health issues from scientific perspectives. Subsequently, Zhou discussed with Ms. Looi and Ms. Spini regarding what CAE could do to play greater roles in these fields. As the representative for CAE in IAMP, Liu Depei expressed his willingness to promote participation of the Chinese medical sciences community, represented by CAE, in activities organized by IMAP.
Ms. Looi said that she was very honored to visit CAE and expressed her gratefulness to CAE for the enormous contributions CAE had made for IAMP, especially for successfully hosting the IAMP Second Global Meeting in Beijing in 2006 as one of the founding members. Ms. Looi then introduced recent work for IAMP, briefed on the IAMP Executive Board Meeting held lately, hoping that CAE play a more distinctive leading role in the medical sciences community in the Asia-Pacific regions under the frame of IAMP, and initiate a number of international cooperative projects with regional characteristics, such as joining hands with other members like India and Malaysia and carrying out researches into the scientific basis of traditional medicine. Zhou and Liu responded in a positive manner to some of the proposals and recommendations made by Ms. Looi.
The Inter-Academy Medical Panel (IAMP), composed of 69 national academies of medical sciences, as well as divisions of medicine of various academies of sciences or engineering across the globe, was established in May, 2000, aiming at promoting and strengthening cooperation among academies of medical sciences in the world in addressing major medical and health problems. The Secretariat is located in the Academy of Sciences for the Developing World (once known as Third World Academy of Sciences, TWAS) in Trieste, Italy. (By Ren Hongtao, June 2012; translated by Liu Chang)