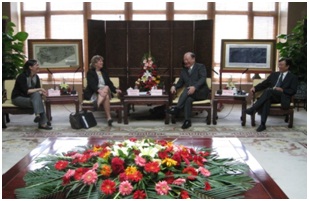 Xu Kuangdi, Honorary Chairman of CAE, together with Gan Yong, Vice President of CAE, met with Charlotte Brogren, Director-General of the Innovation Commission of Sweden, and Sylvia Schwaag Serge, Director of the International Projects, Innovation Commission of Sweden in the CAE office building on May 28, 2012.
Xu extended warm welcome to the guests, who then briefed on the general information and major tasks of CAE. Xu also spoke highly of the achievements gained through cooperative efforts made previously between both sides. Besides, Xu expressed gratitude for hospitality President Zhou received during his recent visit to Sweden.
Upon request, Gan briefed on issues concerning development of strategic emerging industries in China. Gan pointed out that it was of great significance to learn from Sweden and cooperate with Sweden at present time, since China is right at a stage characterized by industrial upgrading. Apart from technical cooperation, Gan predicted that, the potential for cooperation in market development should be great. In addition, Gan extended CAE's hope to collaborate with Sweden in establishing a sci-tech supporting mechanism. Last but not least, Gan said that CAE would like to learn from Sweden on how to integrate industries, institutions of higher education as well as research institutes and build up an innovation mechanism.
Ms. Brogren said it was her great honor to visit CAE in person, saying that China's developments in various fields had been most impressive. She also said that the common appeals and aspirations between the Swedish Innovation Commission and the Chinese Academy of Engineering could serve as foundation and guarantee for further cooperation. Currently, hot issues that have attracted extensive concern and discussions in Sweden include the informationalized society, the ageing problem, the increase of sustainable productivity, etc.
As to the industrial clusters, Ms. Brogren offered to provide the CAE a list of experts in Sweden, suggesting that China could do the same, providing a list of Chinese experts, so as to further enhance joint efforts in the future. In addition, she pointed out that scientific studies are currently conducted by scientists and researches on both countries mainly, proposing that more enterprises could engage themselves into the process, thus achieving a win-win result. Ms. Brogren also expressed her hope that the Innovation Commission of Sweden and the Chinese Academy of Engineering could carry out cooperation in more diversified fields in the future. Gan invited Ms. Brogren to give an academic report regarding innovation on her next trip to China, who pleasantly accepted the invitation, and the roughly scheduled time was in September this year. (By Wu Lan, June 2012; translated by Liu Chang)