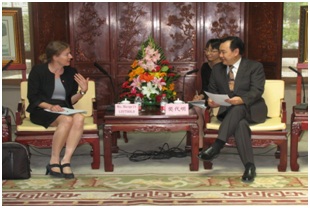 Fan Daiming, Vice President of CAE, met with a delegation of Sino-Swiss Science and Technology Cooperation, headed by Dr. Margrit Leuthold, Director of the International Affairs Office of the Swiss Federal Institute of Technology, in Beijing on May 14, 2012. Both sides conducted in-depth discussions as to issues of further deepening Sino-Swiss cooperation as well as innovation in the medical science and technology field, and jointly carrying out government research projects.
Fan first of all expressed warm welcome to the visiting delegates, and then briefed on the overall situation of the development of China's medical science and technology, current situations as well as future plans for Sino-Swiss scientific and technological cooperation.
Dr. Margrit Leuthold thanked Fan for his time for the meeting, and expressed admiration for the rapid development of China in economy, science and technology. She outlined the background of the Sino-Swiss intergovernmental scientific and technological cooperation projects, which took the Swiss Federal Institute of Technology and University of Zurich as leaders on the Swiss side, as well as ongoing work. She also introduced medical innovation related facts in Switzerland, and extended her hope to further tighten connections and increase exchanges, thus promoting further development in Sino-Swiss cooperation in terms of humanity exchanges as well as science and technology. In addition, she invited representatives from CAE to attend seminar on medical technology to be held in Zurich in September, 2012.
Fan spoke highly of the development of science and technology cooperation between China and Switzerland, pointing out that cooperative efforts made by both sides in the biomedical field had greatly helped to promote the social and economic development, and improved people's livelihood. Fan discussed at great lengths over the specific contents and forms for cooperation in the medical science and technology field with the Swiss side, among CAE, the Swiss Federal Institute of Technology as well as the University of Zurich for the 2013-2016 period. Others visiting delegates included Mr. Gregor Zünd, Director of Department of Scientific Researches and Education of the Hospital attached to the University of Zurich, Mr. Klaus Wilhelm Grütz, Dean of the Medical School, University of Zurich, Ms. Yasmine Inauen, Director of the Department of International Exchanges Office, University of Zurich, and Ms. Maio Su Chen, Project Manager for Sino-Swiss Intergovernmental Scientific and Technological Cooperation. (By Zhu Yu, May 2012; translated by Liu Chang)