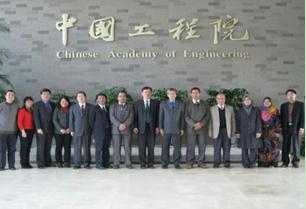 CAE Vice President Gan Yong met with a rare earth delegation from Malaysia, led by Hong Lee Pee, President of ASEAN Academy of Engineering and Technology (AAET) in the CAE office building on February 15, 2012.
Vice President Gan said that the Chinese Academy of Engineering had always been committed to strengthening exchanges and cooperation with engineering science and technology organizations in the world, who then briefly introduced the development of CAE. Experts from both sides held discussions on the possible technical assistance from the Chinese side to the rare earth development project in Malaysia, in which topics of rare-earth waste proposal and technical standards for radioactive materials were touched upon.
Mr. Hong of AAET said he was honored to once again visit the CAE, and stressed that the common aspiration for development is a precondition for the friendly cooperation between the two Academies as well as insurance for sustained and continued exchange.
Visiting delegates also included Dr. Ahmad Ibrahim F.A.Sc, Executive Secretary-General of the Academy of Sciences, Malaysia, Dr. Teng Iyu Lin with AELB Radioactive Waste Management, Mrs Nuriati Nurdin with AELB Licensing and Regulations, Dr. Mohd Abd. Wahab Yusof from Nuclear Malaysia Waste Technology, Dr. Badhrulhisham Abd. Aziz, VC of UMP, as well as Nasaruddin Abd Rahman, Senior Secretary of Academy of Sciences, Malaysia. Present also in the meeting were related officials from CAE, Huang Xiaowei, Director of the Rare Earth Institute, General Research Institute for Nonferrous Metals (GRINM), Chen Zhanheng, Director of the Academic Department, Chinese Society of Rare Earths, as well as Liu Zhengdong, Deputy Director of Institute for Structural Materials, Central Iron and Steel Research Institute (CISRI). (By Li Yan and Wu Lan, March 2012; translated by Liu Chang)