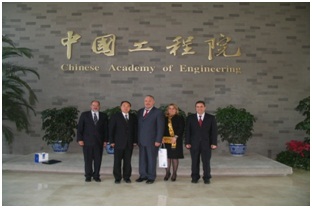 CAE delegation, led by Executive Vice President Pan Yunhe and composed of CAE Members Wu Cheng, Li Deyi and Xu Delong, attended the Fifteenth Session of the EA-RTM from October 11 to 14 in Pusan, South Korea.
Apart from delegations from CAE (Chinese Academy of Engineering), EAJ (Engineering Academy of Japan) and NAEK (National Academy of Engineering, Korea), representatives from engineering science and technology organizations in Malaysia, Indonesia and Thailand also attended the Roundtable Meeting as observers. The Roundtable Meeting organized seminar upon its theme of "Digital Innovation", and three sub-themes were also set, namely, No. 1, development direction for future technology in Web 3.0 era; No. 2, IT and digital innovation of software technology; and No. 3, digital innovation of integration. CAE Members Wu Cheng, Li Deyi and Xu Delong made keynote speeches at the meeting upon invitation.
At the Roundtable Meeting this year, in addition to information exchanges among CAE, EAJ and NAEK, the three parties attached great importance to and focused their attention on the development of the mechanism for EA-RTM. Representatives for three Academies also discussed how to improve the effectiveness as well as impact of the roundtable meeting in the future. Academies from three nations expressed their support for motion that INAE (Indian National Academy of Engineering) and ATSE (Australian Academy of Technology and Science Engineering) made, that is, to establish a regional "Asia and Oceania Forum" under the CAETS framework.
At the Roundtable Meeting, EAJ also introduced preparatory work for the next meeting to be held. The Sixteenth East Asia Roundtable Meeting will be held in Fukuoka, Japan in September 2012. And the theme of that meeting will be "Engineering Facing Human Security and Well-being". Again, three sub-themes will be set, which are "Engineering Improves Living Environment", "Engineering Enhances Medical Care", as well as "Engineering Promotes Education Development". (By Zheng Xiaoguang, November 2011; translated by Liu Chang)