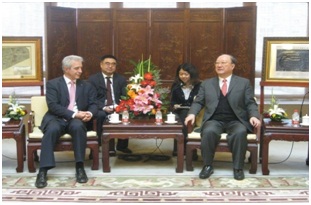 Mr. Xu Kuangdi, Vice Chairman of the Tenth CPPCC National Committee, Chairman of the China Federation of Industrial Economics (CFIE), also Honorary Chairman of the Chinese Academy of Engineering (CAE) met with Mr. Stainslaw Tillich, Governor of the State of Saxony, Germany, and his delegation on April 1, 2011. Both sides carried out in-depth discussion with regard to China-Germany cooperation in fields like trade and commerce, environmental protection, culture, education, and so on.
Mr. Tillich thanked Xu for his time and warm reception out of very busy schedule, who also introduced in great details the basic information about the State of Saxony. Mr. Tillich pointed out that Saxony is strong in automobile production, machinery manufacturing, metal processing, electronics, precision machinery manufacturing and chemical industry, among which auto industry is the strongest of all, enjoying the biggest sales volume. Actually, world-class automobile manufacturers of brand names like Volkswagen, Porsche and BMW all have their production bases set up in this state, which automatically led automotive parts related industries to flourish. In the future, Saxony will try to promote the research & development as well as design & production of electric vehicles utilizing lithium battery. At the same time, Mr. Tillich pointed out that the State of Saxony is the vey region in Germany that harbors the largest number of universities and research institutes. Mr. Tillich also extended invitation for Xu to pay his visit to Saxony some day in the future at his convenience.
Mr. Xu said, as a matter of fact, quite some provinces and cities such as Shanghai and Wuhan in China has long enjoyed a friendly cooperation relationship with the State of Saxony, and the cooperative efforts in the past proved to be quite fruitful. Also, people in both countries have had deep friendship along the way. And the Chinese side is willing to share with Germany the experiences and achievements of economic, scientific and technological development. When talking about environmental protection issue which goes naturally with industrial manufacturing, both sides agreed that cooperation in energy conservation and emission reduction, as well as sustainable development has become a highlight for the China-Germany relationship. Therefore, both sides expressed readiness to further strengthen collaboration in between, aiming to make more contribution to the deepening of bilateral relationship. In addition, Mr. Xu also answered questions raised by Mr. Tillich like "How do you view global economy at present?" and the impacts of Chinese government's policy of expanding domestic demand on the world.
Dr. Nobert Riedel, Minister of the German Embassy, Mr. Ulrich Walker, Chairman and CEO of Daimler China, Mr. Joerg Wuttke, Chief Representative of BASF China, along with Dr. Hardy Boeckle, First Counselor of the German Embassy in China, were also present at the meeting. (By Zhu Yu, April 2011; translated by Liu Chang)