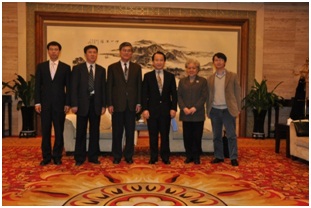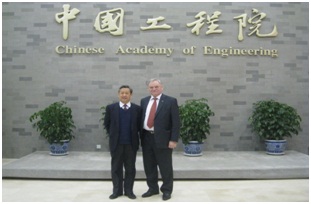 CAE Executive Vice President Pan Yunhe, together with CAE Member Wei Yu, met with Dr. Hideaki Koizumi, Vice Chairman of the Foreign Affairs Committee of the Engineering Academy of Japan (EAJ) in Hangzhou on March 28, 2011.
Executive Vice President Pan, first of all, expressed sincere and deep condolences to those whose lives the major earthquake and the earthquake-triggered tsunami had claimed. Pan said that CAE is more than willing to provide help if needed, who also showed his admiration for Japanese people for being so strikingly calm and organized when facing such devastating disasters. In addition, Pan extended his faith and conviction in Japanese people, saying that Japanese people will surely overcome disasters and reconstruct their homes for the better.
Subsequently, Pan introduced major cooperation projects CAE carried out with foreign academies of engineering in recent years, hoping to further strengthen cooperation and exchanges with the Engineering Academy of Japan in fields like information, energy, environment, and engineering education etc. CAE Member Wei Yu also expressed her hope that the CAE and EAJ should enhance cooperation in early warning mechanism in response to disasters and security related issues.
Dr. Koizumi expressed his gratitude to Pan for his sympathy and solicitude. He then introduced the basic information of the Engineering Academy of Japan, who pointed out in particular that, Professor H. Komiyama, the new President of EAJ, who used to be the President of Tokyo University, expected to strengthen the cooperation between EAJ and engineering science and technology organizations all over the world, so as to enhance the international influence of their Academy. He accepted both Pan and Wei's suggestions, saying that joint efforts between the two Academies could start from the field of information, focused on neural information engineering and emergency response security information system in particular. Hearing these proposals, Pan expressed approval of cooperative studies between both sides in the above-mentioned areas, who continued to propose that these two topics could be taken as the major topics for discussion at the roundtable meeting among China, Japan and South Korea, which is going to be held in Japan in 2012.
Upon the invitation of CAE, Dr. Koizumi went to participate in the First Symposium on International Engineering Development Strategy, also the International Symposium on Frontiers of Neural Information Engineering Studies in Hangzhou. He is an internationally renowned cross-disciplinary researcher, an early advocator and a major initiator for educational neuroscience globally recognized, also a nominee for Nobel Prize for Physics in 2005. Dr. Koizumi is the team leader of the huge research project in Japan entitled "Brian Science and Education", a senior adviser to "Learning Science and Brain Research" action plan carried out by the Organization of Economic Cooperation and Development (OECD), also one of the major founders of the international association named "Mind, Brain and Education". (By Guan Jian, April 2011; translated by Liu Chang)