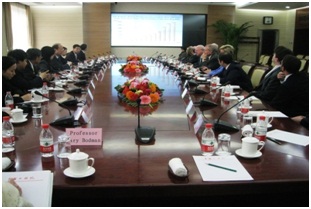 Mr. Xu Kuangdi, Vice Chairman of the Tenth CPPCC National Committee, also the Honorary Chairman of CAE, met with the visiting delegation representing an organization named "Securing America's Future Energy" (shortened and referred to as SAFE) on the afternoon of March 14, 2011. Bothe sides exchanged viewpoints extensively with regard to the development and utilization of new energy, the application and development of electric vehicles, smart grid construction, energy conservation and emission reduction, energy security, and so on. Mr. Bi Gang, Deputy Secretary-General of the Chinese People's Institute of Foreign Affairs, Mr. Huang Jinhui, Director-General of the China-US Exchange Foundation, together with officials with the Department of International Cooperation of CAE also attended the meeting.
Xu extended his warm welcome to the SAFE delegation, who then introduced the energy exploitation and utilization situation in China currently, as well as the focus of future energy development in China.
SAFE delegation expressed their gratitude for CAE's warm reception. During the meeting, Members on the "Energy Security Leadership Council" of SAFE, such as Admiral Dennis Cutler Blair, former Commander-in-chief of the United States Pacific Command, Honorable Samuel Wright Bodman, former US Energy Secretary, Governor Jennifer Mulhern Granholm, former Governor of the State of Michigan, among others, discussed issues like the clean use of traditional energy forms, global energy situation at present, as well as China's West-East Gas Transmission Project with Xu.
SAFE is a non-governmental bipartisan (cross-party) organization, founded in 2005 in the United States, with its headquarter based in Washington. The mission of the "Securing America's Future Energy" organization is to exert influence on government policies through researches and education, in order to reduce US's dependence on oil, thus securing the future energy in the Unites States. The visiting delegates are all key members of this organization, made up mainly of former US politicians, retired generals, businessmen as well as academics, who paid their visit to China this time upon the invitation of the Chinese People's Institute of Foreign Affairs. (By Zhu Yu, April 2011; translated by Liu Chang)