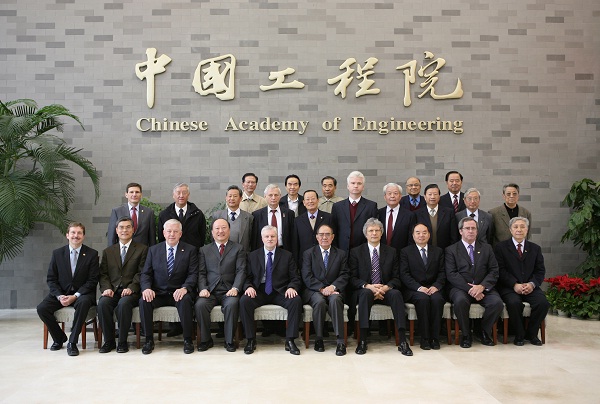 On the morning of October 19, Song Jian and Xu Kuangdi, both CAE Honorary Chairmen, Zhou Ji, CAE President, Pan Yunhe, CAE Executive Vice President, Wang Dianzuo, former Executive Vice President of CAE, Du Xiangwan and Shen Guofang, both former Vice Presidents of CAE, met with the visiting Russian Federation Commission delegation led by Mr. Sergei Mironov. The meeting was presided over by President Zhou.
Zhou said in the meeting that, Chinese engineering science and technology community has long enjoyed a good tradition for coopera-tion with the Russian counterpart. Actually several veteran leaders of CAE present at the meeting had studied in the former Soviet Union. Similarly, Chinese Academy of Engineering and its corresponding Russian institutes and academies also have had very good cooperative relationship. For example, in 2005, Chinese Academy of Engineering joined efforts with its Russian counterparts and successfully orga-nized the first "China-Russia Engineering Science and Technology Forum" in Beijing. Two years later, in Moscow, the second "China-Russia Engineering Science and Technology Forum" was held, again as the result of the joint efforts of both sides. This forum, as a matter of fact, serves as an important component of the reciprocal Russia-China theme years.
Zhou also said that the Sino-Russia scientific and technological cooperation has quite promising prospects. Zhou continued to say that in the five-point proposal put forward by Chinese President Hu Jintao on promoting the development of pragmatic cooperation between China and Russia, Hu made suggestions like strengthening collaboration in high technology and innovation between both countries, noting that both sides should actively guide and propel exchanges of all sorts between scientific and technological talents coming from both coun-tries. Zhou put that the Chinese Academy of Engineering is willing to go on strengthening ties with the Russian engineering science and technology community, thus contributing its efforts for the pragmatic cooperation between China and Russia.
At the end of the meeting, Chairman Mi-ronov presented medals of Russian Federation Commission to Mr. Wang Dianzuo, a CAE Member, and Prof. Ma Fukang, with China Non-ferrous Metals Industry Association. After the meeting, a seminar on Sino-Russia Scientific and Technological Cooperation was held, which was chaired by CAE President Zhou Ji. Zhou said in his speech that China and Russia are good neighbors, good friends as well as good partners. Actually, Russia is the most important partner for China in terms of strategic significance. Recent years has seen steady development in the Sino-Russia strategic cooperative partnership, as well as new progress in exchanges and cooperation in various fields. In the "Joint Statement on Deepening China-Russia Strategic Cooperative Partnership in a Comprehensive Manner" issued during President Medvedev's visit to China in September, both sides expressed their satisfaction regarding the steady progress in collaboration in science & technology, together with innovation fields between the two countries. As a top honorary and academic institution in engineering science and technology in China, the Chinese Academy of Engineering feels very happy about it.
Subsequently, Chairman Mironov delivered a speech on scientific and technological cooperation between China and Russia. In his address, he said that developing relations with China is an important direction for future development of Russian foreign policy. He expressed his hope that China and Russia should strengthen cooperation in economic, scientific, cultural and educational fields, especially in five areas such as architectural energy conservation, IT, nuclear technology, medical equipments, and space exploration -- the crystallization and essence of Russian science and technology. He pointed out the significance of building industrial parks, claiming that they will function as wonderful platforms for the implementation of innovative projects.
Former CAE Vice Presidents Wang Dianzuo, Du Xiangwan and Shen Guofang, along with many other CAE Members, talked with Chairman Mironov, and made proposals frankly. They said that the academic exchanges between scientists of both countries should not be confined to seminars and forums, but also extend outside of meetings. In this way, research achievements of better quality and larger quantity could take root, put forth blossoms and yield fruits on lands of both countries. Also, it was suggested that young scientists of both countries should be provided with more oppor-tunities for academic exchanges and cooperation. Chairman Mironov agreed on the above suggestions.
Present also in the meeting were CAE Members Fu Zhihuan, An Jigang, Yu Benshui, Guan Qiao, Liu Daxiang, Ni Weidou, Zuo Tieyong, Sheng Dezhong and Jiang Jingshan. (By Han Yuqin, November 2010; translated by Liu Chang)