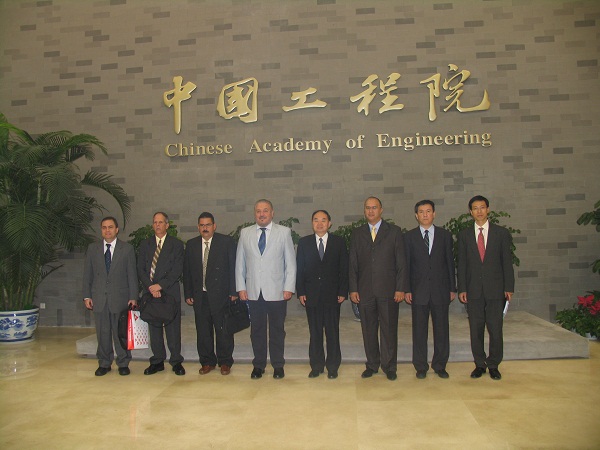 President Zhou Ji met with Dr. Fidel Ca-strol, the State Science and Technology Coun-selor of the Republic of Cuba, on Oct. 10, 2010. Both sides exchanged views extensively on is-sues like strengthening the collaboration be-tween both countries in the field of engineering science and technology, esp. in nano bio-technology.
Zhou said in the meeting that, 2010 marks the 50th anniversary of the Cuban revolution, which is also the 50th anniversary for the es-tablishment of diplomatic relations between China and Cuba. Zhou recalled that, in the past 50 years, closer ties between China and Cuba had been built, and scientific & technological exchanges had been successfully promoted as well. Zhou also congratulated Dr. Fidel on the remarkable achievements Cuba had made in the past 50 years.
Zhou said China is now trying to trans-form the mode of economic growth and build a resource-conserving and environment-friendly society, in which process the development of science and technology should be given more attention and priority. Cuba being a country that has always attached great importance to scientific and technological development, more efforts to strengthen the scientific and technol-ogical cooperation between the two countries will help to enhance the development of both countries tremendously. Zhou also promised that CAE would definitely encourage Members to participate in China-Cuba cooperative projects.
Castrol thought highly of the important role CAE has been playing in the scientific and technological development, as well as the social economic growth of China. He also briefed Cuba's efforts in promoting bio-technology, information and communications technology, along with nanometer technology. Dr. Fidel also recalled the joint efforts that China and Cuba had made in cooperative research and devel-opment in the area of high-tech nanotechnology, hoping to consolidate collaboration and ex-changes with CAE in building nano laboratory and computerized measurement research center jointly in the future.
Mr. Carlos Miguel Pereira, Cuban Am-bassador to China, together with directors Hugo Avilio Gutiérrez Ezcurr and Carlos Alfredo Toledo Sánchez from Cuban Advanced Science Center (namely, the Nanometer Research Center) accompanied the visit.
(By Zhu Yu, October 2010; translated by Liu Chang)