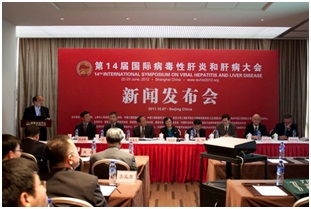 International Symposium on Viral Hepatitis and Liver Disease (ISVHLD) represented the continuation of a tradition of outstanding international symposia on viral hepatitis held every three years. The ISVHLD has an International Advisory Board that chooses the location for this tri-annual event which rotates among North America, Europe, and Asia-Pacific. Considering significant progress China has made in recent years in researches in the fields of viral hepatitis and liver disease, the International Advisory Board unanimously recommended that ISVHLD 2012 be held in China, which also marks the very first time this grand event will be held in a developing country.
Approved by the State Council, the Fourteenth International Symposium on Viral Hepatitis and Liver Disease (ISVHLD 2012) is scheduled to be held in Shanghai in June 2012. The symposium is hosted by the Chinese Academy of Engineering and the Shanghai Municipal People's Government jointly, and supported by the Ministry of Health, Ministry of Science and Technology, Ministry of Education, Chinese Academy of Sciences, National Natural Science Foundation of China, Chinese Foundation of Hepatitis Prevention and Control, National Science and Technology Key Projects on "Major Infectious Diseases such as HIV/AIDS, Viral hepatitis Prevention and Treatment", Chinese Academy of Medical Sciences, Chinese Center for Disease Control and Prevention, China National Center for Biotechnology Development, Chinese Society for Microbiology, Society of Infectious Diseases, Society of Hepatology, Society of Medical Virology, of Chinese Medical Association, as well as Fudan University and so on. The symposium will last for four days, and the expected number of participants will be 3,000. The symposium is dedicated to bringing together outstanding clinical and basic researchers in viral hepatitis from around the world to provide summary updates on advances in the past three years in the understanding, diagnosis, prevention, control, and treatment of all five forms of viral hepatitis, as well as liver cancer and liver diseases.
At the press conference, CAE Member Wen Yumei, Chairperson of ISVHLD 2012, together with Prof. Yuan Zhenghong, Secretary General of ISVHLD 2012, gave an introduction to the general information and progress in preparatory work for the Fourteen ISVHLD respectively. CAE Member Zhuang Hui, as well as guests like Jia Jidong, Yang Xizhong, Hou Jinlin, Jin Qi, delivered speeches. Prof. Stephen Locarnini from Australia, along with Prof. Robert Thimme from Germany, extended their support and expectations for this symposium on behalf of the International Advisory Board.
So far, ISVHLD 2012 has already invited the world's top experts in this area, including Prof. Charles M. Rice from Rockefeller University, pioneer in viral hepatitis researches, Prof. Anna Lok from the Medical School of Michigan University, world-renowned liver specialist, Prof. Robert Thimme from the Medical Center of Freiburg University, Germany, authority in liver immunology, as well as Prof. Robert H. Purcell from the National Institute of Allergy and Infectious Diseases, US, to attend the symposium, who will then, made academic presentations from the perspectives of virology, immunology, treatment strategies and future direction for development. Besides, there will be WHO (World Health Organization) representative discussing hepatitis prevention strategies from the administrative perspective. For latest information, please refer to the official website for this symposium at www.isvhld2012.org. (By Zhang Lili, December 2011; translated by Liu Chang)