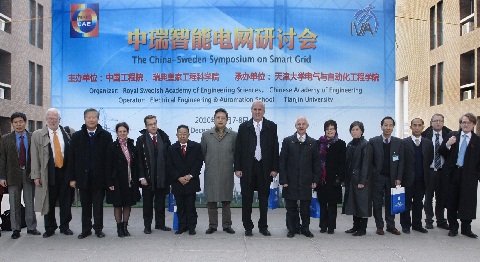 China-Sweden Symposium on Smart Grid, co-sponsored by Chinese Academy of Engineering (CAE) and the Royal Swedish Academy of Engineering Sciences (IVA) and organized by the Electrical Engineering & Automation School of Tianjin University, was held at Tianjin University from December 7 to 8, 2010.
Before the symposium, Mr. Liu Jianping, the Party Secretary of Tianjin University met with all members of the Swedish delegation as well as the Chinese speakers at the symposium. The opening ceremony of the symposium was chaired by CAE Member Yu Yixin, in which Mr. Gong Ke, President of Tianjin Uniersity, Mr. Yang Xucai, Director of Tianjin Municipal Science and Technology Committee delivered speeches respectively. Mr. Bo Inge Manfred Normark, Chairman of the IVA delegation, together with CAE Member Chen Qingquan also addressed the opening.
Altogether a total of sixteen academicians as well as experts coming from both countries specialized in the field of smart grid made their presentations. In-depth discussion sections followed each presentation, both of which turned out to be very effective thus impressive to the participants of the symposium. Both sides managed to gain a better understanding of their respective areas of concern as well as future development strategy. After a lot of exchanges of viewpoints, both sides also found, to their delight, that China and Sweden actually share very similar perspectives and visions with regard to the development of smart grid.
Attendees of the symposium agreed to say that this symposium provided a great opportunity for academic exchanges in terms of the development as well as practical experience in smart grid for science and technology personnel from both countries. Afterwards, CAE and IVA shall build even closer ties between them, strengthening further exchanges for both sides in this area and promoting further cooperation in this industry. After the symposium, the Swedish delegation paid its visit to the Zhongxin Eco-City in the New Coastal Area in Tianjin, which is a smart grid demonstration project by Tianjin Power Company. (By Sun Ying, January 2011; translated by Liu Chang)