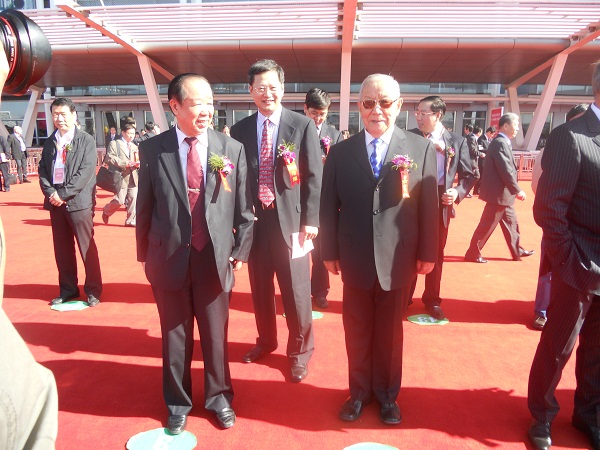 On September 23, 2010, the Eleventh International Fruits & Vegetables•Food Expo, co-hosted by Chinese Academy of Engineering (CAE) and Shandong Provincial Government, was opened in Yantai International Expo Center. CAE Vice President Xu Rigan attended the opening ceremony on behalf of CAE, who also launched the opening ceremony jointly with Mr. Chi Haotian, former Vice Chairperson of the Central Military Commission and former Hungarian Prime Minister Megyessy Peter.
The International Fruits and Vegetables Expo is a large-scale international exhibition, co-founded by CAE and Shandong Province in 1999, which is held once a year, aiming at increasing the exchanges and cooperation between fruits and vegetable industries home and abroad, providing a sound exchange platform for them, as well as offering precious opportunities for fruits and vegetables production, food processing, cultural promotion, economic and trade cooperation for all countries involved.
Recent years has witnessed rapid development of the fruits and vegetables industry in China, with the vegetables sown area accounting for 41.7% of the world total and the output 47.7%, while the fruit trees planting area 20.2% and fruits yield 14.5% of the world total. With the improvements of the production, marketing and transportation technology, the volume of trade, esp. the amount of exports of Chinese fruits and vegetables in the international market has been rising. In brief, the fruits and vegetables industry has become the pillar industry for the rural economy and agriculture in China, which has also become an important source of income for the farmers. We can therefore safely say that the fruits and vegetables industry in China has entered into a new stage for development.
The Expo is co-sponsored by three international organizations, which are the United Nations Economic and Social Commission for Asia and the Pacific, the United Nations Asian and Pacific Centre for Agricultural Engineering and Machinery, the United Nations Asian and Pacific Centre for Technology Transfer, and 7 Chinese ministries and commissions such as CAE (Chinese Academy of Engineering) and the Ministry of Commerce, together with the Shandong Provincial People's Government, in which 1,650 booths were set up and over 3,000 foreign businessmen were attracted to pay it a visit. In the Expo, Changyu, Weilong, Junding Winery and other major wine producers in China exhibited their latest products. In the meantime, brand name wine coming from more than 20 different countries like France, Australia, Canada, Italy and Chile also went onto display.
During the Expo, the Organizing Committee also held an international symposium, in which 120 experts and scholars exchanged viewpoints extensively regarding the promotion of new technology for fruits and vegetables processing, the mode of development for fruits and vegetables industry, and the sustainable development of fruits & vegetables, food industry in China. (By Xu Jin and Han Yuqin, October 2010; translated by Liu Chang)