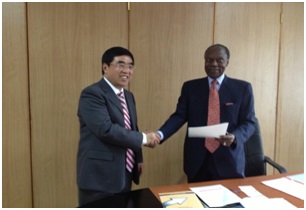 A delegation headed by CAE Vice President Xie Kechang visited from March 23 to April 2, 2013 South Africa and Egypt that enjoyed cutting-edge technologies as well as industrialization experience in the fields of coal-made oil and coal-made methanol, and Kenya in eastern Africa that had discovered new energy sources and thus changed the energy structure in the continent of Africa.

During their stay in South Africa, the delegation attended the Twentieth International Symposium on Alcohol Fuels, and joined discussions as to issues like biomass gasification and biomass development, and exchanged viewpoints with other participants of the symposium. The delegation also visited Sasol that possessed mature indirect coal liquefaction technology.

The delegation also paid visit to the South African Academy of Engineering. Vice President Xie extended willingness and intention for further collaboration between both Academies in terms of coal, oil, natural gas, renewable energy, as well as energy strategy consultation and engineering education, while talking with Bob Pullen, President of the South African Academy of Engineering. Xie also invited Bob Pullen to attend the "2014 International Engineering Science and Technology Conference" to be held in Beijing, on behalf of CAE President Zhou Ji.

While in Kenya, the delegation conducted field trips in various institutions on the development and utilization of energy chemicals, clean coal technology as well as the development of unconventional natural gas, etc. The delegation also visited the African Academy of Sciences (AAS, headquartered in Kenya). While meeting with Ahmadou Lamine Ndiaye, President of AAS, Xie suggested that CAE and AAS organize Members and experts to jointly conduct strategic study innovation reports and suggestions based on studies centered on sustainable energy and environmental technologies, thus contributing positively to the future cooperation in the field of energy between China and Kenya, as well as the sustainable economic and social development of China and African countries. Also, Xie asked AAS to recommend experts in relevant fields to come to China and attend the "2014 International Engineering Science and Technology Conference" to be held in Beijing.

While in Egypt, the delegation visited EMethanex, the world's largest methanol producer, and the Damietta factory of Methanex. The Chinese delegates got to know the production process and techniques for methanol. Both sides discussed specific cooperation approaches in coal-made oil, coal-made methanol as well as natural-gas-made methanol, aiming at promoting the industrialization process of the above fields in China. The delegation also paid visit to the Egyptian Science and Technology Research Institute.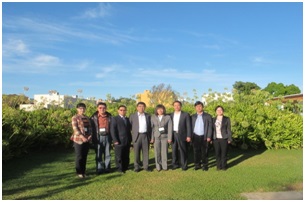 This visit coincided with President Xi Jinping's visit to three African countries, namely, Tanzania, South Africa and the Congo Republic, who also attended the Fifth BRICS Leaders Meeting held at Durban in South Africa. Xi's visit underlined the fact that China had always attached great importance to Sino-African relations and China's participation in the BRICS cooperation mechanism would exert further impacts on the global economy. Therefore, the CAE's visit to three African countries at this time responded to what Xi put as the essence for China-Africa relations, that is, technical cooperation and experience sharing, and helped to enhance pragmatic cooperation with African countries, thus helping strengthen and deepen new China-Africa strategic partnership.

The visit was warmly supported by the Embassy of P.R.C in the Republic of South Africa, Pretoria, the Embassy of P.R.C in the Republic of Kenya, the Embassy of P.R.C in the Arab Republic of Egypt, the Consulate-General of P.R.C in Cape Town of South Africa, as well as the Consulate-General of P.R.C in Johannesburg of South Africa. (By Zhu Yu, April 2013; translated by Liu Chang)