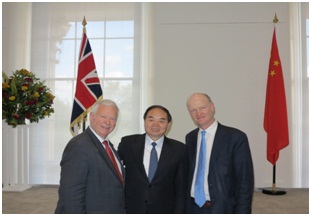 To further strengthen the exchanges and cooperation between CAE and European engineering science and technology institutions, CAE President Zhou Ji, together with his delegation members, paid visits to the UK, Sweden and Germany upon invitations given by the Royal Academy of Engineering (RAEng), UK, the Royal Swedish Academy of Engineering Sciences (IVA), Sweden, and the German Academy of Science and Engineering (acatech), Germany, from April 29 to May 9, 2012.
RAEng plays significant roles in advising the British government on policy formulation due to its highly effective consultation work. While in the UK, President Zhou attended two roundtable meetings on "Engineering Science and Technology Policies" and "Strategic Emerging Technologies and Industries" held by RAEng respectively, exchanging views with experts on the UK side as to these two issues of common concern. Besides, Zhou signed a new round of Memorandum of Understanding on Cooperation with Sir John Parker, President of RAEng, who discussed blueprints and details as to future cooperation in fields like engineering science and technology think tank construction as well as strategic research and consultation, based on cooperative studies already in existence. Both sides reached agreement that a seminar on strategic emerging industries would be held in China in autumn this year, aiming at more thorough and profound discussions and exchanges of views. Zhou was also invited to 10 Downing Street and met with Sir Rohan Silva, Senior Policy Adviser for the British Prime Minister, as well as Lord Broers, Lord Browne, Lord Willis and Lord Oxburgh, all Members of RAEng and Members of the House of Lords. Zhou also talked with David Willietts, Minister of British Higher Education and Research, with regard to issues like engineering science and technology cooperation between both countries. While exchanging opinions with representatives on the UK side, CAE delegation paid close attention to a special organization named "Technology Strategy Board (TSB)", which was established by the Ministry of Industrial Innovation and Skills in 2004 with the objective of funding research projects on industrial technologies with great potentials. Delegates believed that the establishment of such a special organ could offer important reference for the construction of an engineering science and technology innovation mechanism in China.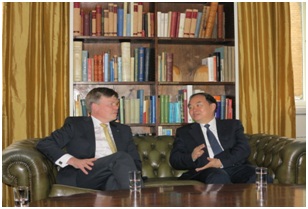 While in Sweden, President Zhou talked with Nilsson, President of IVA, about future collaboration and signed Minutes of Talks. Both sides expressed their willingness to further support and carry out cooperation in the field of renewable energy and environment, since the cooperative project named "China-Sweden Renewable Energy and Environment" went on well and had exerted desirable impacts. Zhou and Nilsson also agreed to take "smart grid" and "Energy Efficiency Improvement and Energy Consumption Reduction" as focuses for further cooperative efforts. Besides, both sides would carry out strategic consultation studies jointly in the fields of sustainable energy and environment protecting technologies, strategic emerging technologies and industries, and so on. CAE delegation also paid visit to the Innovation Commission of Sweden, greatly impressed by the advanced concepts, improved mechanism, favorable environment and thorough work concerning innovation. Both sides agreed to cooperate in innovation mechanism and strategy studies. During his stay in Sweden, Zhou also visited the Swedish Royal Institute of Technology, in which he made an invited presentation entitled "Innovation and Scientific Development in China" to its faculty and students. Zhou also paid a visit to Luleal University of Technology and attended the unveiling ceremony for the Confucius Institute co-run by Xi'an University of Architecture and Technology in China and Luleal University of Technology in Sweden. Moreover, the delegation also visited the Ericsson.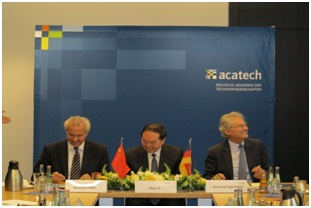 During his stay in Germany, President Zhou held talks with two Presidents of acatech (Note: Dual Presidents system is adopted in acatech.), and signed a Memorandum of Understanding on Cooperation representing both academies. Both sides also conducted extensive and in-depth discussion as to issues of interest to both, such as smart cities, engineering education, engineering management, construction of an innovation platform, green energy, etc. With regard to cooperation in the field of smart cities, both sides agreed to co-sponsor a symposium in China on smart cities. Besides, Zhou also signed a new round of Bilateral Agreement on Science and Technology Cooperation on behalf of CAE with Fraunhofer Society, the largest applied science research and funding institute in Germany and also in Europe, which has had long maintained a sound cooperative relationship with CAE. Both sides talked about future cooperation, believing that it's of great significance to carry out strategic researches jointly as to major issues of common interest. In addition, while visiting the German Academy of Sciences, both sides expressed willingness and intention to cooperate, for example, conducting cooperative studies in fields like public health and life sciences, and co-hosting a symposium in the field of emerging infectious diseases in the future. (By Department of International Cooperation, CAE, May 2012; translated by Liu Chang)