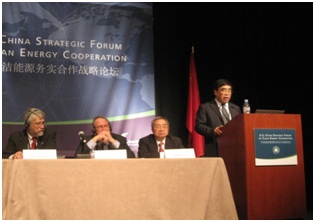 CAE Vice President Xie Kechang made his trip to the USA from January 16 to 25, 2011, right before China's President Hu Jintao's visit to the United States. Xie attended the Second "China-US Clean Energy Pragmatic Cooperation Strategy Forum" held in Washington D.C and delivered a speech there. Upon invitation, Xie also attended the welcoming ceremony given by US President Obama for China's President Hu's state visit on the southern lawn of the White House on the morning of January 19, witnessing the historic moment by himself.
"US-China Clean Energy Pragmatic Cooperation Strategy Forum" was co-sponsored by China's National Innovation and Development Strategy Research Foundation and the renowned American think tank the Brookings Foundation. The first forum of the same kind was held in China last year, and the second forum was organized in Washington D. C, as one of the serial activities centered upon President Hu's visit to the USA. The theme of the forum this time was the prospects of China-US relations over the next decade. China's President Hu Jintao, together with US President Obama sent theit congratulatory letters for the convening of the forum.
As a special guest, CAE Vice President Xie Kechang gave a keynote presentation entitled "Strengthening Pragmatic Cooperation and Developing Clean Coal Technology". Those who also delivered keynote speeches at the forum included Mr. John Holdren, US President's Advisor on Science and Technology, also the Director of the Office of Science and Technology Policy, Mr. Wan Gang, China's Minister of Science and Technology, also Vice Chairman of the National Committee of CPPCC, and so on. In addition to that, Xie also delivered an English presentation entitled "China' Coal Chemical Technology and Clean Coal Technology" at the China-US clean coal sub-forum.
During Xie's stay in the USA, he also visited Argonne National Laboratory, Institute of Gas Technology, Southern Illinois University Carbondale (Carbondale), Illinois Clean Coal Foundation, among others, who thus conducted in-depth research and investigation into the utilization of clean coal in the USA, as well as its cooperation prospects with China. US side also gave high priority to Xie's visit. For example, Vice President of Pratt & Whitney, together with other senior management staff flew all the way from California to Chicago to meet with CAE President Xie Kechang. Also, the Head of the Institute of Gas Technology accompanied Xie when he visited the research facilities. Moreover, President of the Southern Illinois University Carbondale hosted a dinner party for Xie and his delegation.
CAE Vice President Xie's visit to the U.S expanded the influence of CAE on the China-US science and technology cooperation, propelled collaboration of both sides in the field of clean coal, which also, through field study, helped to lay a solid foundation for more intensive and in-depth cooperation in the area of clean coal between the two sides in the future, thus achieved complete success. (By Cheng Jiayi, February 2011; translated by Liu Chang)