On the afternoon of March 30, 2021, under the guidance of the Chinese Academy of Engineering, the first "Beauty of Heroine - Women in Science and Technology Forum", a public welfare science popularization event, jointly organized by the International Knowledge Centre for Engineering Sciences and Technology under the auspices of UNESCO (IKCEST), Tencent Beijing Headquarters, China Women's Association for Science and Technology, Tencent Academician and Expert Workstation, "Engineering" Journal, Peking University, Tsinghua University, Beijing Normal University and Xiong'an Campus of Beijing No.80 High School, was held at Tencent Beijing Headquarters.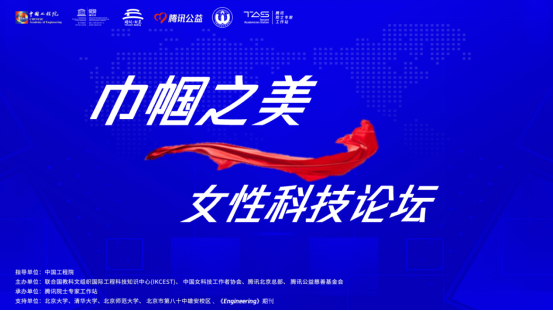 Wang Zhizhen, Vice-Chairperson of the 11th CPPCC National Committee and a Member of the Chinese Academy of Sciences (CAS), Chen Zuoning, Vice President and Member of the Chinese Academy of Engineering (CAE), Lou Jing, Deputy Secretary-General of the China Women's Association for Science and Technology, and Luan Na, Vice President of Tencent, gave opening remarks. Representatives of outstanding female experts in China, including Li Lanjuan, CAE Member specialized in infectious diseases, Wang Xiaoyun, CAS Member specialized in cryptologist, Fu Qiaomei, a researcher and expert in paleogenetics at the Institute of Vertebrate Paleontology and Paleoanthropology of the CAS, and Prof. Liu Ying in molecular cytology, Deputy Dean of College of Future Technology of Peking University, delivered keynote speeches and shared their own stories. Ma Teng, Deputy Editor-in-chief of qq.com presided over the event.
Ms.Wang Zhizhen said, "Young people who constitute a vital force for China's great national rejuvenation represent the future and hope of the country. It is known to all that women have great power and female students have huge potentials. It's a critical symbol of social civilization and progress to demonstrate their important status, role and strength. China is in great need of knowledgeable, visionary and competent intellectuals with senses of responsibility and mission. It's hoped that the society pay more attention to female professionals in science and technology and improve the communication and dialogue between scientists and the public. I'd like to express thanks to the organizers of the event and wish it a complete success."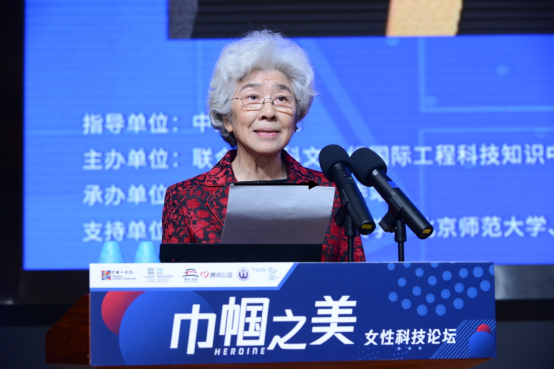 In her speech, Ms. Chen Zuoning first reviewed the important role played by female medical, scientific and technological workers in the fight against the COVID-19 pandemic in 2020. She took the heroic stories of CAE Members Chen Wei, Li Lanjuan, and Qiao Jie as examples to show their precious qualities of selflessness, benevolence, tenacity, and wisdom to battle the pandemic by virtue of science and technology, as well as the fact that females are as excellent as their male peers. She pointed out that in the special historical period of 2021, China's development needs women's power, and the world's progress needs the outstanding wisdom of female professionals in science and technology. She introduced that gender equality has always been one of the two top priorities of UNESCO, and it is also as a field that IKCEST has been focusing on all the time. She hoped that female professionals in science and technology continue to work hard and make greater contributions to building China into a science and technology giant. She especially encouraged girls to bravely devote themselves to engineering sciences and technology. She said, "Gender is not necessarily an obstacle. As long as you are interested, you should work hard. In fact, females have many distinctive characteristics and advantages." In the end, she hoped that girls that dream to be scientists bravely choose scientific research as their career, take innovation as their mission, and write a splendid chapter worthy of the country, the people and the times with painstaking efforts.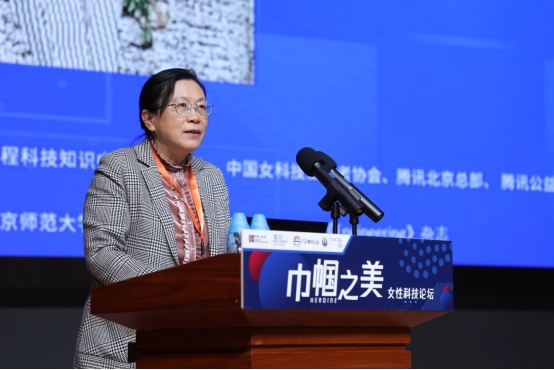 Ms. Lou Jing said, "in order to achieve national prosperity and rejuvenation, China needs to vigorously promote the scientific and technological development, and strive to become a leading power in science and technology. As an important force in scientific and technological innovation, women have shouldered the historical responsibility, bravely served as vanguards of the new era, and become the main force to facilitate scientific and technological progress. The China Women's Association for Science and Technology has always been committed to implementing its mission, and leveraging its advantages to guide and serve young women. Only when the younger generations have ideals, ability and a strong sense of responsibility, can we achieve scientific and technological progress, and make innovations. A science and technology giant can neither be built with empty words, nor be accomplished overnight. It needs arduous exploration and painstaking efforts of generations after generations. I hope that the stories told by the scientists arouse students' respect and love for science, and encourage them to explore science and appreciate the charm of science. I hope that the young students remember the spirits and follow the steps of the scientists of the older generation, continue to strengthen their political faith, theoretical skills and work abilities, shoulder the responsibilities of families, the country and the world, take the initiative to undertake the important historical missions, and integrate individual goals into the cause of building China into a great modern socialist country."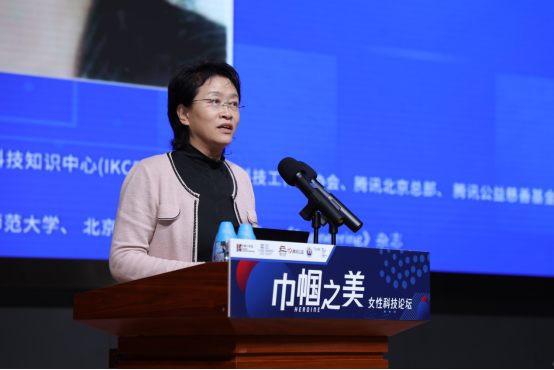 Ms. Luan Na said, "I'd like to give a warm welcome to all academicians, leaders, experts, teachers and students here at Tencent Beijing headquarters, and extend congratulations to the second anniversary of the Tencent Academician and Expert Workstation. Tencent is an Internet-based technology and culture company committed to enriching the lives of Internet users via technology and contributing to enterprises' digital upgrades. It has always paid great attention to the healthy growth of young people. As early as September 2018, it announced the "Tencent Youth Popular Science Program", in a hope of making science and art become a fashion among young people and cultivate talents for the times. This forum aims to show the great achievements made by female professionals in science and technology, make science a trend, turn scientists into idols, and encourage young people to cultivate the spirit of forging ahead courageously and actively in scientific innovation, and strengthen the country through scientific and technological progress."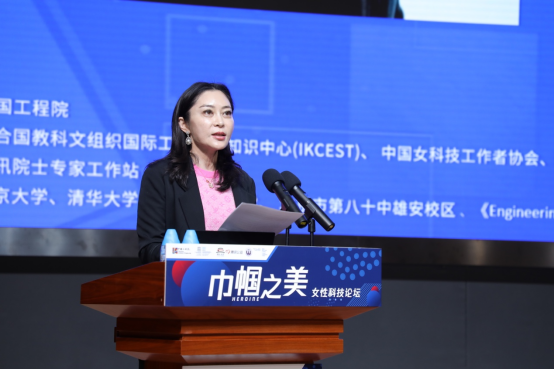 Ms. Li Lanjuan delivered a speech titled "Choose a Career in the Medical Field without Regret, Jointly Pursue the Chinese Dream, Spread the Spirit in the Fight against the Pandemic, and Shoulder Responsibilities of Guiding Young People". She said that medical and health services are closely related to people's health, lives and well-being, and the national economy, and to the realization of the strategic centenary goal of building China into a science and technology giant. She also shared her stories of growing up including the obstacles during her school days, serving as a doctor in rural areas, studying in School of Medicine of Zhejiang University, and being assigned to the Department of Infectious Diseases of the First Affiliated Hospital of School of Medicine of Zhejiang University after graduation. Diligent in thinking and brave in practice, she has overcome many difficulties, and created a unique and effective Li's artificial liver system after 30 years of hard work, which is a major breakthrough in treating patients with severe hepatitis and liver failure, and has significantly reduced the mortality. This technology has been spread and applied nationwide and received wide recognition from the international community. She also introduced the development and applied research of infection micro ecology, as well as the clinical treatment and scientific research regarding the COVID-19 pandemic. In the end, she said that on the journey of scientific and technological exploration, we need to adhere to the principle of being perseverant and patient-oriented, and practice the "anti-pandemic spirit" in daily work, especially in guiding the growth of young people. As the saying goes, "a nation will prosper only when its young people thrive". A country will be full of hope and have a promising future only when its younger generations have ideals, ability, and a strong sense of responsibility. We hope that the younger generations develop love and respect for science at an early age, establish the lofty ideal of devoting themselves to science when growing up, and carry on the course of scientific and technological innovation.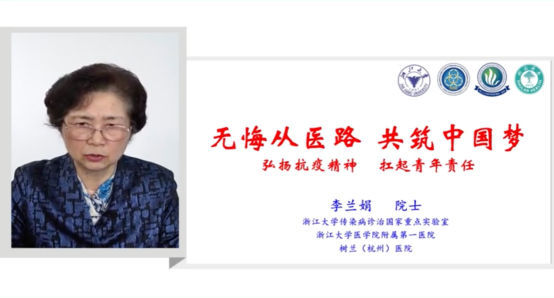 Ms. Wang Xiaoyun delivered a speech titled "Noble Spirit, Social Commitment and Complete Devotion". She shared her growth experience, the development of cryptography, scientific research experience of leading the design of China's first hash function algorithm standard SM3, which officially became an international standard of ISO/IEC in October 2018. Besides, she introduced the achievements in experimental platform construction, cyberspace security discipline construction of Shandong University and talent training. In terms of the attitude towards scientific research, she has always adhered to the principle of "paying attention to laying a solid foundation, interest cultivation, and persistent pursuit." She has been committed to bringing China's cryptography to an advanced level worldwide. She hoped that the younger generations establish righteous views of life, values and the world in the construction of a modern society, work and live with a positive mind, and discover the true meaning of science through fun and stamina."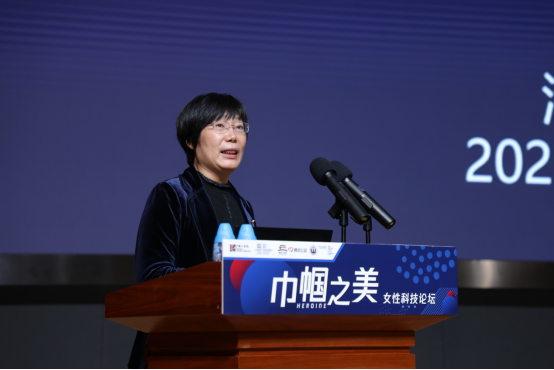 Ms. Fu Qiaomei delivered a speech titled "Love and Perseverance in Addition to Chance and Luck Bring Me to Paleogenetics". She said, "according to my own experience, confusions and reflections, the reason to study paleogenetics lies in love and perseverance. There are many uncertainties in choosing a path in the process of growing up. A review of the past makes me feel that the most important thing is that I've found the things I like. Only then can I stick to the path, love research work like life, and feel happy instead of feeling tired. In face of many choices, young people need to focus on the present and make a difference. They need to bravely take the responsibilities accompanied by their choices, explore their interests, take concrete actions, seize the opportunities and try the best. Love will make one stick to the choices, put ideas into action, and get closer to dreams. I hope that all students can find, pursue and adhere to what they love, and achieve fruitful results."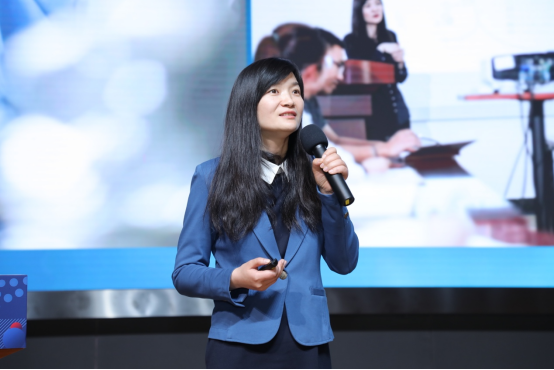 Professor Liu Ying delivered a speech titled "A Bright Future Ahead". She said, "Curiosity is the driving force for the progress of human civilization. From careful observation of life and extraction of banana DNA in the lab to choosing life science as my career and going to America for further study, every time I try to overcome the challenge in scientific research, I feel more curious and interested. Every time I design experiments, make hypotheses and carry out experiments, I am full of expectations. Scientific research has taught me that perseverance will bring hope instead of the other way around. After returning to China, I have been engaged in the research that I'm interested in - metabolism and aging, and the responses of cells to nutrients. Thanks to scientific research, I have become a king in the spiritual realm. I hope that young people keep their curiosity and love in the process of scientific research, love what they do, do what they love and follow their hearts without hesitation."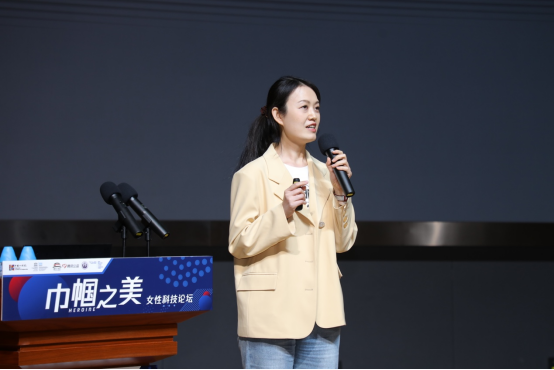 In the roundtable dialogue, Chen Zuoning, Wang Xiaoyun, Fu Qiaomei and Liu Ying discussed the topic of scientific and technological innovation, and care for women. They expressed expectations for girls in scientific research, encouraged them to make greater achievements in the field and keep a pioneering and enterprising spirit for scientific innovation.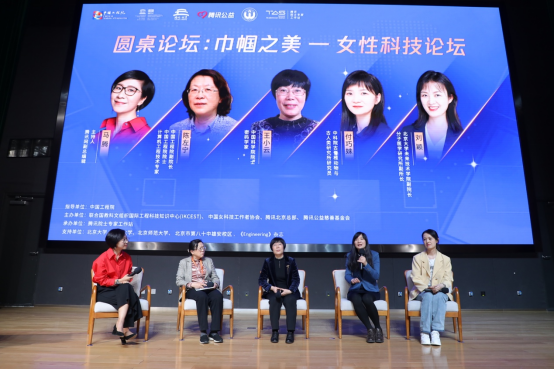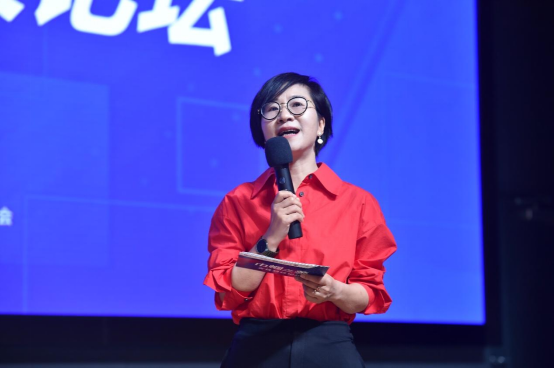 In the Q&A session, students from Peking University, Tsinghua University, Beijing Normal University and Xiong'an Campus of Beijing No.80 High School asked questions actively to the academicians and experts on the spot, and expressed their respect and love for science, and their resolution to establish lofty scientific ideals.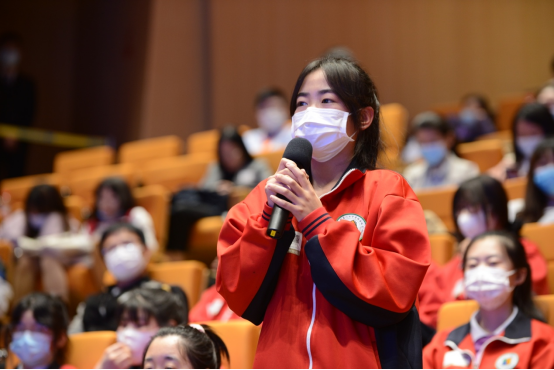 The school days are wonderful times, when the seeds of dreams are sown. Finally, Chen Zuoning, Wang Xiaoyun, Fu Qiaomei and Liu Ying expressed wishes and expectations to all the young women present. Chen Zuoning said, "If I could go back a few decades to your age, I would surely have more interests, but one thing would be the same, namely, the eternal exploration of the unknown in science. This is what I want to share with all the young students present for mutual encouragement". Wang Xiaoyun said, "I often tell my students that on the first day when I began to learn cryptography, an old academician told me that the purpose of cryptography is to serve the country, which deeply impressed me. Thus I've never stopped cultivating such thinking in my students. In addition to personal research interests, cryptography is a kind of national undertaking. Young people should often think about the relationship between their work and national interests in addition to pursuing their own ideals, so that they can walk farther on the chosen path". Fu Qiaomei said, "To sum up the ideas shared today in one message, it would be: to live for the present, turn ideas into actions, and stay curious forever". Liu Ying said, "if I can only choose one sentence from my report today, it would be: be braver, work harder and then see where your limits are".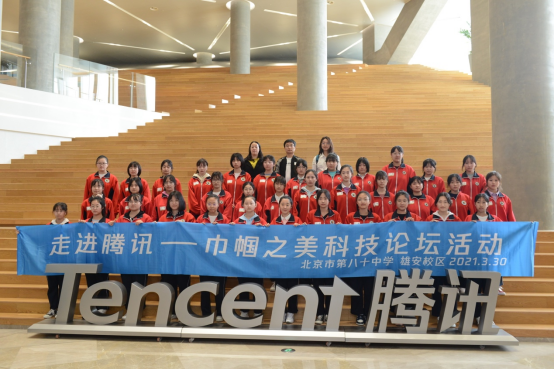 The co-organizers of the forum wish that female professionals in science and technology nationwide will continue to promote self-reliance and independence, and make greater contributions to the new journey of building a modern socialist country in an all-round way.