On March 18, 2021, the 2021 World Engineering Day Chinese Celebrations & Founding of the Chinese Society of Engineers—co-sponsored by China Association for Science and Technology (CAST), the Chinese Academy of Engineering (CAE), and China National Commission for UNESCO was held in Beijing. WAN Gang, vice-chairperson of the National Committee of the Chinese People's Political Consultative Conference (CPPCC) and President of CAST; LI Xiaohong, President of CAE; TIAN Xuejun, Vice minister of education and Director of China National Commission for UNESCO attended the event and made speeches. It was joined by HUAI Jinpeng, Vice President of CAST; and by SHU Wei, Executive Secretary of CAST Secretariat. Shamila Nair-Bedouelle, UNESCO Assistant Director-General for Natural Sciences, delivered a speech online. WU Qidi, Director of ICEE, made introductory remarks. WANG Sunyu, Deputy Executive Director and Secretary General of ICEE, participated in the round table dialogue. GONG Ke, President of WFEO (World Federation of Engineering Organizations), delivered a keynote speech. The event was presided by SONG Jun, Executive Secretary of CAST Secretariat. ICEE staff XIE Zheping and QIAO Weifeng also attended the event.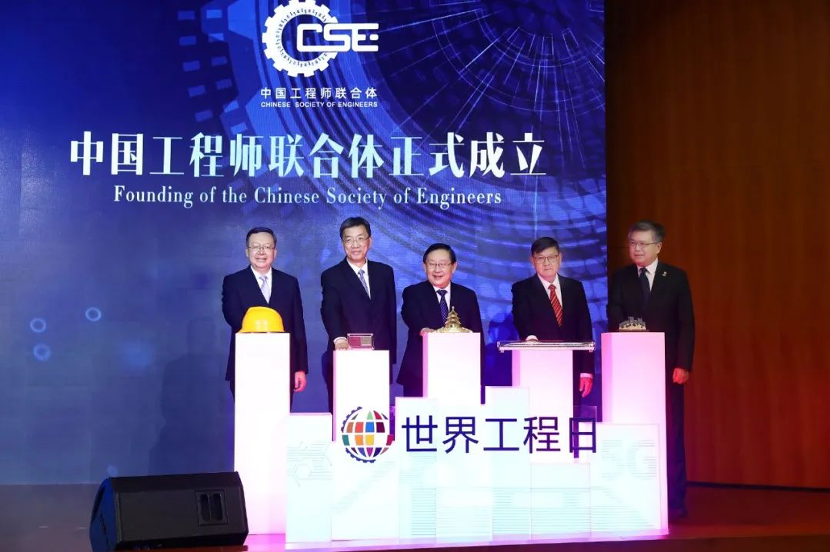 2021 World Engineering Day Chinese Celebrations & Founding of the Chinese Society of Engineers
Innovation and progress in engineering science and technology serve not only as key factors that drive social productive forces and labor productivity, but also as important forces that boost education, culture, sports, health, among others, said WAN Gang in his speech. The establishment of World Engineering Day for Sustainable Development has raised public understanding about the role of engineering technology in improving our life and has embodied the significant role that engineers play in promoting global sustainability. The newly founded Chinese Society of Engineers (CSE) will better serve science and technology talents to better realize their value, facilitate socio-economic development, and promote the exchange and cooperation between China and the international engineering community. In addition, CSE will allow the Chinese engineering sector to contribute more wisdom and forces to achieve global sustainable development goals and to build a community with a shared future for mankind. In the meantime, he raised a three-point expectation. First, engineering should serve sustainable development. Second, we should deepen international cooperation to address challenges together. Third, we should innovate educational mechanisms to cultivate personnel for the future. Finally, Wan was hopeful that the international engineering community could work together to usher in the spring of engineering.
LI Xiaohong said that engineering science and technology are playing an indispensable role in coping with human health crisis and recovering socio-economic development as soon as possible. Given the current grim COVID-19 situation and numerous challenges in global sustainability, engineering science and technology, a major driver to socio-economic development, could make a difference. LI made three recommendations. First, we should enhance the high-tech supply capacity to improve people's life and health. Second, we should accelerate innovation to meet the demand for sustainable development. Third, we should translate the idea of a community with a shared future for mankind into actions and strengthen international cooperation in science and technology.
TIAN Xuejun said that China is striving to build a community for global engineering education. We will integrate the UN Sustainable Development Goals (SDGs) into the cultivation of engineering capabilities, motivating more engineering personnel to dedicate themselves to promoting sustainability. Going forward, the Chinese Ministry of Education and China National Commission for UNESCO will continue to work with all stakeholders towards high-quality development of Chinese engineering education, thereby helping build a community with a shared future for mankind and create a more prosperous and more beautiful world.
Shamila Nair-Bedouelle, sent her congratulations on the success of the event on behalf of UNESCO. She was grateful that China held celebrations for the World Engineering Day, and said that the Second Engineering Report, a joint endeavor of UNESCO and Chinese institutions, will be of great significance to the global engineering community. UNESCO hopes to continue to deepen its cooperation with China and to serve the UN SDGs by virtue of engineering.
WU Qidi delivered introductory remarks titled Actively Cultivating More Future-oriented Engineering Talent. WU pointed out that we share a responsibility for realizing sustainable development and promoting balanced development of engineering education. Our goal is to cultivate balance developed and future-oriented engineering talents. To these ends, ICEE will continue to work alongside the global engineering science and technology community, balanced development of engineering education across the world—particularly promoting the development of engineering education in the developing countries, thus contributing to global sustainable development.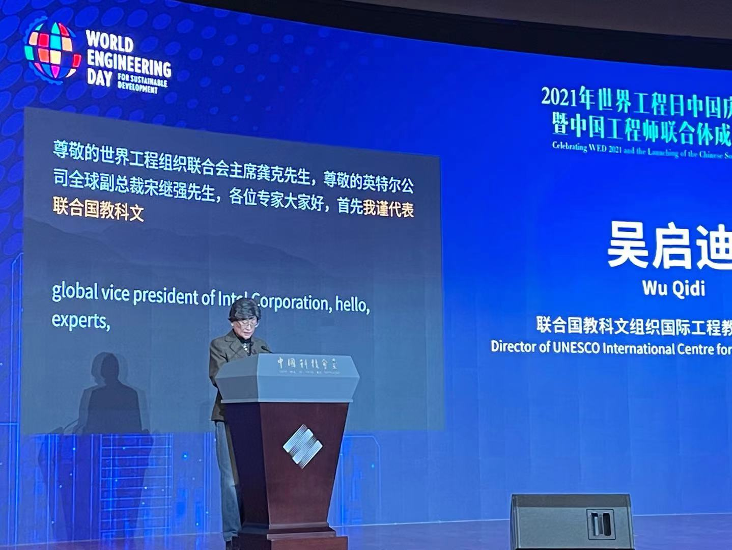 ICEE Director WU Qidi Delivers a Speech
GONG Ke noted in his keynote speech, that the UNESCO Engineering Report—which has provided a reference for governments around the world, the industrial circles, educational institutions and engineering organizations to promote sustainability, and which has articulated the direction and raised tasks for engineering—will become a milestone in global engineering development. GONG hopes that the Chinese engineering sector can cooperate more closely with global engineering organizations, therefore making greater contributions to accelerating the modernization process of China and to promoting global sustainable development.
In addition, surrounding the topic titled Engineering serves a healthy, sustainable world, some guests conducted a dialogue in light of their practical experience in engineering. These guests included Firas Bou Diab (Chairman of the WFEO Committee on Young Engineers/ Future Leaders), Yetunde Holloway (Chair of the WFEO Committee on Women in Engineering), CHEN Simiao (Visiting Professor with Peking Union Medical College (PUMC) under Chinese Academy of Medical Sciences (CAMS) & German Alexander von Humboldt Fellow), WANG Sunyu (Vice Director and Secretary General of ICEE), WU Chen (Chief Architect of Beijing Institute of Architectural Design (Group) Co., Ltd.), and JIA Xiaofeng (Director of Data Management Department of Beijing Municipal Information Resources Management Center).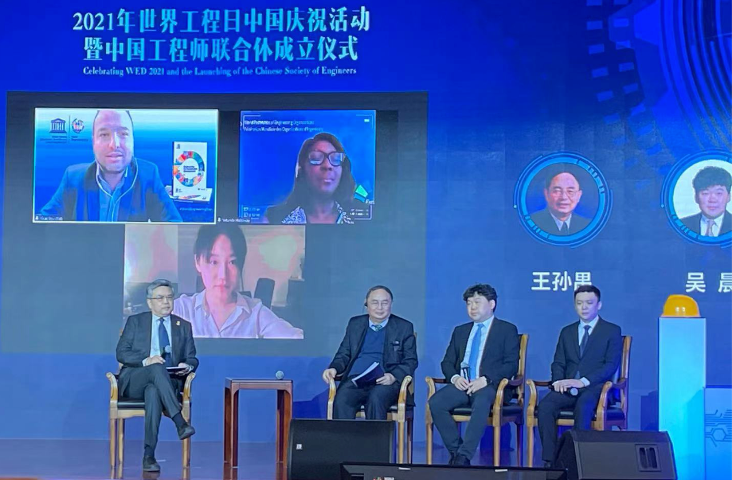 ICEE Vice Director and Secretary General WANG Sunyu Participates in Roundtable Conversations
At the founding ceremony of the Chinese Society of Engineers, WAN Gang, LI Xiaohong, HUAI Jinpeng, TIAN Xuejun, GONG Ke jointly unveiled the logo of CSE and awarded the board to the representatives of launching members. On the initiative of CAST, a total of 76 influential organizations including the national and local societies of engineers, universities, and enterprises in China have jointly founded CSE, in a bid to bring together forces from all walks of life (including the engineering science and technology sector, the industrial circles, and engineering science and technology organizations) to forge a business community, a value community, and a community of shared destiny for engineers.
(Edited by: Department of International Affairs of CAST and ICEE)