On April 20, 2021, ICEE held the completion and review meeting on the Chinese Academy of Engineering (CAE) undertaken consulting project titled The International Competitiveness of Chinese Engineering Education at Tsinghua University. Among the expert reviewers attending the meeting were Prof. YU Shouwen, former Vice President of Tsinghua University; Academician Prof. ZHOU Ji, School of Materials Science and Engineering; Prof. LU Darong at School of Mechanical Engineering, Tsinghua University;Prof. LI Yue, Director of the Teaching Committee at School of Continuing Education, Tsinghua University, as well as Prof. HE Haiyan from Beijing Institute of Technology; Prof. MA Yonghong from Beihang University and Mr. CUI Zhaobin from Strategic Consulting Center of CAE. Besides, Prof. WANG Sunyu, Deputy Executive Director & Secretary General of ICEE; Dr. QIAO Weifeng,assistant research fellow, as well as all members of the consulting project team attended the completion and review meeting.
At the meeting, Prof. WANG Sunyu started by briefing the expert reviewers on the background and outcomes of the research study and introduced the research activities centering around the project, followed by an elaborated report by Dr. QIAO Weifeng on the research design, research methods, index design, data sources and research conclusions, etc. Based on four principles, namely data availability, dimension comparability, multi-dimensional assessment and not ranking oriented, an index system for international competitiveness of engineering education was established from five dimensions, and the policy recommendations and practice approaches were proposed to enhance the international competitiveness of China's engineering education.
At the Meeting
The expert reviewers thoroughly discussed the research project, and convinced the project was based on solid and sufficient data and appropriate research methods, providing a multi-dimensional analysis and comparative study of the competitiveness of engineering education in China and other major countries as well as a summary of the current status and prevailing problems of China's engineering education in international competition, while putting forward the policy recommendations with well-defined targeted and immense reference value and a feasible implementation path. Meanwhile, the experts suggested that relevant research should be further elaborated in the context of the principles of President XI Jinping's speech delivered during his visit to Tsinghua University on April 19, in a bid to provide stronger support for the development of engineering education in China.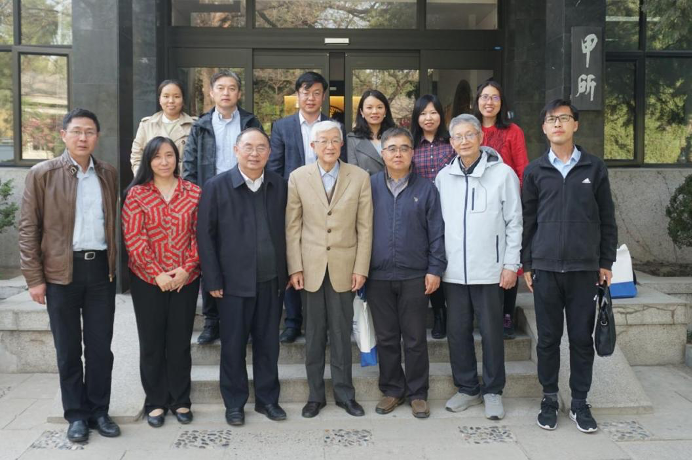 Group Photo of the Participants
Finally, the expert reviewers all agreed that the research project was executed in an orderly manner according to the project charter, generating a comprehensive consulting and research report based on in-depth study and with abundant research findings; and that all indicators in evaluation criteria were met, so they approved the project report and proposed to carry out other relevant research in the future.
(Edited by: GUO Zhe; Reviewed by: XIE Zheping,WANG Sunyu)