On December 8, 2021, the International Centre for Engineering Education (ICEE) and the World Federation of Engineering Organizations (WFEO) held a Memorandum of Understanding renewal ceremony at Tsinghua University. On behalf of ICEE, Prof.WU Qidi, former Vice Minister of the Ministry of Education and Director of ICEE, and on behalf of WFEO, Prof. GONG Ke, president of WFEO, both signed the MOU.
Prof. YUAN Si, Vice Chairperson of Tsinghua University Council and Executive Director of ICEE, Prof. WANG Sunyu, Deputy Executive Director and Secretary General of ICEE, KANG Jincheng, former Director General of International Cooperation of the Chinese Academy of Engineering and Strategic Expert of ICEE, ICEE assistant to the Secretary General, Dr. XIE Zheping, Dr. QIAO Weifeng and Dr. XU Lihui participated in the signing ceremony.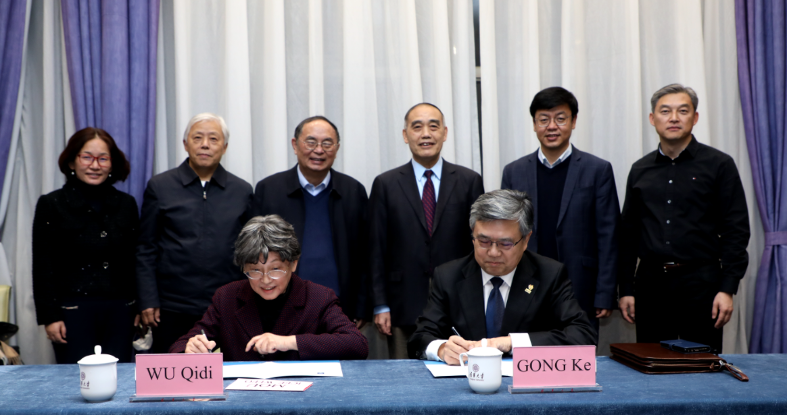 ICEE and WFEO at the MOU renewal ceremony
Front row (left to right): WU Qidi and Gong Ke
Back row (left to right): XIE Zheping, KANG Jincheng, WANG Sunyu, YUAN Si, QIAO Weifeng and XU Lihui
ICEE and WFEO have a long-term and friendly cooperative relationship. In 2017, ICEE Director WU Qidi and past WFEO President Marlene Kanga signed a MOU to determine their cooperation in the field of international engineering education. In order to continue promoting the development of engineering education worldwide and jointly carry out internationally recognized engineering education initiatives, ICEE and WFEO have renewed the MOU by mutual consent. The MOU will be extended to 2026.
WFEO is a consortium of national and regional engineering organizations established in 1968 with the initiative and support from UNESCO. Headquartered in Paris, WFEO is the largest international engineering organization in the world.
ICEE was jointly applied by the Chinese Academy of Engineering (CAE) and Tsinghua University and approved by the 38th session of the General Assembly of UNESCO in November 2015. On June 6, 2016, ICEE was officially established in Beijing.
(Edited by:XU Lihui; Reviewed by: WANG Yujia, XIE Zheping, WANG Sunyu)