The 1st World Vocational and Technical Education Development Conference, co-sponsored by the Ministry of Education of the People's Republic of China, China National Commission for UNESCO, and Tianjin Municipal People's Government, took place in Tianjin on August 19th and 20th, 2022. HUAI Jinpeng, China's Minister of Education, presided over the opening ceremony.
Vice Premier SUN Chunlan of the State Council read a congratulatory letter from President XI Jinping through a video speech at the opening ceremony. She pointed out that the congratulatory letter profoundly expounds the important role of vocational education in promoting economic development and improving people's livelihood, and greatly boosts our confidence and impetus to international exchanges and cooperation in vocational education.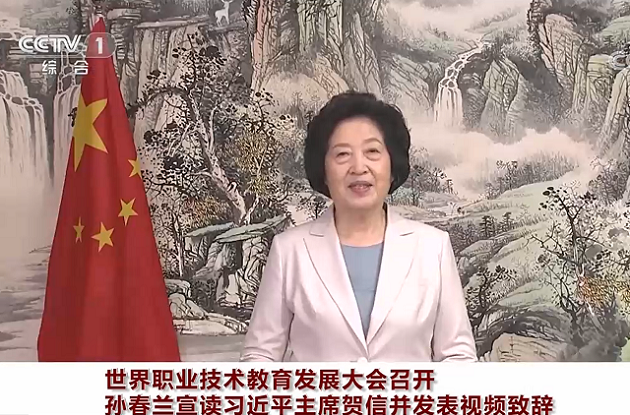 SUN Chunlan reads the congratulatory letter from President XI Jinping
Huai Jinpeng, Minister of Education, delivered a keynote speech entitled "Jointly Promote the High-quality Development of Global Vocational Education and Help Build a Better World in the Post Pandemic Era". Huai Jinpeng pointed out that vocational education is the kind of education most closely related to the economy and society. China has always attached great importance to vocational education and will continue to give priority to the development of education. China will focus on placing vocational education in a more prominent position in education reform and innovation and economic and social development, and accelerate the development of modern vocational education that is government led, diversified participation, demand driven, open and integrated.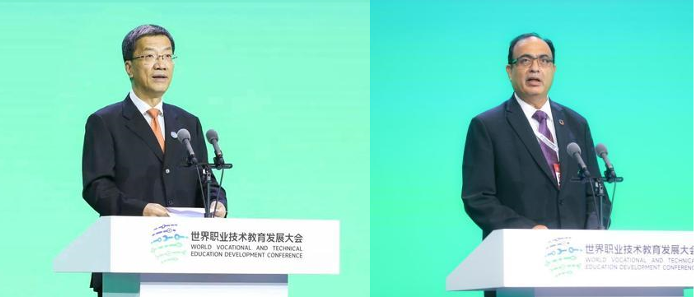 HUAI Jinpeng at the meeting Shahbaz Khan at the meeting
Shahbaz Khan, Director of UNESCO Beijing Office, delivered a speech at the closing ceremony. He pointed out that "Leave No One Behind" is one of UNESCO's sustainable development goals, which is highly consistent with China's education goals. China's devotion to international cooperation in vocational and technical education bears special significance in the context of current science and technology globalization. He expressed his hope to create a better environment for economic development with concerted efforts from the international community to enable vocational and technical education to empower individuals and improve social and economic development.

At the conference ICEE attends the forum
The Engineering Education Development Forum of Vocational Institutions is one of the parallel forums of the Conference. ICEE participated in part of the organization of the Engineering Education Development Forum and attended the forum.
The Conference focused on the theme of "Vocational and Technical Education Development in the Post-pandemic Era -- New Changes, New Ways and New Skills." About 700 representatives from 123 countries signed up for and attended the event online or onsite, including education ministers from 25 countries such as Switzerland, Singapore, and Argentina, ambassadors to China from 15 countries such as Ethiopia, Ireland and Pakistan, as well as heads or representatives of 17 international organizations such as UNESCO and the International Telecommunication Union.
(Edited by LI Chao; Reviewed by XU Lihui)