On June 23, 2022, the strategic consulting project of the Chinese Academy of Engineering (CAE), titled "Research on Engineering Education Governance under the Great Changes", was officially kicked off with thanks to the great support by the China Engineering Education Accreditation Association (CEEAA) and the Education Quality Assessment Center of Ministry of Education of the PRC. With a theme of "Promoting the Modernization of Engineering Education Governance and Developing Outstanding Engineers", the launch conference was held with a combination of online and offline. Many leaders and experts attended and addressed at the event, including CHEN Jianfeng, a member of the Party Leadership Group, Secretary General and academician of CAE, FAN Wei, Director of the Education Quality Assessment Center of the Ministry of Education, FAN Hailin, Deputy Director of the Higher Education Department of the Ministry of Education, HE Zhifang, Deputy Director of the Personnel Department of the Ministry of Housing and Urban-Rural Development of the PRC, and WANG Zhenhai, Director of the Second Bureau of CAE. Other experts were also present at the meeting, including WANG Yuming, CAE academician and professor of the School of Mechanical Engineering, Tsinghua University, WANG Sunyu, Secretary General of UNESCO International Centre for Engineering Education (ICEE) and professor of the Institute of Education Tsinghua University, XIE Zheping, Associate Professor, QIAO Weifeng, Deputy Secretary of the CPC Party Committee, and LI Jingjing, Research Assistant of ICEE.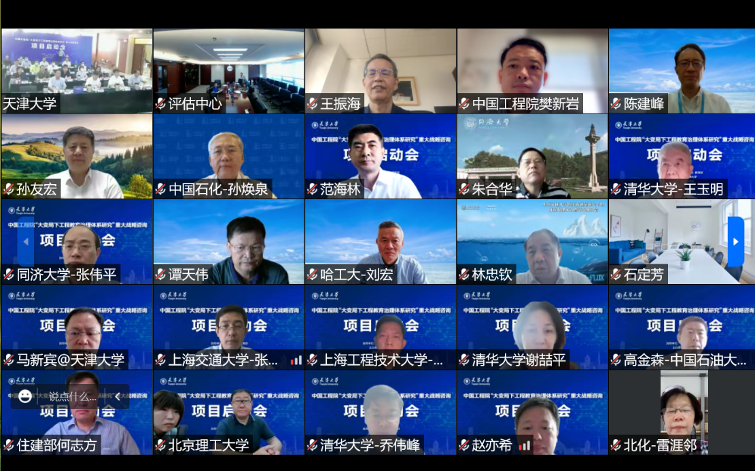 At the meeting
ICEE undertakes the 9th sub-project, namely "Research on the Engineers Governance Connected with Engineering Education". Prof. WANG Sunyu introduced the research team and task design. Prof. XIE Zheping made a systematic report on the subject, covering the research background, objectives, framework, key issues, research methods, schedule, and expected outcomes. Academician WANG Yuming, who is the project leader, analyzed the relationship between sub-projects and the project and among sub-projects, emphasized that the project research is multi-level and multi-dimensional, and pointed out that legislation on engineers in China is a vital and discreet process.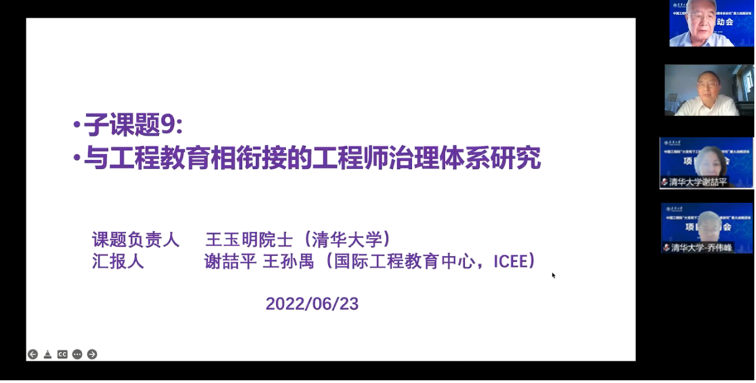 Report by the Research Team
The entire project actively responses to President Xi's requirements on training excellent engineers, and is a concrete step to implement the guidance of the Central government's meeting on Talent-related Work. The Project aims to learn from the developed countries about engineers governance, to explore a governance system connected with Chinese engineering education and suits China's actual conditions, and in line with international rules. The project is therefore of great significance and value.