On October 7, 2022, Prof. WU Qidi, Director of the UNESCO International Centre for Engineering Education (ICEE), and Associate Researcher XIE Zheping, Assistant to Secretary-General of ICEE, attended the Fall 2022 Board Meeting of Aalborg Centre for Problem Based Learning in Engineering Science and Sustainability (UCPBL) in Aalborg, Denmark online.
A total of 20 guests attended the meeting, including Prof. Henrik Pedersen, Chairman of the Board and Dean of the Technical Faculty of IT and Design, Aalborg University, Ezra Clark, Head of UNESCO's Science, Technology and Innovation Policy Section, and Amal Kasry, CHIEF of Section for Capacity Building in Basic Science and Engineering at UNESCO, Brian Figaji at the Engineering Board of South Africa, Jose Ismael, a professor of the Department of Engineering, Aalborg University and the National University of Colombia, Mogens Poulsen, Dean of the Faculty of Engineering and Science, Aalborg University, Frede Blaabjerg and Henrik Brohus, professors of the Faculty of Engineering and Science, Aalborg University, Prof. Anette Kolmos, UCPBL Director, Prof. DU Xiangyun and Prof. Tony Marjoram. Ms. Malene Mansour Nielsen, Deputy Permanent Delegate of Denmark to UNESCO, was also invited to attend the meeting.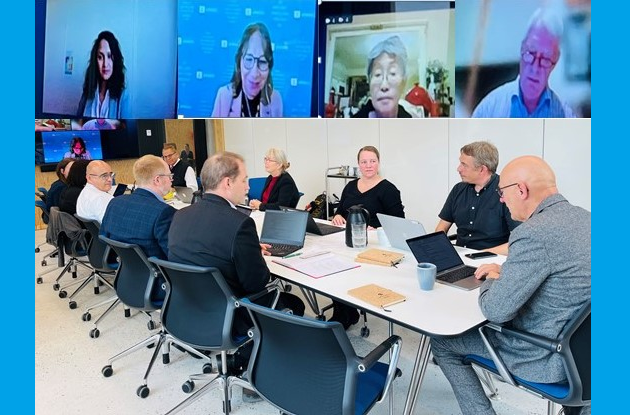 At the meeting
The representatives from the UNESCO Natural Sciences Sector introduced the major works they carried out recently, especially the formulation and implementation of important documents such as the UNESCO Recommendation on Open Science. UCPBL Director Annette Kolmos comprehensively reviewed the Centre's major research work and publications in recent years, especially the second UNESCO Engineering -- Engineering for Sustainable Development. Prof. DU Xiangyun introduced the major international cooperation activities carried out by UCPBL and Massachusetts Institute of Technology (MIT), ICEE and Harvard University.
The members at the meeting deliberated on the work report and work plan of UCPBL. Prof. WU Qidi and other board members discussed content and quality of the work. The Board unanimously adopted the work report of the UCPBL and hoped the Centre would accomplish more in the future.
(Edited by XIE Zheping; Reviewed by XU Lihui and WANG Sunyu)