On December 6, 2022, the 2022 ICEE Governing Board and Advisory Board Meeting was held online. WU Qidi, former Vice Minister of Education of China, Vice Chairperson and Director of ICEE, presided over the meeting. QIU Yong, Chairperson of ICEE Governing Board and Chairperson of Tsinghua University Council (represented by YANG Bin, Executive Director of ICEE and Vice President of Tsinghua University). ZHOU Ji, Co-chairperson of Advisory Board of ICEE, Honorary Chairman of the Governing Board of Chinese Academy of Engineering, and Shamila Nair-Bedouelle, UNESCO Assistant Director-General for Natural Sciences, delivered opening remarks respectively. Shahbaz Khan, Director of UNESCO Beijing office, members of the Governing Board and Advisory Board of ICEE as well as representatives from relevant organizations and institutions attended the meeting.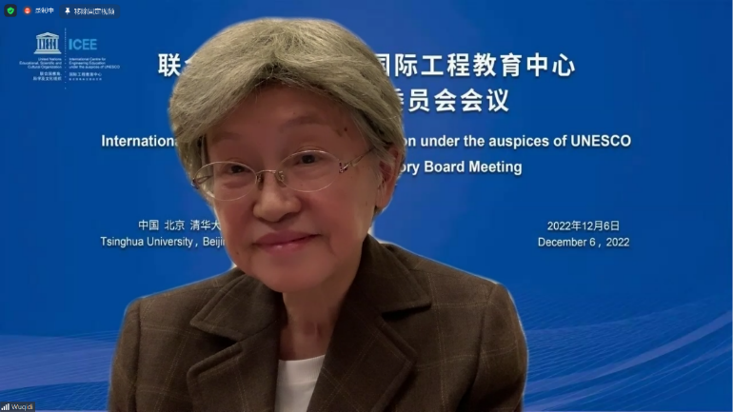 WU Qidi Hosts Meeting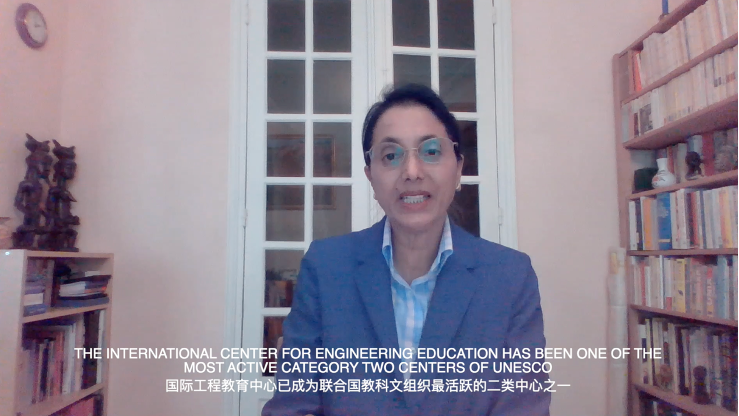 Shamila Nair-Bedouelle Delivers Speech
Shamila Nair-Bedouelle expressed in her speech that UNESCO acknowledges the valuable contributions of ICEE, Tsinghua University, and the Chinese Academy of Engineering in leading the UNESCO flagship engineering report. ICEE has been one of the most active category two centers of UNESCO. ICEE has been focusing on major issue, such as the quality and equity of engineering education across the world, especially in developing countries. We at UNESCO, we applaud ICEE for having established a network for innovation in education, and the integration of the sustainable development goals in engineering education. ICEE not only partnerships with UNESCO and with other category II centres, international organizations, but all partners across the world. There is enormous potential for closer collaboration with ICEE, and UNESCO looks forward to deepening its ties with you.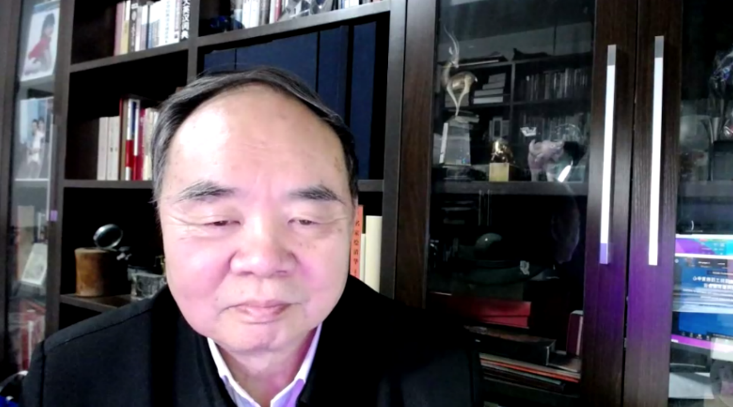 ZHOU Ji Delivers Speech
ZHOU Ji said in his speech that engineers are the key driving force to support the realization of the UN SDGs, and engineering education plays a crucial role in cultivating talents of engineering science and technology. In the face of many long-term and complex global challenges, engineering should do more to promote sustainable development, and engineers should go even further. This requires the joint efforts of the global engineering and engineering education communities and is also the goal of ICEE at the beginning of its creation. ICEE has made remarkable achievements since its establishment. It has been continuously deepening and effective in promoting international cooperation in engineering education. We will continue to play the role of the ICEE to contribute to the global innovation of engineering science and technology and the sustainable development of engineering education.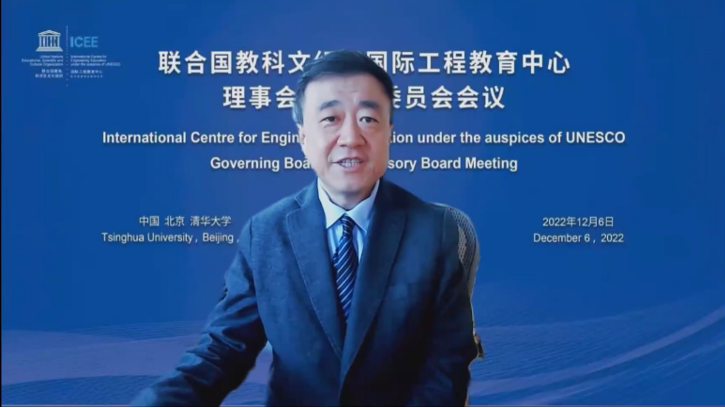 YANG Bin Delivers Speech
YANG Bin said in his speech that Tsinghua University has always attached great importance to engineering education. In recent years, Tsinghua University has successively issued the Implementation Opinions on Continuously Deepening Reform and Improving the Development Level of Engineering, the Fourteenth Five-Year Plan and three 2030 mid-term and long-term Strategic Plans, and has successively established the Weixian College and the National College of Excellence Engineers. ICEE has always been guided by UNESCO strategy, facing the 2030 UN SDGs, focusing on the core mission of improving the quality of global engineering education and promoting equity, and actively building a global engineering education community based on equality, inclusiveness, development and win-win results. Tsinghua University will continue to strengthen international cooperation in the field of engineering education with ICEE as the platform to jointly promote the development of global engineering education.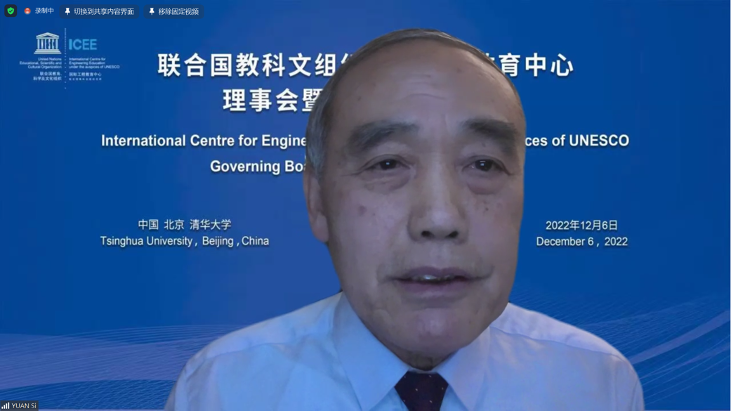 YUAN Si Delivers Annual Report
YUAN Si, Executive Director of ICEE, delivered the 2022 annual work report. In 2022, ICEE actively conducted a series of consultation and research, making contributions to policy formulation and standard development. ICEE submitted the proposal of Accelerating the Construction of Engineering Pedagogy to the Ministry of Education of China and the Chinese Academy of Engineering and draft the training program, submitted the proposal of Developing Online Education which has been added into the 2022 Prime Minister's Government Work Report. Over the past year, ICEE has continuously strengthened exchanges and cooperation with international organizations, academic institutions and business partners, consolidated partnerships and participated in global cooperation. ICEE and UNESCO jointly released the second UNESCO flagship Engineering Report, successively held international engineering education forums, deeply participated in the revision of international standards of the International Engineering Alliance (IEA), and jointly held the 2021 Asia Engineering Deans Council's forum. At the same time, we played an active role with global partners to promote engineering capacity building. ICEE promoted the global sharing of online education resources in schools, built a global leadership development base with our partners, jointly held an academic forum on engineering education and engineering culture, cooperated with the National Ballet of China to launch the ICEE Ballet Aesthetic Education Plan, and jointly held a Data Application Innovation Competition for Global Chinese Student. In the future, ICEE will continue to play the role of bridge and link of international platforms. ICEE is becoming and will become a center that constantly transforms vision into reality, a center of leading transformation, uniting partners, disseminating knowledge and nudging policies.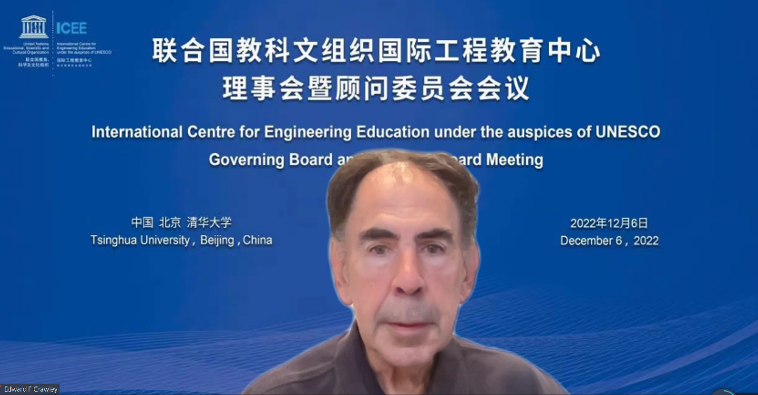 Edward Crowley Delivers Concluding Remarks
Edward Crawley, Co-chairperson of the Advisory Board of ICEE, MIT professor, made a summary of the meeting. He said that he was very pleased to see the results of UNESCO Engineering Report and ICEE's promotion of the report to supporting the sustainable development. ICEE is deeply involved in global engineering education governance, carries out a series of engineering education activities worldwide, strengthens cooperation with international organizations, and develops good partnerships. Engineering is very important for cultural education, social and economic development. At this stage, ICEE should pay more attention to the education insufficiency and education gap caused by the Covid-19.
Finally, the members of the Governing Board and Advisory Board had an in-depth discussion on the ICEE work report. The Governing Board considered and adopted the ICEE 2022 work report and 2023 work plan. At the same time, the members of the boards also put forward positive and constructive suggestions on the future development of ICEE. This meeting is the sixth annual meeting since the establishment of the Governing Board and Advisory Board of ICEE in 2017.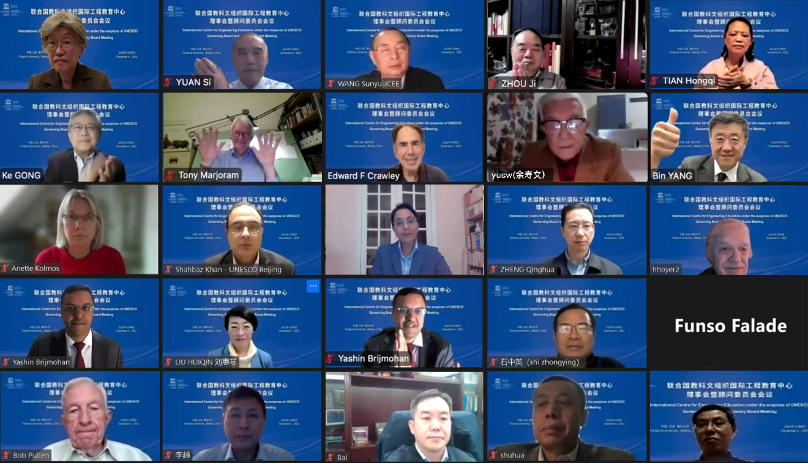 Group Photo of the Participants
The members of the ICEE Governing Board who attended the meeting includ, TIAN Hongqi, former President of Central South University, Funso Falade, President of Africa Engineering Education Association (AEEA), ), Hans J. Hoyer, Secretary General of International Federation of Engineering Education Societies (IFEES), WANG Shuguo, President of Xi'an Jiaotong University (Vice President ZHENG Qinghua represents), Yashin Brijmohan, former Vice President of World Federation of Engineering Organisations and Chair of the International Engineering Capacity Building Committee. The members of the ICEE Advisory Board who attended the meeting includ, GONG Ke, former President of World Federation of Engineering Organizations (WFEO), Anette Kolmos, Director of Aalborg University Centre for Problem Based Learning in Engineering Science and Sustainability (UCPBL), Tony Marjoram, former Head of Engineering, Division of Basic and Engineering Sciences at UNESCO, Robert Pullen, former President of South African Academy of Engineering (SAAE), YU Shouwen, former Vice President of Tsinghua University, WANG Sunyu, Deputy Executive Director and Secretry General of ICEE.
DING Yangbing, WANG Xiaojun, LIU Chang, the representatives from Chinese Academy of Engineering, Professor SHI Zhongying, Dean of Institution of Education (IOE), Resercher LIU Huiqin, Resercher LI Yue, Professor LI Manli, Associate Professor TANG Xiaofeng, Assistant Professor YU Ji, Assistant to Secretary-General of ICEE,QIAO Weifeng, XU Lihui, SHEN Ye, and the representatives from the partnership institutions, CHEN Guoyu from China Academy of Space Technology, BAI Yinzhan, MA Jun, from China Harbour Engineering Co., Ltd. (CHEC), ZHOU Shuhua, LOU Sha from Huahe Culture Group, LIU Binli, XIN Xianghui from Beijing Yuke Future Intelligent Technology Co., Ltd. (Yuke Future), ZHOU Ying, WANG Qun from China Overseas-Educated Scholars Development Foundation, attended the meeting. WANG Yujia, PAN Xiaochun, FU Jie, HE Shiyu postdocs of IOE Tsinghua University, ZHU Pan, LI Jingjing, LI Chao from ICEE also attended the meeting.
(Edited by: WANG Yujia, XU Lihui; Reviewed by: QIAO Wifeng, WANG Sun